When the air turns crisp, the streets light up with festive decorations, and the scent of roasted chestnuts and mulled wine fills the air, you know that Christmas is just around the corner. And if you're seeking the epitome of Christmas spirit, there's no place quite like Germany. Home to some of the world's most enchanting Christmas markets, Germany's festive season is a magical time when towns and cities come alive with twinkling lights, delicious treats, and the joyful sounds of carolers.
In this guide, we'll take you on a journey through some of the best Christmas markets in Germany, each offering its unique charm and traditions. So, bundle up, grab a steaming mug of glühwein, and let's embark on a holiday adventure like no other.
All the Christmas markets in Germany emulate the experience of entering a winter wonderland filled with lights, delicious aromas, and the warmth of the holiday season. Each market has its unique charm and traditions, offering an experience that will create lasting memories. So, wrap up in your coziest scarf, sip on hot mulled wine, and immerse yourself in the enchantment of Germany's Christmas markets. It's a holiday adventure you'll cherish for years to come.
Must-Visit German Christmas Markets
Ravenna Gorge Christmas Market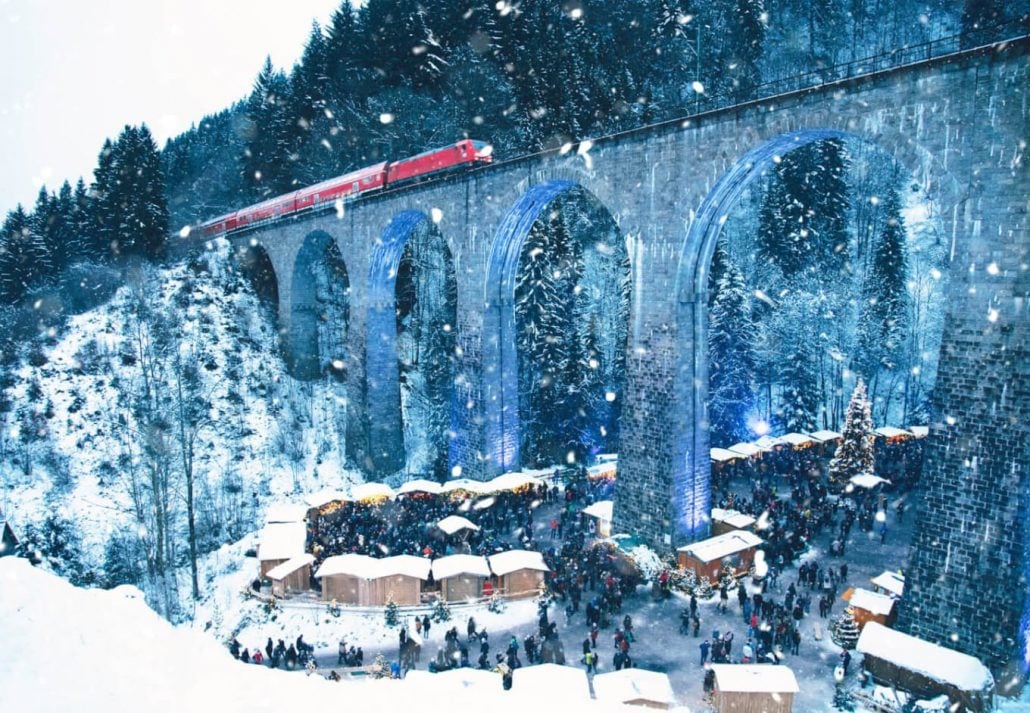 Located in the enchanting Black Forest of Germany lies the hidden gem of the Ravenna Gorge Christmas Market, perched below the stone arches of a tall railway viaduct. This idyllic market is surrounded by the towering trees of the forest and the sound of the ravishing Ravenna River, creating a serene atmosphere that's nothing short of magical. You'll find 40 wooden chalets here in the snowy valley selling handmade ornaments and delicious food.
The market stalls of this local Christmas market offer a unique selection of handcrafted goods, making it an excellent place to pick up gifts and souvenirs. You can enjoy live piano music and light shows while you're here. Sample some of the finest Black Forest ham, indulge in warm, fluffy waffles, and savor the region's renowned cherry punch.
Leipzig Christmas Market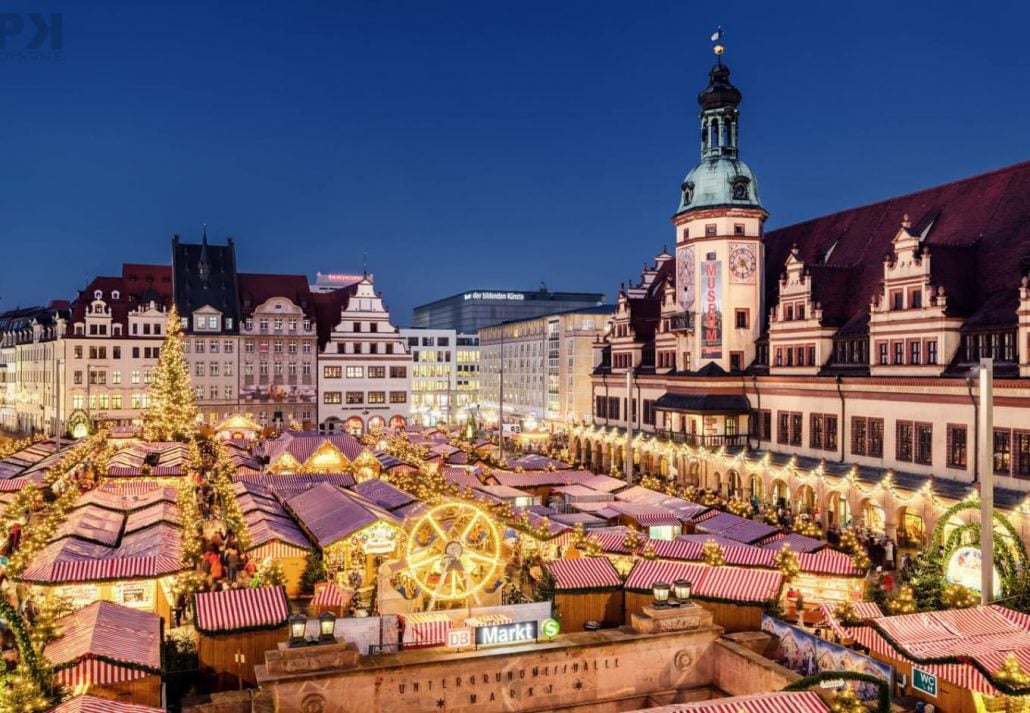 Leipzig, a city renowned for its literary and musical heritage, hosts one of Germany's most traditional and charming Christmas markets. It is renowned for having the second oldest Christmas market in Germany, which is a tradition that goes back as long ago as 1458. St. Nicholas, the city's most famous figure, welcomes visitors and kicks off the festive season with a grand opening ceremony. Leipziger Weihnachtsmarkt is located in front of the Old Town Hall and is quite a traditional Christmas market.
The market features over 250 stalls, making it one of the larger Christmas markets in Germany, selling everything from hand-carved wooden toys to intricate lacework and delicious food. Take a ride on the charming Ferris wheel, have a look at the world's largest free-standing Advent Calendar, sip on traditional Leipzig glühwein, and enjoy the heartwarming carolers who add to the magical atmosphere.
Stuttgart Christmas Market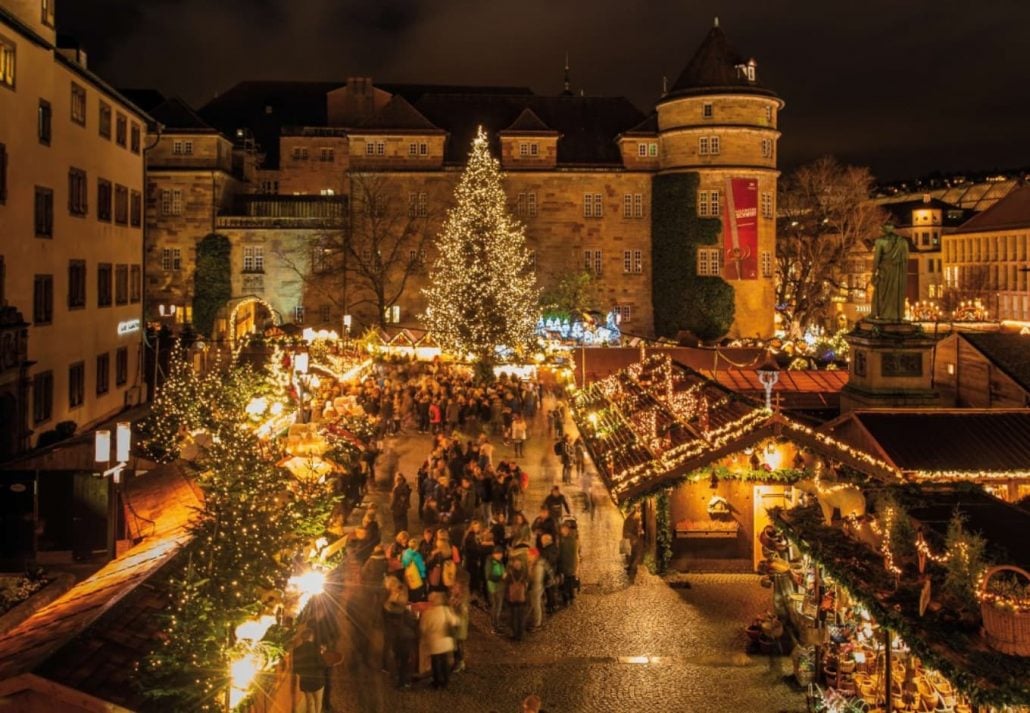 If you're dreaming of a fairytale German Christmas market, Stuttgart's Weihnachtsmarkt might be just what you're looking for. The market square, adorned with hundreds of twinkling lights, is a true winter wonderland. You can enjoy Christmas concerts that take place every day in the courtyard of the Old Palace, and the town hall is transformed into an Advent calendar.
Some must-try foods at this Christmas market are roasted chestnuts and Maultaschen, which is a giant ravioli that's filled with mincemeat and spinach. The famous Christmas pyramid at the center of the market is a sight to behold. The market is known for its extensive range of regional delicacies, from traditional Schwäbisch Maultaschen to the popular Schupfnudeln. Don't forget to visit the ice rink for some winter sports fun.
Berlin Christmas Markets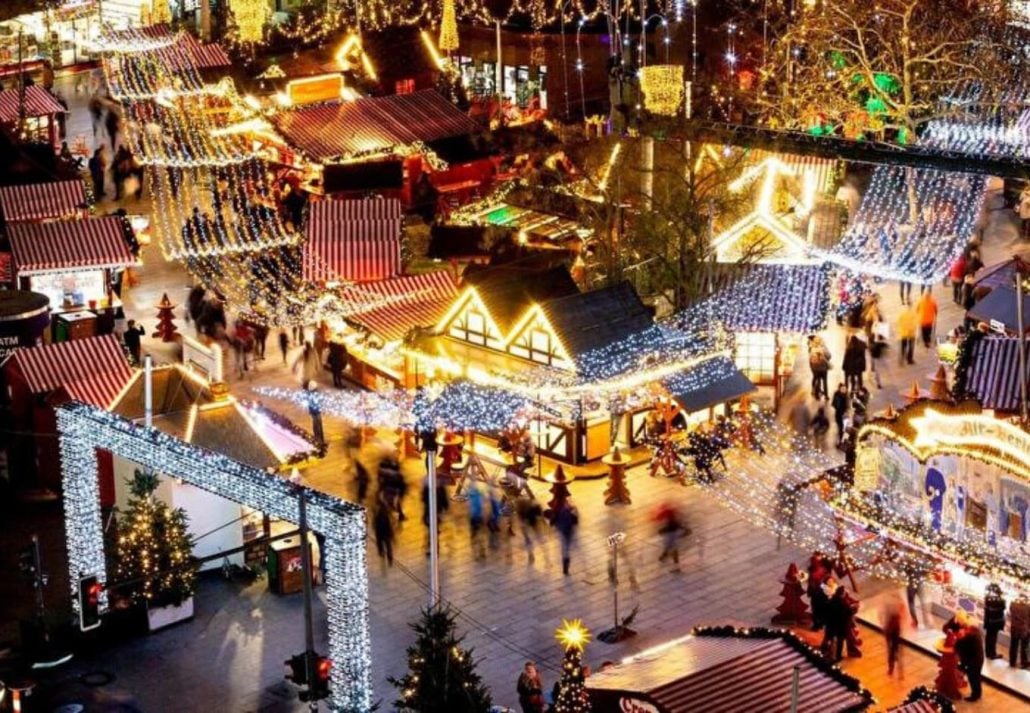 The capital city doesn't disappoint when it comes to Christmas markets. Berlin boasts an array of markets, each with its unique charm. While there are over 70 Christmas markets in Berlin, the Gendarmenmarkt Christmas Market is one of the most magical Christmas markets with its stunning architecture and classical music, offering an elegant experience. Meanwhile, the Winterwelt on Potsdamer Platz transforms into a winter wonderland with an ice rink and toboggan run.
Of course, no visit to Berlin's Christmas markets would be complete without trying the famous currywurst, sipping on mulled wine, and indulging in the delightful array of sweets and pastries. You can shop for handmade ornaments, bask in the wafts of the various aromas in the market, and experience With the Brandenburg Gate as a backdrop, Berlin's Christmas markets offer a uniquely urban festive experience.
Frankfurt Christmas Market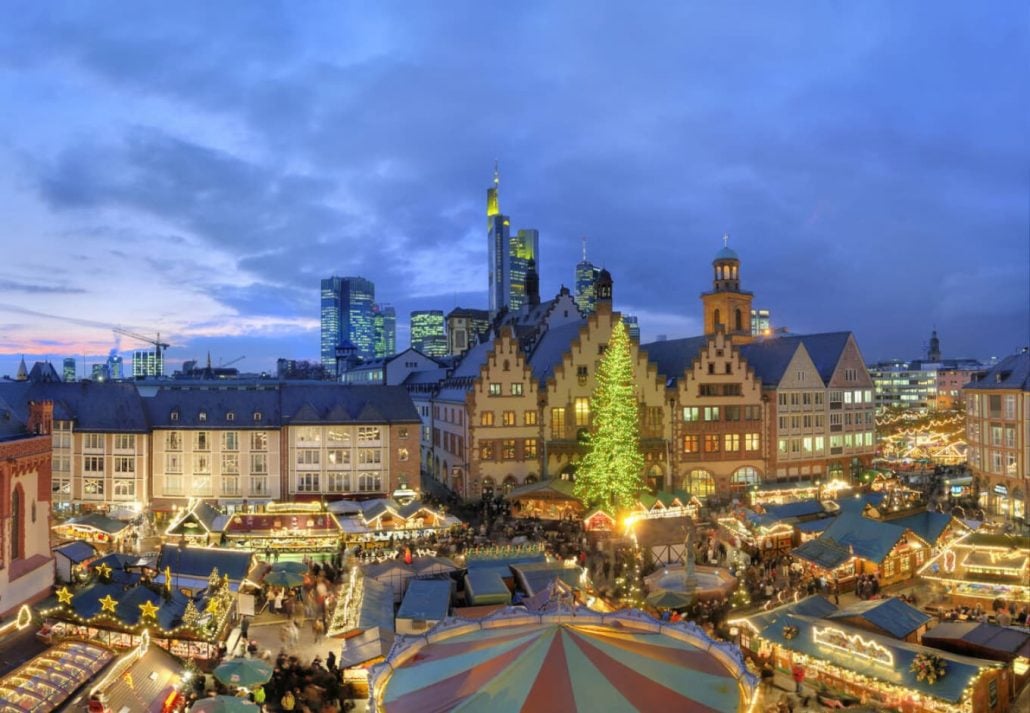 Germany's financial hub is also home to one of the oldest and most picturesque Christmas markets. The Frankfurt Christmas Market dates back to 1393 and is known for its impressive Christmas tree and iconic red and white stalls. The Weihnachtsmarkt in Frankfurt is known for its hot apple wine, dried plum figurines, and marzipan, You'll also find a lot of authentic honey-based products, and choirs singing beautiful carols.
Here, you can find a vast array of culinary delights, from the local Bethmännchen almond cookies to hearty Frankfurter sausages. The market also offers a cultural program, including daily appearances by the Brothers Grimm.
Cologne Christmas Markets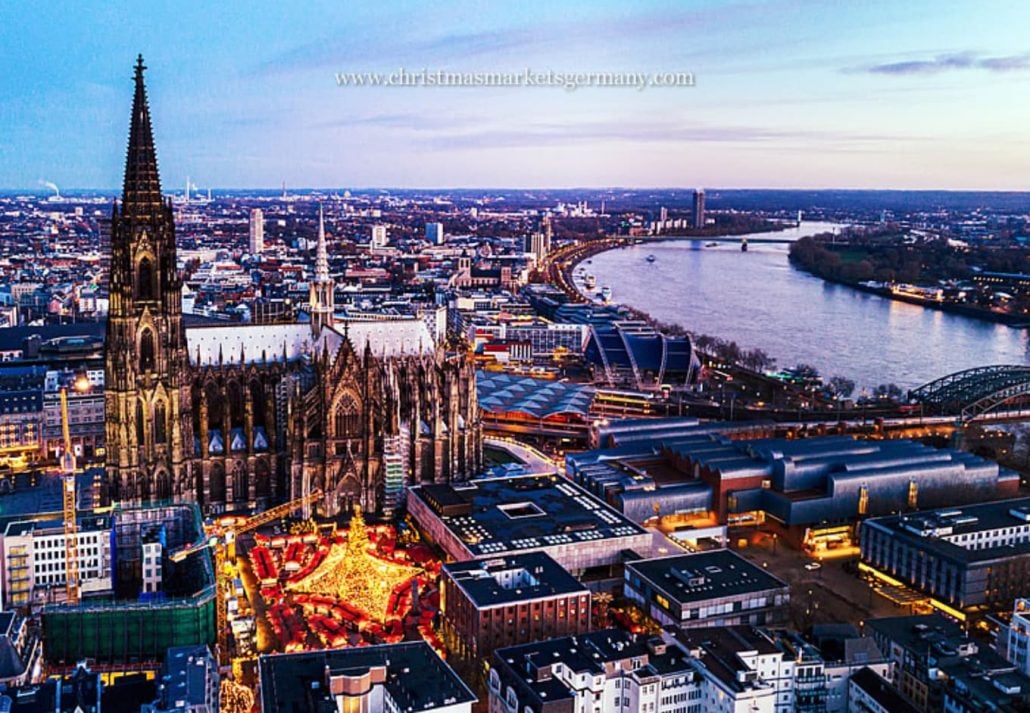 Cologne is famous for hosting not one but several Christmas markets, each with its unique theme and atmosphere. The most popular is the Cologne Cathedral Christmas Market, where the towering spires of the cathedral provide a breathtaking backdrop to the festivities. This is perfect to get your Christmas shopping done! It features over 160 stalls and a huge variety of arts and crafts. We also highly recommend visiting Cologne's Old Christmas Market which has a rustic vintage charm, as well as the Harbour Christmas Market which overlooks the Rhine.
The Alter Markt Christmas Market, known for its nostalgic charm, features an impressive Christmas tree and an enchanting elf dance. Don't forget to try the local Kölsch beer and sample the traditional Reibekuchen (potato pancakes) with applesauce. You can also take a group tour during which you can experience some of the breweries in town along with its best Christmas markets.
Munich Christmas Market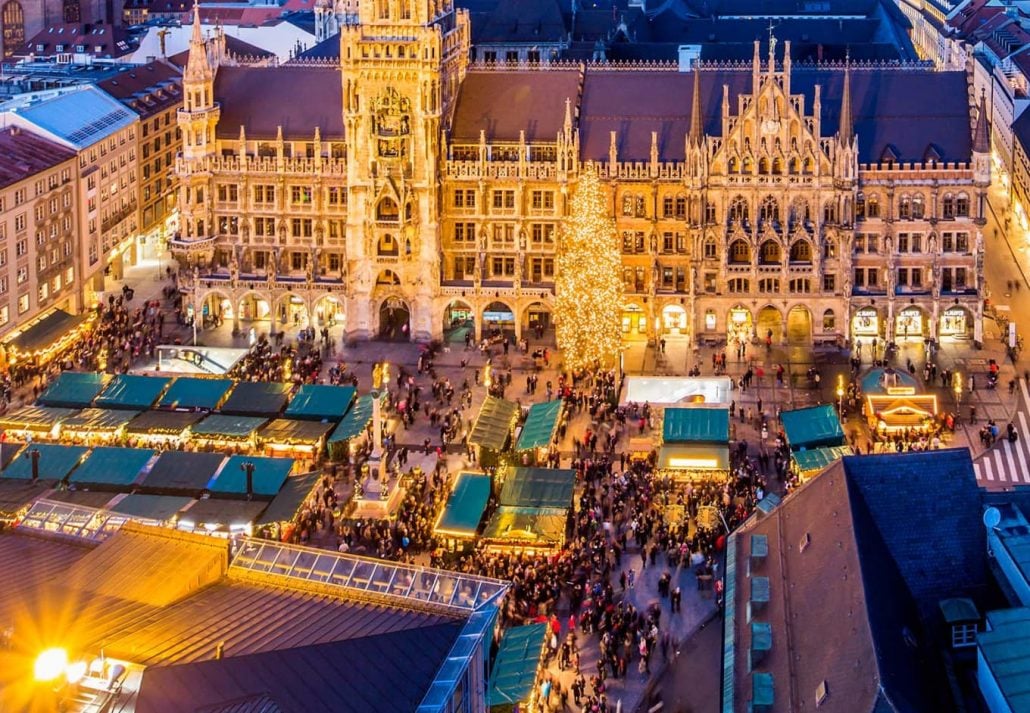 Munich's Marienplatz transforms into a winter wonderland during the holiday season, making it one of the most famous Christmas markets in Germany. The towering Christmas tree, festooned with thousands of lights, is a sight to behold. This is an iconic German Christmas market.
Here, you can feast on hearty Bavarian cuisine, from sausages and pretzels to roasted chestnuts. Be sure to explore the medieval market near Odeonsplatz, where you'll find unique, handcrafted gifts and entertainment. Munich has over 12 Christmas markets and another noteworthy one is the Winter Tollwood Festival in Munich which has an artsy, hippie vibe, features foods from all around the world (including vegetarian and vegan options), and hosts a killer New Year's party as well.
Erfurt Christmas Market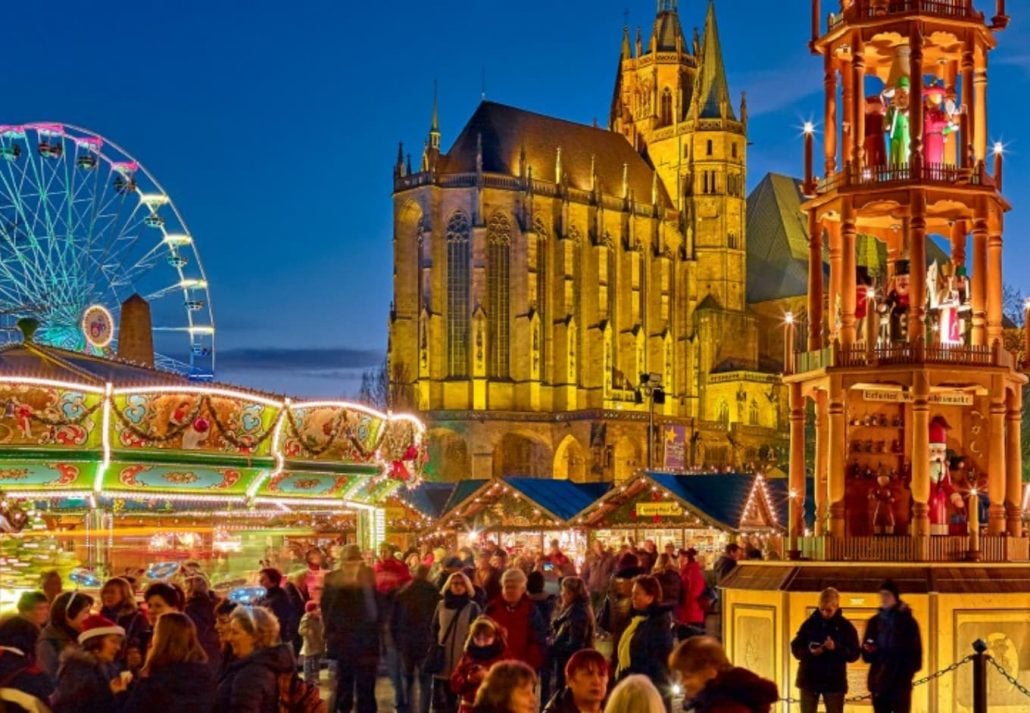 Erfurt, a charming medieval town in Thuringia, hosts a Christmas market that feels straight out of a fairytale. The market is set against the backdrop of the magnificent Cathedral of St. Mary and St. Severus and is adorned with so many sights to see, from the huge sparkling Christmas tree to life-sized Nativity Scenes and the Erzgebirge Christmas Pyramid.
At the heart of the market, a large Christmas tree sparkles with thousands of lights, creating a magical atmosphere. Erfurt's market is known for its delightful Thuringian bratwurst and the iconic Thuringian dumplings, which are a must-try.
Rüdesheim Christmas Market Of Nations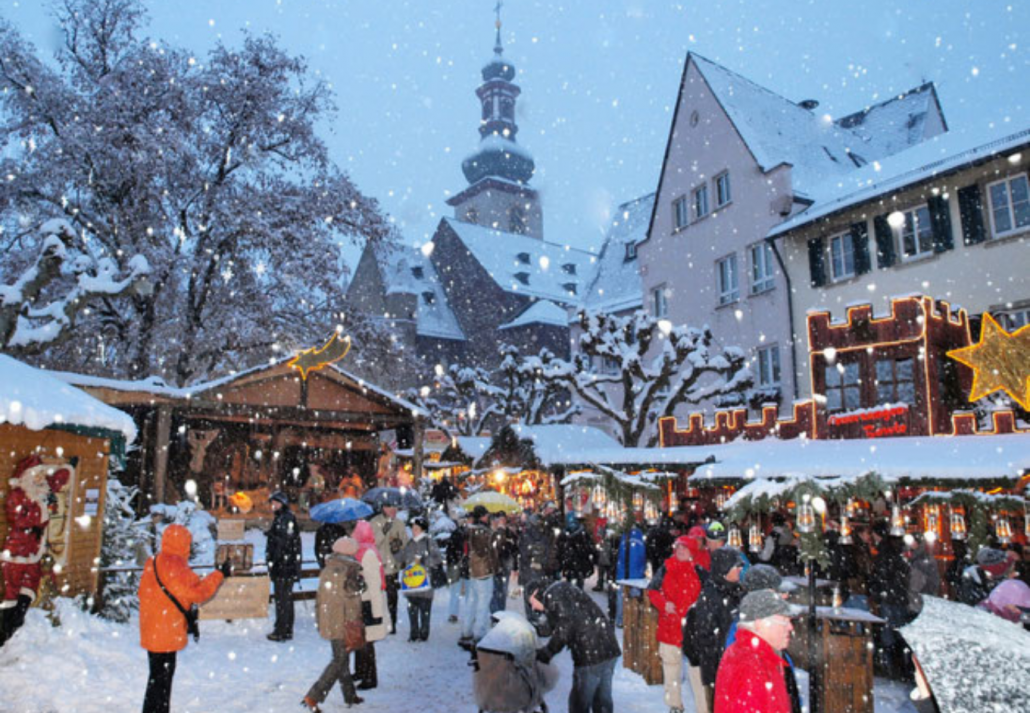 Nestled along the picturesque Rhine River, Rüdesheim is known for its charming and romantic Christmas market. The market is set in the historic Old Town, and it feels like stepping into a storybook. This particular Christmas Market of Nations is known for bringing together 16 countries from around the world to present their customs, traditions, and specialty products, on the banks of the river Rhine.
The streets come alive with festive lights, and the stalls offer an array of handcrafted gifts, ornaments, and delicious treats. Try the local Rüdesheim coffee, a delightful concoction of coffee, brandy, sugar, and whipped cream that warms the soul.
Braunschweig Christmas Market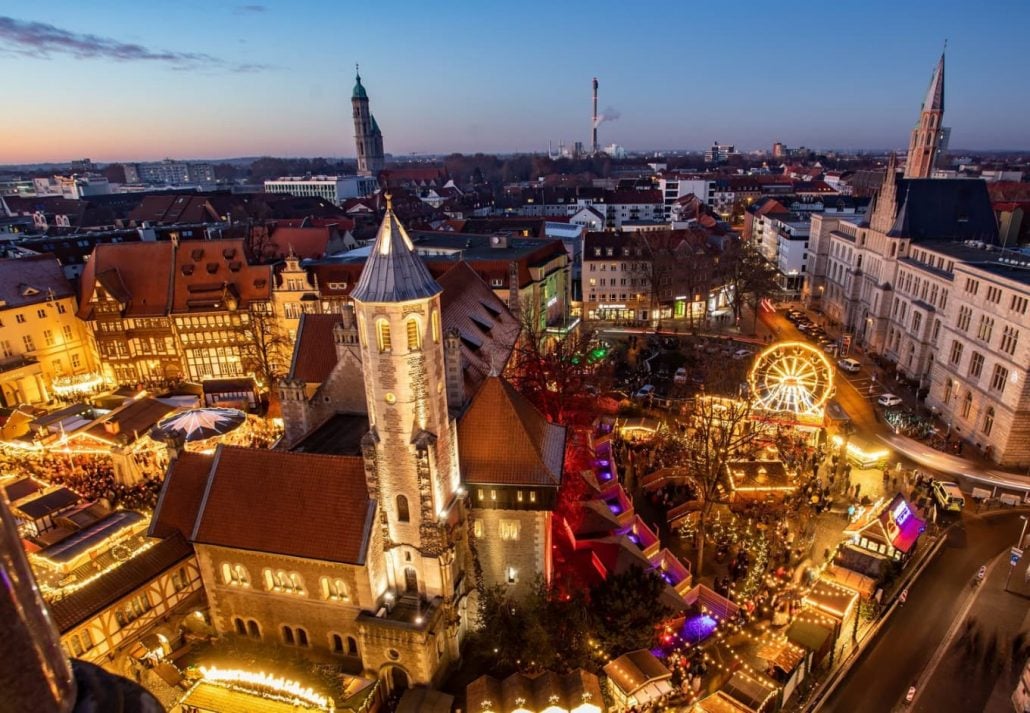 Braunschweig, in Lower Saxony, boasts a Christmas market steeped in tradition. The highlight is the magnificent Lion City's Christmas Pyramid, which features a beautiful nativity scene. This Christmas Market sees several hundred thousand people every year, eager to see the beautiful traditions of this town which date back to the year 1500. It features over 150 stalls located near the St Blasii Cathedral.
The market offers a wide range of local specialties, including marzipan, gingerbread, and hearty German sausages. The medieval-themed market transports you back in time with its charming stalls and entertainment. We highly recommend sipping on some Braunschweiger Mumme which is a spicy non-alcoholic malt beverage.
FAQ
What Christmas market is the best in Germany?
There are many popular Christmas markets in Germany, but the most popular of them is probably the Christkindlesmarket in Nuremberg.
When should I go to the German Christmas market?
Most Christmas markets in Germany begin around November 20th-25th and go on until December 23rd approximately. They might become more crowded the closer it gets to Christmas, so do plan accordingly.
Are the German Christmas markets worth visiting?
German Christmas markets are certainly worth visiting because of their traditional charm and unique offerings.
Which part of Germany has the best Christmas markets?
Nuremberg and Munich have the best Christmas markets in Germany.