From iconic landmarks to hidden gems, we've handpicked the best activities that will make your visit to Cape Town, South Africa truly unforgettable. Have a look at the 9 most amazing things to do here!
Find Places To Stay In Cape Town
Quick Guide To Cape Town — Things To Do & Places To Visit
Cape Point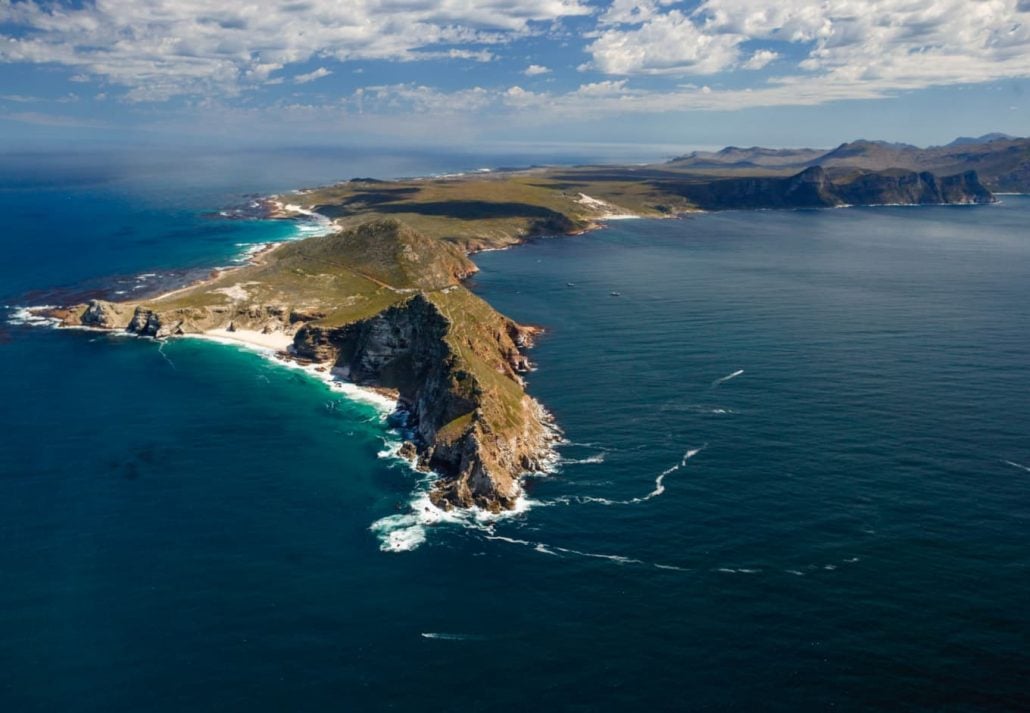 Your Cape Town trip won't be completed without exploring the beautiful Cape Point, at the southern tip of the Cape Peninsula.
It offers breathtaking coastal views, a historic lighthouse, and hiking trails. The area is rich in wildlife and is part of the UNESCO-listed Cape Floral Kingdom.
Visitors can enjoy beaches, take a funicular ride, and explore the cultural heritage of the region.
Table Mountain National Park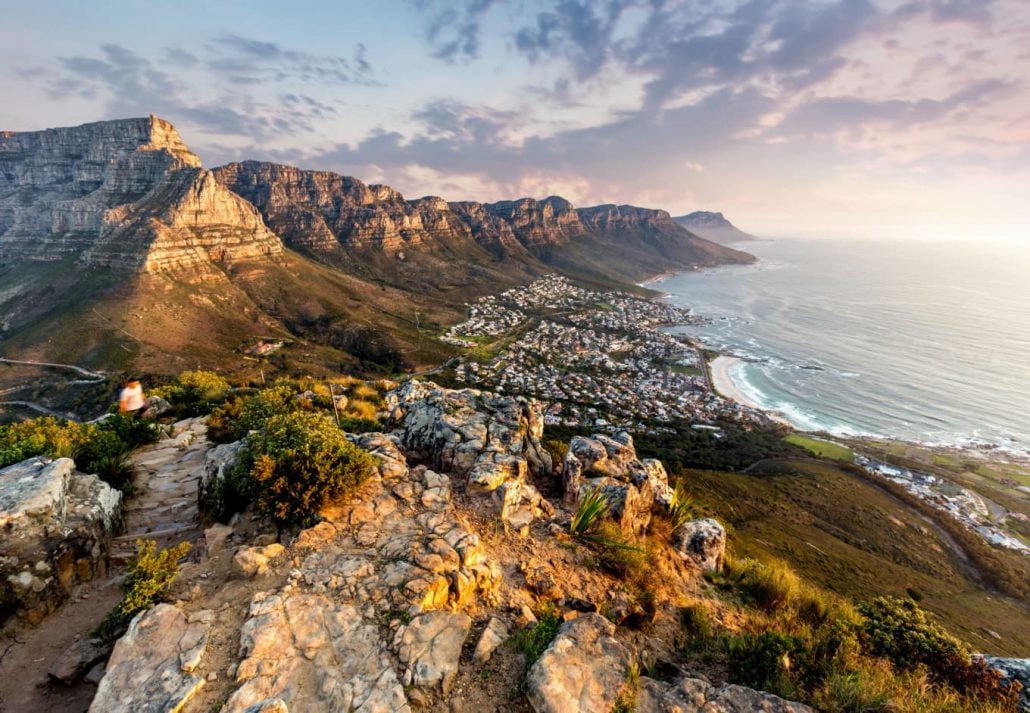 Table Mountain National Park is a natural wonder with Table Mountain as its iconic centerpiece.
You can hike to the summit for breathtaking views or take a cable car ride for a unique perspective.
Enjoy picnics in scenic spots, explore diverse flora and fauna, and capture stunning photographs. Witness captivating sunrises and sunsets, indulge in bird-watching, and try rock climbing for the adventurous.
Nearby, Kirstenbosch Gardens and beautiful beaches like Boulders Beach and Oudekraal await.
This park offers a diverse range of activities and is a must-visit destination for travelers seeking adventure, nature, or tranquility in a stunning setting.
Boulders Beach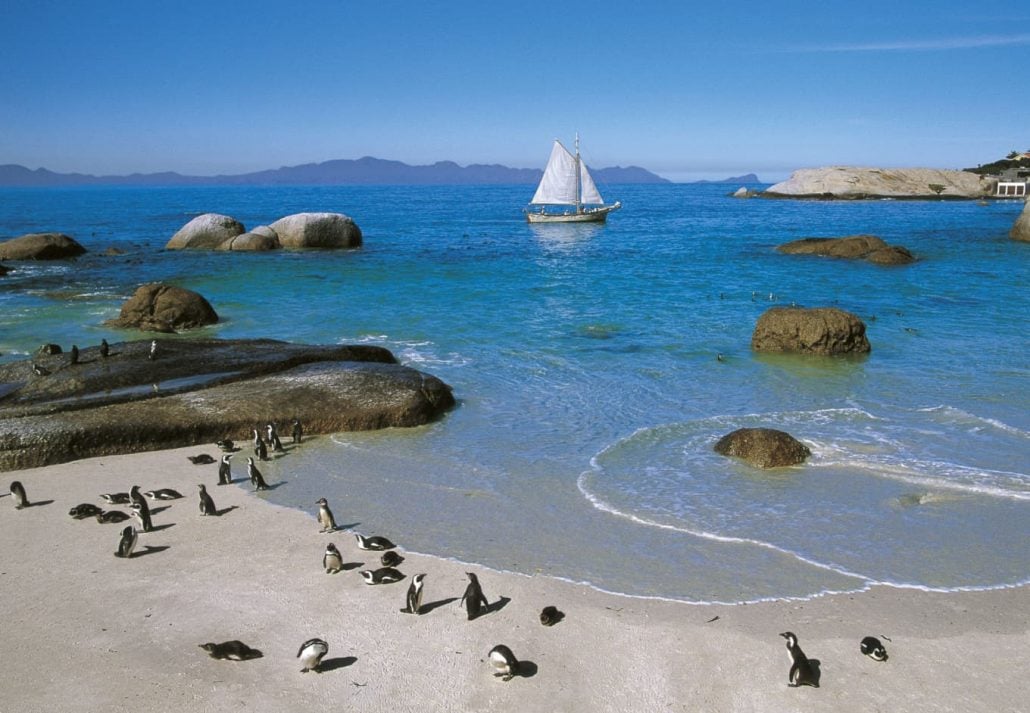 Boulders Beach is home to African penguins, providing a rare opportunity to observe these charming animals.
The beach features well-maintained walkways and boardwalks that offer safe and unobtrusive penguin viewing.
Families can enjoy this family-friendly destination, as it's a fantastic educational experience for children. The nearby visitor center offers valuable insights into penguins and the marine environment.
Lion's Head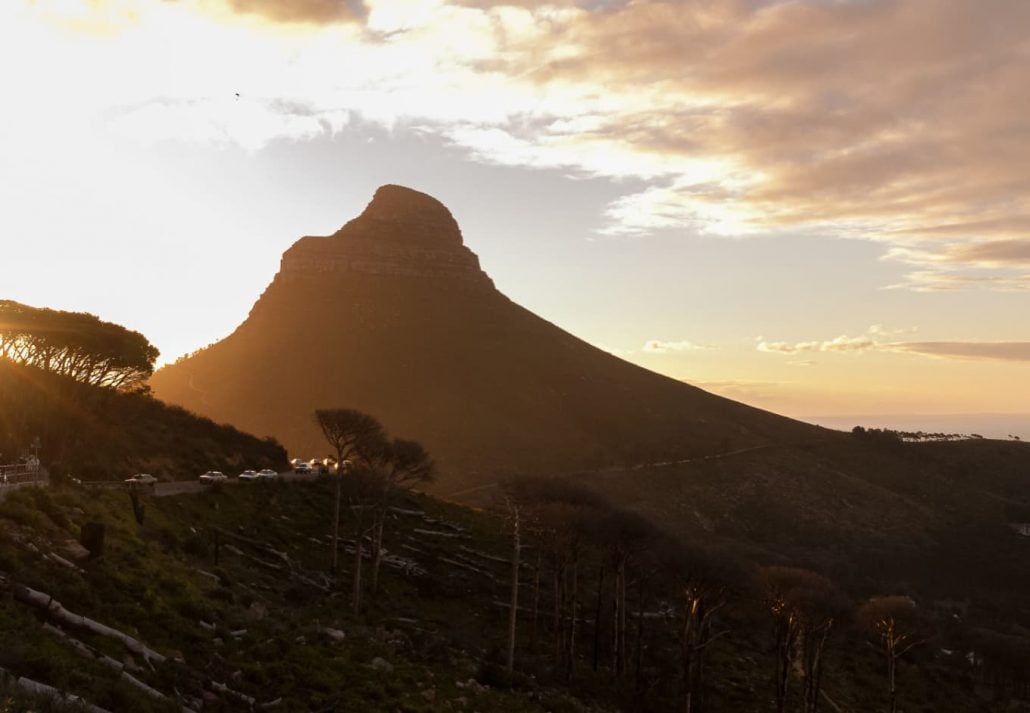 Lion's Head, a well-recognized mountain peak offers an accessible hiking trail that leads to a summit with breathtaking 360-degree views of Cape Town, Table Mountain, and the ocean.
The mountain is a hotspot for paragliding and full moon hikes; perfect for creating memorable experiences.
Visitors can also go rock climbing, observe wildlife, and take stunning photographs. A great spot for anyone looking to soak in the stunning views of the Cape Town area.
Also Read: 5 Most Amazing Safaris In South Africa
Robben Island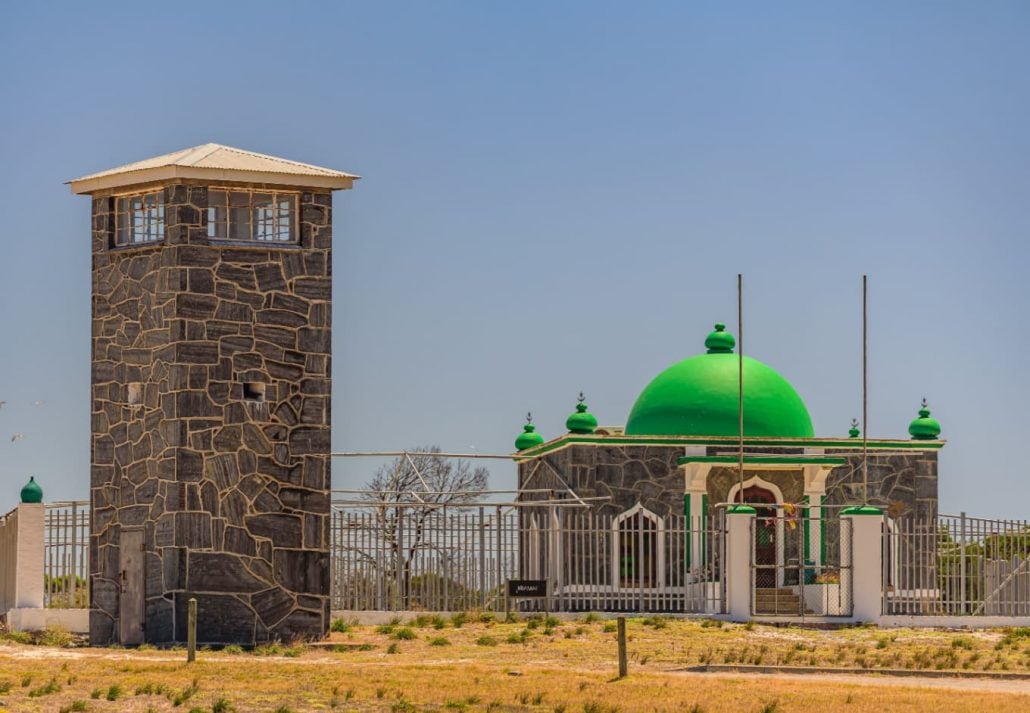 You simply can't skip Robben Island when visiting Cape Town. It's a UNESCO World Heritage Site known for its former prison where Nelson Mandela and other political prisoners were held during apartheid.
Key attractions include guided Robben Island tours, Nelson Mandela's cell, and educational exhibits about South Africa's history and its path to democracy.
The island is also a good place to observe penguins and seals. Moreover, a ferry ride to the island and visits to the lime quarry and church add to the experience.
District Six Museums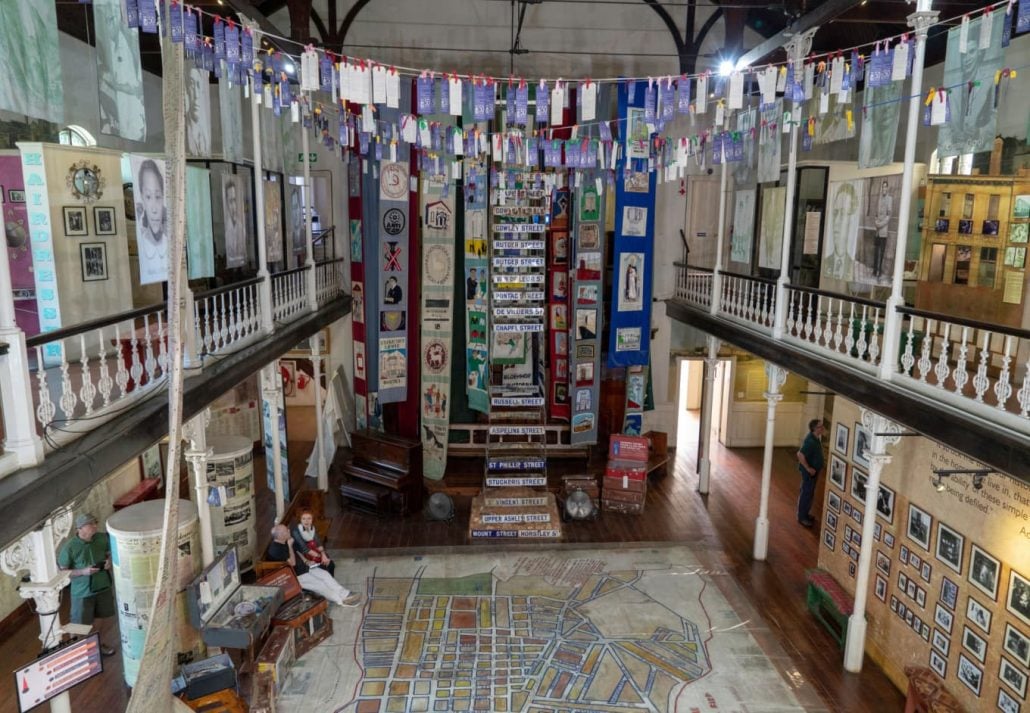 Cape Town's District Six Museum commemorates the forced removal of residents during apartheid.
It features exhibits, interactive displays, oral histories, artifacts, and walking tours, offering a vivid look into the community's history.
The museum hosts educational programs and collaborates with the local community to promote social justice. It's a place for reflection on apartheid's legacy, providing insight into the past and the resilience of those affected.
Address: 25A Buitenkant St, District Six, Cape Town, 8000, South Africa
Kirstenbosch National Botanical Garden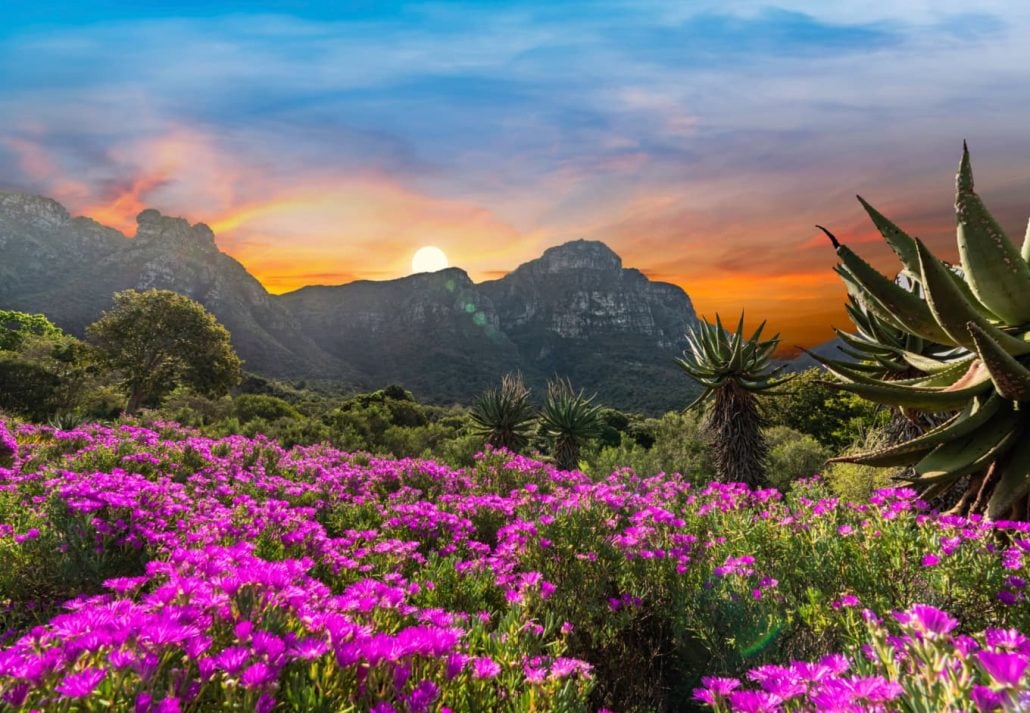 Kirstenbosch National Botanical Garden boasts a captivating display of indigenous plants, including proteas and cycads.
You can stroll through a tree canopy walkway, explore themed gardens, and enjoy birdwatching. The garden also hosts events and concerts. It's a delightful destination for nature lovers and those seeking a peaceful escape.
Address: Rhodes Dr, Newlands, Cape Town, 7735, South Africa
Castle Of Good Hope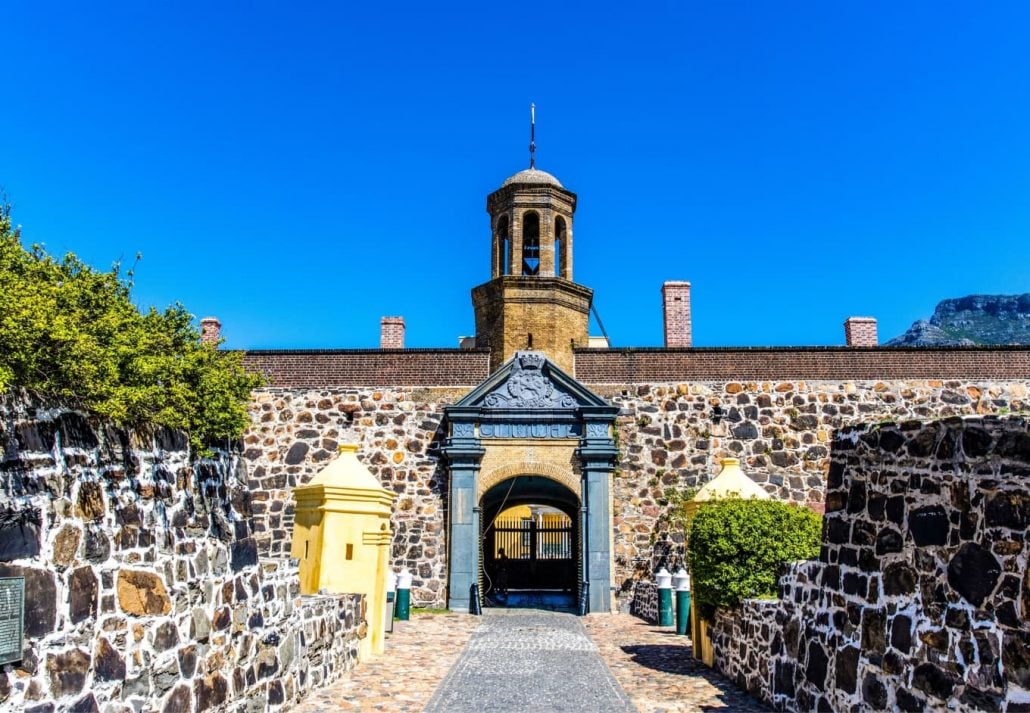 The Castle of Good Hope in Cape Town, South Africa, is a historic fortress with a rich past dating back to the 17th century.
It features Dutch architecture and houses a museum displaying colonial-era artifacts. Visitors can explore its cannons and artillery in the Artillery Museum and take guided tours to learn about its history.
The castle also hosts events and offers scenic grounds for leisurely walks.
Address: Darling St & Buitenkant St, Cape Town, 8001, South Africa
Two Oceans Aquarium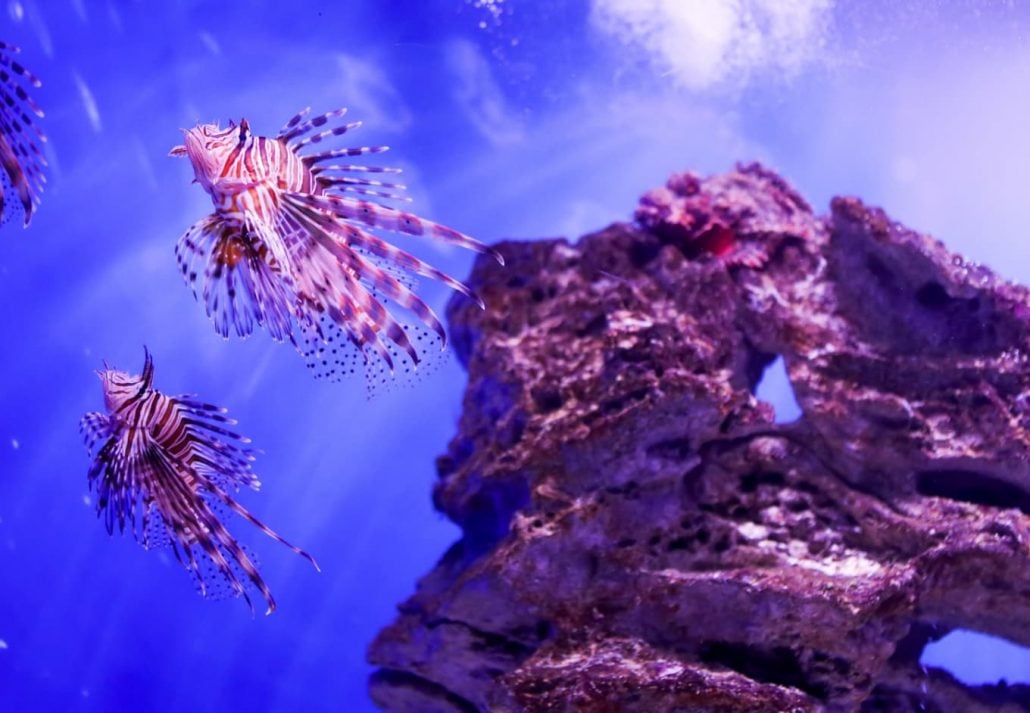 The Two Oceans Aquarium — a mesmerizing underwater world where you can meet creatures from the Atlantic Ocean and Indian Ocean.
See playful penguins and majestic sharks, explore a simulated kelp forest, and dip your hands into touch pools to connect with starfish and sea anemones.
Moreover, the aquarium plays a vital role in marine conservation and offers engaging programs to learn about ocean ecosystems.
Address: Dock Rd, Victoria & Alfred Waterfront, Cape Town, 8002, South Africa
Also Read: CuddlyNest Stays In Cape Town
FAQ
What are the best attractions in Cape Town, South Africa?
What is Cape Town best known for?
Cape Town is best known for its striking nature, cultural diversity, historical significance, and vibrant arts and culinary scenes, making it a captivating and multifaceted destination you need to visit at least once in your life.
How many days in Cape Town is enough?
4 to 5 days.
Where is the Western Cape located?
Western Cape lies bordered by two oceans; the Atlantic and the Indian.
Where do two oceans meet?
Cape Agulhas is a place where the Atlantic and Indian Oceans meet.
What do I need to know before visiting Cape Town?
Before visiting Cape Town, it's important to be aware of several key factors to ensure a safe and enjoyable trip. Start by checking a Cape Town map to familiarize yourself with the city's layout and attractions.
Consider the weather, safety precautions, and health measures, including vaccinations and necessary medications. Understand the local currency, visa requirements, and driving rules if you plan to explore by car.
What else to visit in the Cape Town area?
Zeitz Museum of Contemporary Art Africa;

Campa Bay;

De Grendel Wine Estate and Restaurant (wine tasting);

Clifton Beach (one of the best white sand beaches);

Simon's Town;

The Cape Wheel;

World of Birds Wildlife Sanctuary & Monkey Park.
Browse. Book. Stay.
CuddlyNest provides all accommodations to all travelers at the best price. Find unlimited travel inspiration on our blog and social media channels:
Facebook, Instagram, Pinterest, and X.
You May Also Like:
The Ultimate Africa Travel Guide
There's More to South Africa Than a Safari – Here are 6 Ideas
Middle East Travel Guide
Asia Travel Guide
Oceania Travel Guide
Africa Travel Guide
Europe Travel Guide
North America Travel Guide
South America Travel Guide