[ad_1]

Before embarking on your dreamy Barcelona trip, it's important to learn the best ways of getting around the city so you can plan in advance.
Fortunately, Barcelona has one of the best public transport systems in Europe that is affordable, fast, reliable, and convenient.
The city's transportation options include metro, bus, and train, but there are also some alternatives for getting around the city.
To help you make the most of this magnificent European city, we've created this comprehensive guide on how to get around Barcelona easily.
We'll cover the main types of public transportation in Barcelona, and provide you with all the information on the operating times, how much the travel passes cost, and more.
How To Get Around Barcelona: The Top Transport Options
Metro
Barcelona's metro system is extensive and efficient, covering most parts of the city. 
It consists of several metro lines that connect major attractions, neighborhoods, and even the El Prat airport. 
The Barcelona metro consists of 8 lines: L1, L2, L3, L4, L5, L9, L10, and L11, which are managed by the company TMB (Transports Metropolitans de Barcelona).
And 4 lines L6, L7, L8, and L12 belong to the FGC (Ferrocarrils de la Generalitat de Catalunya).
Individual metro tickets cost € 2,40 and the validity is 75 minutes.
Operating hours: Monday to Thursday from 5:00 AM to midnight | Fridays and nights before public holidays from 5 AM to 2 AM | Saturdays from 5 AM  continuing into the next day | On Sundays, the metro runs all night long.
Advantages: Barcelona's metro system is extensive, covering the city and its outskirts. It is fast, reliable, and a popular choice for getting around.
You can easily reach several of Barcelona's top attractions by metro. These include Casa Batllò (Passeig de Gràcia), Casa Milà/La Pedrera (Diagonal), Barcelona Cathedral/Gothic Quarter (Jaume I), La Sagrada Familia (Monumental) and the Barceloneta Beach (Barceloneta).
Recommended Read: Barcelona Travel Tips: Things You Must Know Before Your Trip
Bus
Taking the bus is another popular way to get around Barcelona. The city's bus system has over 100 lines, which are well-connected and cover the entire city, reaching areas not serviced by the metro stations.
Barcelona buses are equipped with air conditioning and are wheelchair accessible.
You can buy a single-use ticket from the bus driver at a cost of € 2,40.
Operating hours: Running times vary according to the bus route. However, most services start between 4:25 am and 5 am and run until 11 pm.
Barcelona has a night-bus service (NitBus) serving most of the city and its suburban area.
Night buses usually begin between 10:40 and 11:40 pm and end between 5 am and 6 am.
Make sure to check the TMB website for bus schedules and maps.
Tram
Barcelona's tram is an excellent option for getting around in the city.
The tram network consists of 6 lines and 56 stops.
Lines T1, T2, and T3 run through the municipalities of Barcelona, l'Hospitalet de Llobregat, Esplugues de Llobregat, Cornellà de Llobregat, Sant Joan Despí, Sant Just Desvern and Sant Feliu de Llobregat.
Lines T4, T5, and T6 make up the Besòs network. T4 and T6 connect Barcelona with Sant Adrià de Besòs, and T5 connects Barcelona with Badalona.
Barcelona's tram network is not as extensive as the metro or bus network.
To travel to areas not serviced by trams, you may need to consider other modes of transportation like buses or the metro.
However, they serve specific areas outside of the city center, making it a great option for those seeking to reach the Barcelona suburbs and more residential neighborhoods.
Trams in Barcelona are generally spacious, air-conditioned, and equipped with comfortable seating.
They provide a more relaxed and comfortable ride, especially during off-peak hours when they are less crowded.
Operating hours: Monday to Thursday from 5 am to midnight.
Friday, Saturday, and the evenings before public holidays from 5 am to 2 am.
Sundays from 5 am to midnight.
Bike
Barcelona is progressively becoming a bike-friendly city with a growing number of dedicated cycle lanes and paths.
While only residents can use the public rental service, visitors can rent bicycles from various shops available throughout the city.
Biking is a fantastic way to explore Barcelona, particularly along the beachfront or in parks like Parc de la Ciutadella.
The city center is relatively flat, making it easy to cycle around and explore.
Walking
Barcelona is an extremely walkable city. Several streets are flat and many popular attractions are within reasonable distance of each other, especially in central Barcelona.
Walking allows you to fully immerse yourself in the vibrant streets, discover hidden gems, and experience the unique atmosphere of different neighborhoods.
Taxis & Ride-Sharing Apps
Taxis are widely available in Barcelona and offer a convenient door-to-door service. You can hail them on the street or find them at designated taxi stands.
They can be easily identified by their yellow and black livery (green light means they're free).
Taxis are a convenient option for late-night trips or when you have heavy luggage.
However, getting around Barcelona by taxi can be more expensive compared to public transport.
It's important to ensure that the taxi has a working meter and to be aware of any additional charges, especially at night or during special events.
Also, while most taxi drivers take credit cards, double-check before the ride starts. And if you're paying in cash, be sure you have small changes.
Taxi prices in Barcelona depending on the time of the day and area. From 8 am to 8 pm, you will pay €1.21 per kilometer, and from 8 pm to 8 am it's €1.45 per kilometer. A supplement of €3.10 is applied at nighttime on Christmas, New Year, and on 23–24 June during the San Joan Festival.
Services like Uber and Cabify operate in Barcelona, providing an alternative to traditional taxis. You can use these apps to request a ride and pay through the app.
Car
Renting a car provides flexibility and freedom to explore Barcelona and its surrounding areas at your own pace. It's convenient for Barcelona day trips or visits to attractions outside the city.
Having a car is also a great option for travelers seeking to explore the best beaches around Barcelona during the summer.
However, it's recommended to park outside the city center and use public transportation within Barcelona to avoid traffic and parking challenges.
Traffic in Barcelona, however, can be congested, especially in the city center. Finding parking spaces can be difficult and expensive.
Additionally, certain city areas have restrictions on private vehicles, and driving regulations may differ from your home country.
Funicular & Cable Car
Barcelona has a couple of funiculars and cable cars that take you to scenic viewpoints or higher areas of the city.
For example, you can take the Montjuïc funicular to reach Montjuïc Hill or the cable car from Port Vell to Montjuïc Castle.
How To Get To & From The Barcelona Airport
Barcelona Airport, also known as El Prat Airport (BCN), is the main international airport serving the city. 
There are several transportation options available to travel to and from Barcelona Airport:
Aerobús
The Aerobús is a popular shuttle service that operates between Barcelona Airport and the city center. 
It has two routes: A1, which terminates at Plaça Catalunya, and A2, which stops at Plaça Espanya. 
The Aerobús runs frequently, usually every 5 to 10 minutes, and provides a direct and convenient connection to key areas in Barcelona.
A1 or A2 only cost €5,90 one way.
Metro
The Barcelona Airport is connected to the city's metro system via Line 9 (Orange Line). 
The L9 Sud line connects Terminal 1 and Terminal 2 of the airport to various metro stations within the city. 
You can transfer to other metro lines to reach your desired destination. 
Metro trains operate from around 5:00 am to midnight (slightly earlier on Sundays and holidays).
Renfe Train
The R2 Nord line of the Renfe suburban train network connects Barcelona Airport to the city center and other destinations in the region. 
The train stations at the airport are located in both Terminal 2 and Terminal 1. 
Trains are a convenient option for reaching downtown Barcelona and other major train stations like Sants Estació.
Taxis
Taxis are readily available at the airport, and you can find them at designated taxi ranks outside the terminals. 
Taxis in Barcelona are metered, and taxi rates depend on the distance traveled and any additional charges (such as airport surcharges or late-night fees). 
The standard fare from the airport to the city center is around 30-40€. Make sure the taxi driver starts the meter at the beginning of the trip.
Ride-Hailing Apps
Services like Uber and Cabify operate in Barcelona, and you can use their apps to request a ride to or from the airport. 
These services provide an alternative to traditional taxis and offer the convenience of cashless transactions and upfront pricing.
Private Transfers
You can arrange private transfers in advance to pick you up from the airport and take you directly to your destination. This option is particularly useful if you have a lot of luggage or prefer a more personalized and hassle-free experience.
It's important to consider factors such as cost, travel time, and the location of your destination when choosing the transportation option that best suits your needs.
Additionally, it's advisable to check the schedules and any updates regarding public transportation options to ensure a smooth journey to and from Barcelona Airport.
Transport Tickets & Fares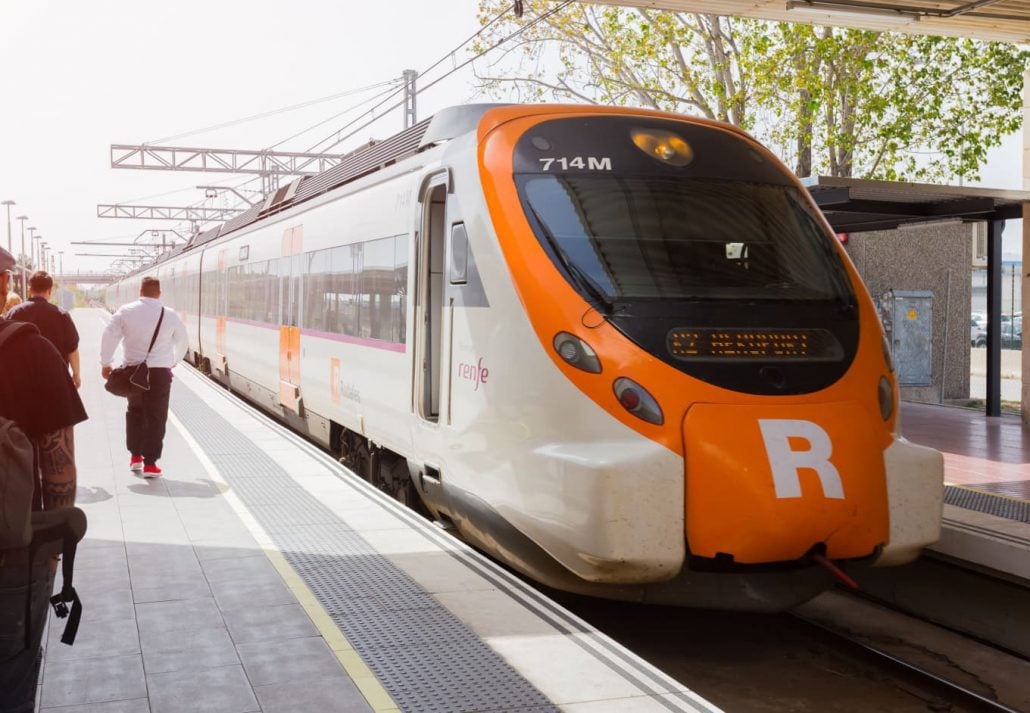 The Barcelona public transport operates an integrated fare system.
You can transfer for free within 1h15 of validating your ticket to the different means of transport (metro, bus, tram, or Ferrocarril) you'll need to get to your destination.
Single TMB ticket: €2.40
This is the perfect option if you use public transport very rarely.
You can buy tickets on the ticket machines in the metro stations, or from the bus drivers. They accept coins, notes, and credit cards. 
The TMB single ticket is valid for only one journey on the metro, bus, or Montjuïc funicular. It is an individual non-integrated ticket.
T-Casual tickets are not valid at the airport metro stops T1 and T2.
T-Casual card: €11.35
It allows you to make 10 trips on all lines of the network for a price of €11.35.
You can purchase the T-Casual card on the TMB bus and metro automatic vending machines.
T-Dia card: €10.50 (1 zone)
This individual ticket allows you an unlimited number of journeys in one day, on all modes of transport.
The T-Dia card is valid for only one zone. 
Note that Zone 1 is the city center, so chances are you won't need any other type of ticket. 
It's also valid for a maximum of one round trip to or from Aeroport T1 and Aeroport T2 metro stations on line L9 Sud.
You can purchase the T-Dia card on the TMB bus and metro automatic vending machines.
FAQ
What is the best way to get around Barcelona as a tourist?
The metro is an excellent option for getting around Barcelona quickly and efficiently. It covers most areas of the city and connects major tourist attractions. The metro is particularly useful for longer distances or when you want to avoid traffic congestion.
What is the cheapest way to get around Barcelona?
The cheapest transport option is the metro or bus. If you want to explore Barcelona on a budget, you can also walk.
Can you use Uber in Barcelona?
Uber works as a taxi app so you can order a ride but with a Barcelona taxi.
Is Uber or a taxi cheaper in Barcelona?
Uber and taxis are around the same price in Barcelona.
What's the best way to get around in central Barcelona?
Central Barcelona is compact and pedestrian-friendly, making walking one of the best ways to get around. Many popular attractions, such as La Rambla, the Gothic Quarter, and El Born, are within reasonable walking distance of each other. Walking allows you to explore the narrow streets, discover hidden gems, and soak in the lively atmosphere of the city.
How much is a metro ticket in Barcelona?
A single metro ticket in Barcelona costs €2.40.
Is the Barcelona metro 24-hour?
On Saturday and other public holidays, the Barcelona metro is open 24 hours a day.
Can you use cash to pay for the Barcelona metro?
The metro ticket vending machines accept coins, notes, and credit cards as a form of payment.
CuddlyNest provides all accommodations to all travelers at the best price. Find unlimited travel inspiration on our blog and social media channels.
You Might Also Like:
Spain Travel Apps
The 7 Best Places For Shopping in Madrid
10 Best Hotels In Madrid, Spain
The 11 Best Tapas Bars in Madrid
The 12 Best Neighborhoods in Madrid
Madrid With Kids: 12 Fun Things To Do In The City
Best Museums In Madrid, Spain
Tourist Attractions in Barcelona
Best Cities to visit in Spain
La Tomatina Festival, Spain
Eating Tapas In Granada, Spain
Vegan Restaurants in Alicante, Spain
A Complete Guide To The 15 Best Festivals In Spain
The 10 Best Spanish Cheese You Should Try
The Ultimate Guide to Lobos Island, Spain
The Best Time To Visit Madrid, Spain


[ad_2]

Source link