[ad_1]

The little Scottish city of Dundee is home to four castles.
But beyond the city, you can explore loads more bricky behemoths—and if you're a pure castle junkie who just can't get enough of fearsome fortresses, Dundee is one of the best bases in Scotland.
So in this guide, I've brought you everything you need to know about the best 15 castles in Dundee (and nearby). Expect biggies, littlies, a load of variety, and some insights into history and heritage.
Cross that moat and come join the fun!
Best Castles in and Near Dundee + Map
Below, you will find a comprehensive list of some of the most beautiful castles in Dundee an nearby to visit. Here's a map to help you quickly locate them!
1. Broughty Castle
Perched over the edge of the mouth of the River Tay, Broughty Castle is the most scenic castle in Dundee…
… and if you want to learn all about the history and heritage of the area, it's also the best castle in Dundee. Home to a museum, it has exhibits running all the way from the 15th century to the modern day. Other juicy topics include local people and local wildlife.
One of the most storied castles in the region, it was built at a strategic viewpoint… so it's been an important defensive building during a load of different wars and conflicts.
Nowadays, Broughty Castle is home to some kid-friendly activities; and because it's tall and narrow, the castle has some good views of the surrounding area. When you're done, make sure you wander to the harbor, the promenade, and Broughty Ferry Beach. They're all nearby.
All in all, massively recommended!
🛣️ How to get to Broughty Castle (from central Dundee): by car, head east on Dundee Road. By public transport, the best way is to ride the train to Broughty Ferry railway station.
2. Claypotts Castle
Next up, one of the kookiest castles in Scotland.
This weird little quirk-fest has a z-shaped floor plan, small pointy roofs, and a load of mini windows. Inside, it's allegedly even weirder… but as of now, it's impossible to visit the interior, and I've never been in the place.
Back in the day, you could arrange a get-inside visit to Claypotts Castle by contacting Historic Scotland… but it seems (at least for now) that's no longer the case.
There's an on-site information board with some interesting historical details, but not much else. I recommend combining a visit here with a wander around very-nearby Dawson Park and Claypotts Park… or a walk/cycle along the almost-as-nearby waterside of Dighty Burn.
🛣️ How to get to Claypotts Castle (from central Dundee): by car, follow the A92 east out of the city. If you want to use public transport, there are loads of buses you can take, but the best option is the 28, from central Dundee.
3. Mains Castle
Yep, this is a castle in Dundee. But it's definitely not one of the best castles in Dundee.
Instead, it's just an old castle (some parts still exist, some don't), which now functions as a wedding venue. So unless you're getting married, or watching someone else get married, I wouldn't bother coming here. It's nothing special, and there's nothing to do—and it doesn't even look particularly impressive from the outside.
Yep, you always find this place featured in online lists of the best castles in Dundee… but presumably by people who've done literally zero research.
If, for some reason, you still really want to come here, combine it with something nearby. If I were you, I'd go to Finlathen Park, then walk west along Dighty Burn to Trottick Ponds.
🛣️ How to get to Mains Castle (from central Dundee): by car, follow the A90 north out of the city. By public transport, the 20, 21 and 23 buses are the best option.
4. Dudhope Castle
The last of the four castles that are actually in Dundee, Dudhope Castle is another can't-visit fortress.
The castle is pretty, and it sits in a pretty park (that's Dudhope Park, obviously)… so you can see it, you can wander close to it, and you can take photographs of it. But you can't go inside.
So if you're looking for history and heritage, I obviously don't recommend this one. But if you're just on the hunt for a family day out close to the center of Dundee, this is a good option. The park it sits in has tennis courts, a football court, a skate park, a play park, and some nice places to wander and picnic.
It also has a few monuments, and lovely panoramas of the city. And as a nice bonus, it's super close to Dundee's center.
🛣️ How to get to Dudhope Castle (from central Dundee): it's just a 15-minute walk!
5. Glamis Castle
Pretty close to Dundee, Glamis Castle is still inhabited (by the Earl of Strathmore and Kinghorne). It's been an important royal home for a long time—the mom of Queen Elizabeth II used to live here.
One of the biggest castles in Scotland, the place is absolutely massive. Get this: the gargantuan gardens even have walking trails inside of them… and the biggest is a 30-minute stroll.
It's also known as one of the best-looking buildings in the nation, both inside and out; its own website touts it as "the most beautiful castle in Scotland" (bit arrogant, if you ask me).
On a visit here, you can get a tour (to learn about all the lavish stuff you're looking at), wander endlessly around different sections of the gardens, and munch on some tasty snacks at the cafe.
And keep an eye out for events—the place often hosts seasonal markets, along with performances, exhibitions, and kid-friendly stuff.
🛣️ How to get to Glamis Castle (from Dundee): by car, head north on the A90, before turning off and heading west towards Glamis. If you're using public transport, you have to take two separate buses… so I wouldn't bother.
6. Scone Palace
One of the most weirdly-named castles in Scotland, Scone Palace sits just outside Perth.
It's actually more of a stately home rather than a standard castle… but as you've probably already worked out from this guide, the difference between the two is often pretty nebulous in Scotland.
One of the most storied castles in the nation, this Gothic giant was once the site of a church. Then a priory. Then a family home… and it's still home to the current Earl of Mansfield and his family.
These days, parts of the home are open to visitors… along with the gardens. Highlights include guided tours, historical insights, retro furniture, highland cattle, on-site peacocks, a garden maze, the sword of Robert the Bruce, a children's playground, an old chapel, a load of antiques, and many events.
And at the cafe, you can eat a palace scone… at Scone Palace.
🛣️ How to get to Scone Palace (from Dundee): by car, follow the A90 west. If you're using public transport, take a train to Perth, before then getting a bus (the 3 and 58 are your best options, though you need to walk 30 minutes after getting off the bus) or a taxi.
7. St Andrews Castle
Another coastal colossus.
You probably know St Andrews because of its associations with golf. Or its university. Or its big ruined cathedral.
Well, as you probably guessed from its inclusion on this list, the place also has a castle. And it's one of the best castles near Dundee.
It's mainly a ruin, but it sits right on the coast… and it has a famous horrible dungeon, a museum, and audio tours. Occasionally, the team here also run family-friendly seasonal fun, like Easter Egg hunts and Christmas events.
I recommend spending a weekend in St Andrews if you can. It's pretty and charming, and it's got all the conveniences you (and whoever you're traveling with) could ever need.
It's also a brilliant base for loads of day trips, including (both long and short) hikes and bike rides, and many nearby coastal towns and villages.
And as a nice bonus, it's closer to Dundee than most people expect.
🛣️ How to get to St Andrews Castle (from Dundee): by car, head south over the River Tay, then get on the A91 road. If you're traveling by public transport, your best option is the 99 bus, which runs directly from central Dundee to central St Andrews.
8. Dunnottar Castle
Atmospheric and unusual, this clifftop goliath is one of the best castles in Scotland. And if you're more interested in setting than insights, you'll think this is the #1 castle near Dundee.
It's mainly a big bunch of ancient ruins (in a really scenic place), so you'll probably want to get an audio tour or an actual tour if you're interested in history and heritage.
It's another decent option if you're traveling with kids—yeah, there's not much kid-friendly stuff on-site, but you get a food truck, plenty of space to run around, and a load of cliffs. And in close-by Stonehaven, there's a beach, a harbor, and endless ice cream and fish and chips.
If you have time (and energy), I recommend tackling the 2-mile (3.2 km) walk from the castle to Stonehaven. A seaside cliffy wander, it's peaceful and pretty—but it's blustery, so try not to get blown off the cliffs.
Oh, and as a nice bonus, the drive here is great—the A92 road runs close to the coast… but you can hug the shoreline more tightly along narrower roads if you fancy it.
🛣️ How to get to Dunnottar Castle (from Dundee): by car, follow the coast (or the A92 road). Or take the X7 bus from Dundee to Dunnottar Junction, before walking for around 10 minutes.
9. Edinburgh Castle
If you're only gonna visit one castle in Scotland, it should probably be this one.
Okay, it's not one of the best castles in Dundee, cos it's not really in Dundee. But it's massive, it's scenic, it's brimming with stuff to do, and it's in the nation's capital.
Built upon the peak of an inactive volcano, Edinburgh Castle sits over the city, with some top-quality panoramas. And every day except Sunday, they fire a 1pm cannon.
Other highlights include an immersive battle-centric exhibition, the massive ornate Great Hall, royal family stuff, a dog cemetery, a children's quiz, other kid-friendly exhibits, and seasonal attractions and events. In short, if you're looking for a castle with stuff to do, this is the one for you.
For much more on Scotland's capital, check out our guides to where you should stay in Edinburgh, the best day trips from the city, and our ultimate 2-day itinerary for Edinburgh.
🛣️ How to get to Edinburgh Castle (from Dundee): by car, head south along the A90 and M90. Or you can take a 90-minute direct train to Edinburgh.
10. Stirling Castle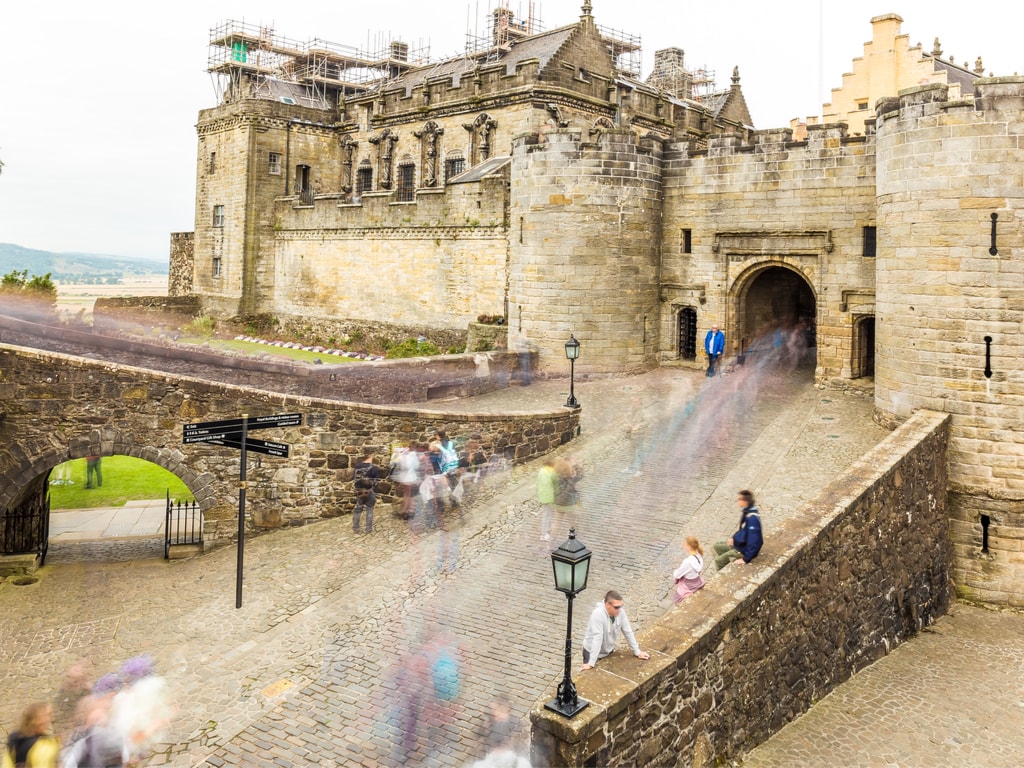 Sort of like a mini version of Edinburgh Castle, Stirling Castle also sits right in the middle of a city, it also sits high above a city, and it also used to be a big royal residence.
Though it's not quite as well-known as Edinburgh Castle, it's (almost) as good of an option for a day trip.
Highlights here include audio tours, costume characters, spooky mannequins (I'm not sure they're meant to be spooky), Outlander stuff (the castle was used as a filming site for the show), dress-up spots, hands-on kid-friendly fun, a chapel, a Great Hall, a royal palace, and loads more.
One of the biggest and most impressive castles in Scotland, it's totally worth the trip from Dundee. And if you're looking for a less-busy-than Edinburgh (but still easy to access) funfest, it's the best option on our list.
🛣️ How to get to Stirling Castle (from Dundee): by car, head southwest on the A90 and A9. Or you can take a direct train to Stirling—the trip takes around 50 minutes.
11. Burleigh Castle
Alright, I'll be honest with you. Burleigh Castle isn't one of the best castles near Dundee.
The castle itself isn't very impressive, you usually can't get inside, and there's not much on-site information on offer.
But bear with me.
It's pretty close to Dundee, it's easy to reach if you have a car, and it sits beside the shores of explore-worthy Loch Leven (which has a walking/cycling trail running around its entire perimeter). Even better, the entire area is a good base for outdoor adventures.
Around here, you get the loch, an RSPB center, the peaks and prettiness of Lomond Hills Regional Park, Glen Vales Waterfalls, the convenient and welcoming little base of Milnathort, and a load more family-friendly stuff.
So, yep, Burleigh castle isn't anything special. But the area around it really is—and it offers a wide range of stuff for a wide range of people. You don't get this much fun around many other castles.
🛣️ How to get to Burleigh Castle (from Dundee): by car, follow the A92 and A91 southwest. If you're relying on public transport, it's possible—but it's not worth the hassle.
12. Lochleven Castle
Remember Loch Leven, the lake I mentioned in the last entry?
Well, this castle sits right in the middle of it, on a tiny island.
But here's the fun part: you can only access the castle via a 10-minute ferry ride. If you have kids, they'll love it—this feels like a real remote adventure, but it sits in a not-too-remote place.
The castle is pretty basic, but its history is crazy. It's famous for lots of reasons… but mostly because it was an island prison, where its captives were totally isolated. One of those captives was Mary Queen of Scots, who eventually escaped.
At the time of writing (march 2023), this place is temporarily closed. But it'll be opening up again after some masonry work… and when it does, you absolutely need to visit. When it reopens, the new ferry schedule will be advertised. Keep an eye on the official website for news.
🛣️ How to get to Lochleven Castle (from Dundee): by car, follow the A90 and the M90. If you want to use public transport, I wouldn't bother—it's not worth the hassle.
13. Castle Menzies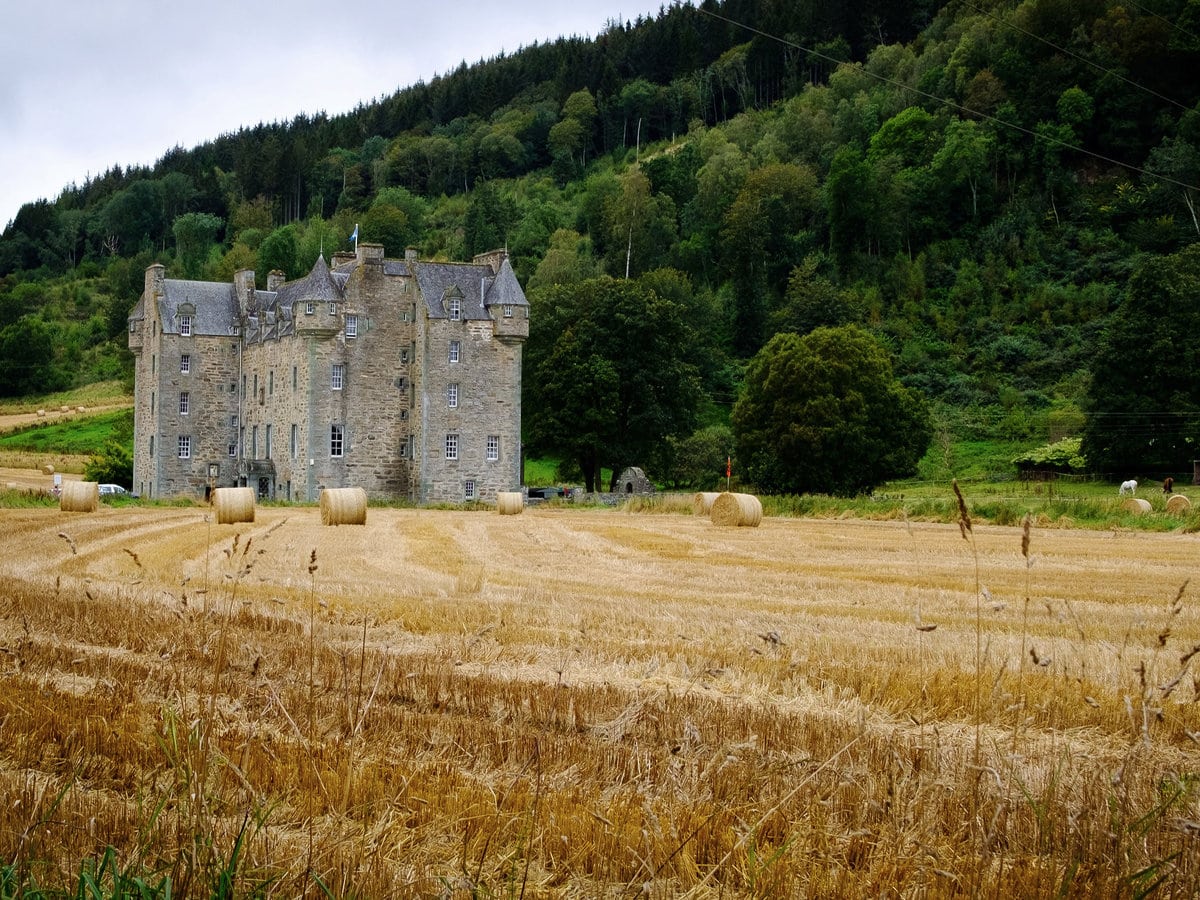 If you're hunting for a rough and rugged setting, I reckon this is the best castle near Dundee.
Sitting just south of Cairngorms National Park (the biggest national park in the UK), it's beside loads of Scottish outdoor highlights including Loch Tay, Loch Rannoch, Tay Forest Park, and the lovely lovely town of Pitlochry.
And from the outside, the castle itself looks attractive and atmospheric too. It's massive, it has five floors, and it was recently refurbished.
The insides aren't as ornate or spectacular as some people expect, but it's still worth visiting. They have loads of exhibited items from different eras, an on-site video about the castle and its history, walled gardens, and private tours of TV filming locations.
… and if you like spooky spectaculars, they also offer haunted castle tours.
🛣️ How to get to Castle Menzies (from Dundee): by car, follow the A90 west towards Perth, then the A9 north. When you've almost reached Pitlochry, you then want to head west. By public transport, the trip takes 3 hours or more, so it's not worth the hassle.
14. Balmoral Castle
The British royal family owns Balmoral Castle. And it looks like the exact sort of place a royal family would own.
Absolutely gargantuan, it sits inside 50,000 acres of land, and its inhabitants include cows (of the highland variety), grouse, ponies, deer, and lots of protected farmland and forests. You can explore it all on hikes (or if you're a lazy little layabout, you can arrange a 4WD trip instead).
Of course, if you want to learn about the British royal family (both past and present), this is the best castle near Dundee for doing it. On a guided tour (you can only enter the bulk of the castle on a guided tour), you'll learn all about their history and heritage, and why they like putting expensive jewels and precious metals on their heads instead of contributing that money to the failing society they pretend to oversee. Whatever.
1- There's a weird pyramid hidden in the grounds of this castle. Wander to it!
2- While you're here, you should also head to Braemar Castle. The two are only 8 miles (13km) from one another… so you can visit them both in one big bumper trip of castle based fun.
🛣️ How to get to Balmoral Castle (from Dundee): by car, head north on the A93 through the bottom part of Cairngorms National Park. If you try to use public transport, it'll take forever—so don't.
15. Blackness Castle
For strange and surreal, this is one of the best castles near Dundee.
Sitting right at the end of a headland, it juts into the Forth River, and has previously been a home, a prison, a defensive fortress, and loads of other things. These days, it's often used as a shooting site for film and TV, cos it looks nice.
If you're a poetic type of person, you'll want to call Blackness Castle "the ship that never sailed," like lots of guidebooks do. But if you're slightly more prosaic and unromantic, you might just say "yeah, it looks a bit like a boat."
When you're done exploring, you can walk both east and west on popular trails heading along the cliffs and coasts.
Oh, and while you're in the area, I recommend taking a trip to Linlithgow Palace. One of the most historic buildings in Scotland, it's where Mary Queen of Scots was born.
🛣️ How to get to Blackness Castle (from Dundee): by car, head west towards Perth, then south past Dunfermline. If you're using public transport, I really wouldn't bother—it'll take at least 2.5 hours.
Before You Go
Done! We've fortressed and family-homed our way to the end of this guide.
If you only have time to visit a couple of places, here are my recommendations: inside of Dundee, go for Broughty Castle. If you want to venture further out, go for Edinburgh Castle or Burleigh Castle.
For more fearsome fortresses, check out our guide to the best castles in Scotland, Isle of Arran castles, and the best castles in nearby Northumberland.
Thanks for reading, and thanks for visiting Travelness. See ya!


[ad_2]

Source link