[ad_1]

Nestled along the stunning Mediterranean coast, Barcelona has an array of vibrant neighborhoods, each with its own unique charm and character. 
Some are known for their vibrant nightlife scene, while others are praised for their charming old streets and big-name landmarks. 
If you're visiting Barcelona and are looking for the perfect vantage point to explore this amazing city, we've got you covered.
In this comprehensive guide, we will unveil the 7 best neighborhoods to stay in Barcelona.
Whether you seek a sun-soaked beach retreat, an exciting nightlife scene, or convenient proximity to the city's renowned attractions, this diverse selection caters to all budgets and preferences. 
From the family-friendly Gràcia district to the history-filled Old Town and the seaside La Barceloneta, there are options for every taste and budget.
Read on to discover where to stay in Barcelona and uncover the perfect spot for your unforgettable trip.
Where To Stay in Barcelona: The 7 Best Areas
Gràcia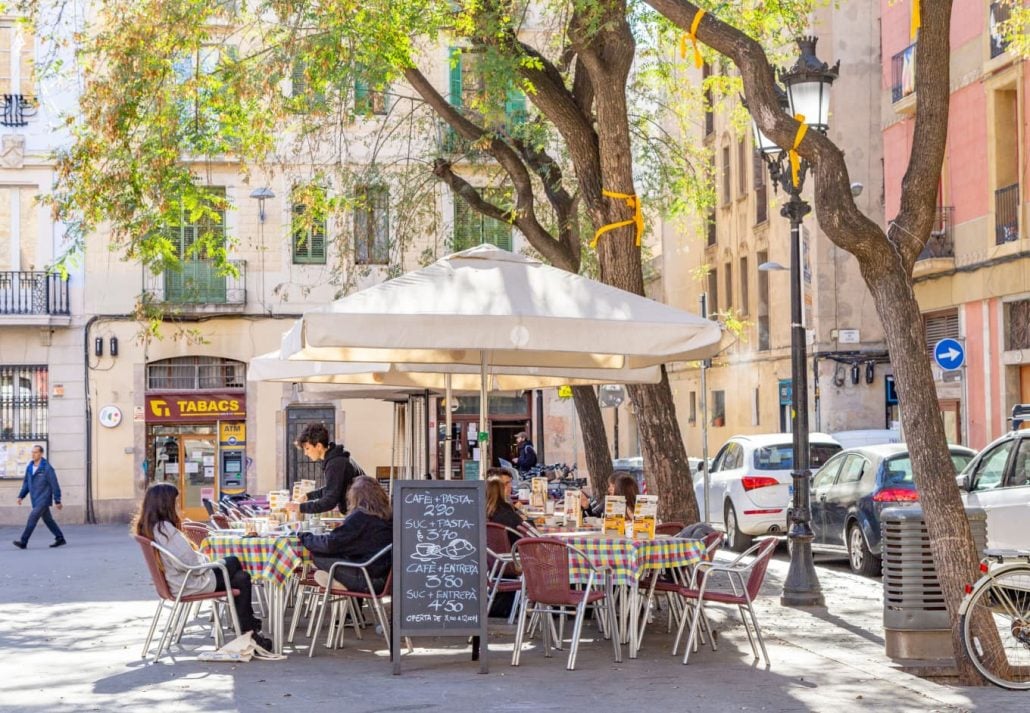 Gràcia is an elegant district located in the north of the city, at the top of Passeig de Gràcia. It spreads across the foothills of the Collserola mountain range and borders the famous district of Eixample.
Formerly an independent town, Gràcia has managed to retain its unique identity.
Its charming, leafy streets are lined with picturesque squares, trendy boutiques, and cozy cafés, creating a delightful tapestry of local life. 
Thanks to its more serene and laid-back atmosphere, Gràcia is a great option for travelers seeking to escape the hustle of overcrowded areas like the Gothic Quarter.
Wander through the narrow alleys and discover colorful façades adorned with vibrant street art. 
Despite its more tranquil vibe, Gràcia also offers easy access to some of the top tourist attractions in Barcelona, making it a great place for first-timers visiting the city.
One of Gràcia's most famous landmarks is the iconic Park Güell, a bucket-list attraction for anyone visiting Barcelona.
Designed by brilliant Catalan architect Antoni Gaudí, the park is known for its unique architecture and surrealist ambiance.
Make sure to read this comprehensive Park Güell guide for complete information about the park (history, how to get there, how to buy tickets, and more). 
Another popular Barcelona attraction in Gràcia is Casa Vicens. Also designed by Gaudì, the building has a stunning façade decorated with colorful ceramic tiles in shades of green.
Gràcia is also known for its lively cultural scene, hosting numerous festivals throughout the year, including the famous Festa Major de Gràcia. This event happens in August when streets come alive with intricate decorations and joyful celebrations. 
This neighborhood is a haven for artists, with art galleries, theaters, and alternative spaces showcasing the creative essence of Barcelona. 
Additionally, Gràcia offers a plethora of dining options, ranging from traditional Catalan cuisine to international flavors, making it a food lover's paradise. 
With its bohemian charm and community-driven atmosphere, Gràcia provides a refreshing escape from the bustling city center, while still offering easy access to Barcelona's iconic landmarks and attractions.
Best places to stay in Grácia
Budget: If you're looking for budget accommodation in Gràcia, Generator Barcelona is your best bet. The hostel has 140 private rooms and shared dormitories (4,6, and 8 beds) equipped with amenities such as air conditioning, a pillow, a duvet, and linen. Considered one of the best hostels in Barcelona, Generator also has common facilities such as meeting rooms, laundry facilities, and an on-site restaurant serving a selection of drinks and meals.
Mid-Range: Hotel Travessera is a small family hotel located less than one mile from Park Güell. All rooms come with a private bathroom with a shower or bathtub, TV, air conditioning, and free WiFi. This hotel is pet-friendly, has a 24-hour reception, and a parking area available upon request 
Luxury: Seventy Barcelona is a luxury hotel located between the Passeig de Gràcia and the Gràcia neighborhood. It has With 145 modern rooms and 2 suites pampered with a Nespresso machine with courtesy pods, and a smart TV. The hotel also has a luxurious spa where you can enjoy relaxing treatments made with 100% natural, vegan products. Named one of the best hotels in Barcelona, Seventy Barcelona has a luscious rooftop swimming pool and a terrace bar.
Eixample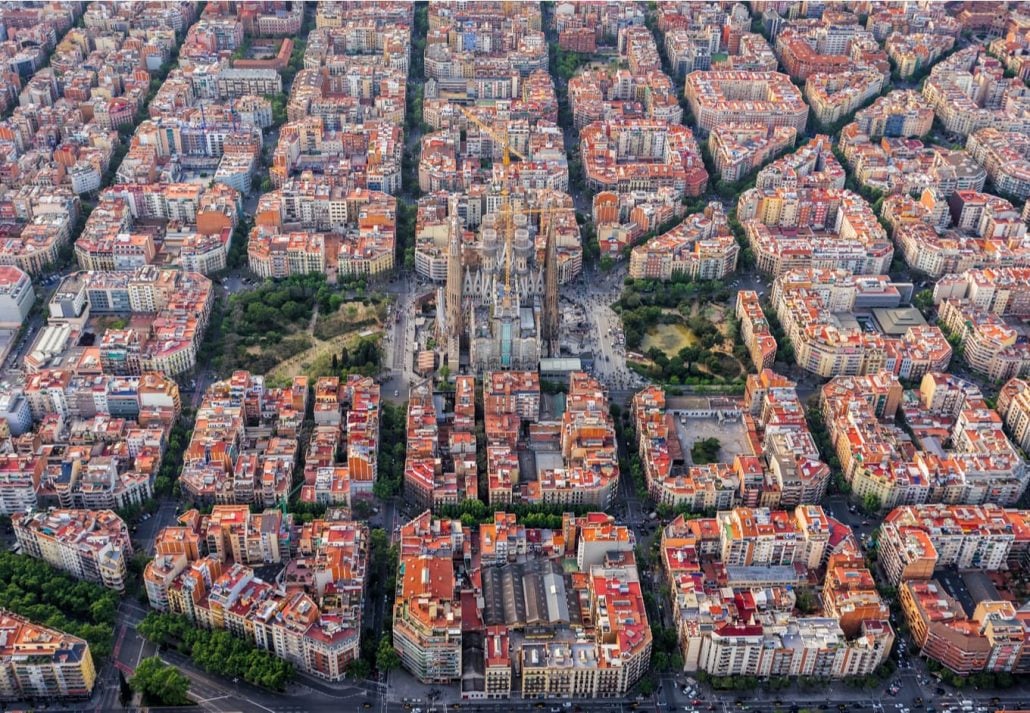 Renowned for its architectural splendor and cosmopolitan vibe, Eixample is a sprawling district that stretches out from the city center of Barcelona.
Eixample was designed by renowned architect Ildefons Cerdà in the 19th century and became famous for its grid-like layout of wide, tree-lined boulevards and meticulously planned blocks. 
As you stroll through Eixample's picture-perfect streets, you'll be enthralled by the ornate facades, intricate ironwork, and grandeur of the buildings that surround you.
While staying in Eixample, you'll be located just a short walk from the top tourist attractions in Barcelona.
Some of the most famous places to visit in Eixample include Casa Battlò, and Casa Mila (La Pedrera), two beautiful buildings designed by Antoni Gaudí.
Another must-visit landmark in the Eixample District is La Sagrada Familia Basilica, the most visited attraction in Spain.
This UNESCO-listed monument dazzles visitors from around the world with its gorgeous façade decorated with 18 majestic spires, and dreamy interiors ornate with colorful stained glass windows.
Be sure to read our ultimate guide to visiting La Sagrada Familia to learn more about this spectacular monument.
In addition to its architectural gems, Eixample is a shopper's paradise, boasting high-end boutiques, designer stores, and upscale shopping centers.
A popular shopping destination in Eixample is Passeig de Gràcia, which is filled with plus, luxury stores.
While wandering around Passeig de Gràcia, expect to come across exclusive brands like Versace, Bottega Veneta, Hermès, Massimo Dutti, Prada, and Fendi.
The neighborhood also offers a vibrant culinary scene, with a wide range of restaurants, cafes, and bars to satisfy any palate. 
Whether you're admiring architectural masterpieces, indulging in gastronomic delights, or simply enjoying the cosmopolitan atmosphere, Eixample promises an unforgettable experience in the heart of Barcelona.
Best places to stay in Eixample
Budget: Bed & Bike Barcelona is a "bike-friendly" hostel that offers a unique combination of accommodation and bike services. Accommodations include mixed dorms (12 or 16 beds), female-only dorms, and twin bedrooms. The hostel also offers bike rentals, allowing guests to explore the city on two wheels.
Mid-range: Guitart Grand Passage is a modern hotel located less than 1 minute from the famous Diagonal Avenue. All 45 rooms and suites are filled with natural light, and have amenities such as air conditioning, tv, fridge, bathtub, and hairdryer. This well-located hotel also has indoor parking, a full buffet breakfast, a left-luggage office, and a business corner.
Luxury: Casa Bonay is a stylish boutique hotel housed in a charming neoclassical building dating back to 1869. It has 67 rooms, pampered with cosmetics by Malin+Goetz, access to the MUBI movie-streaming service, and a fully stocked mini-bar. The hotel also has an in-house cocktail bar, a contemporary tapas restaurant, a specialty coffee shop, and a rooftop barbecue.
El Born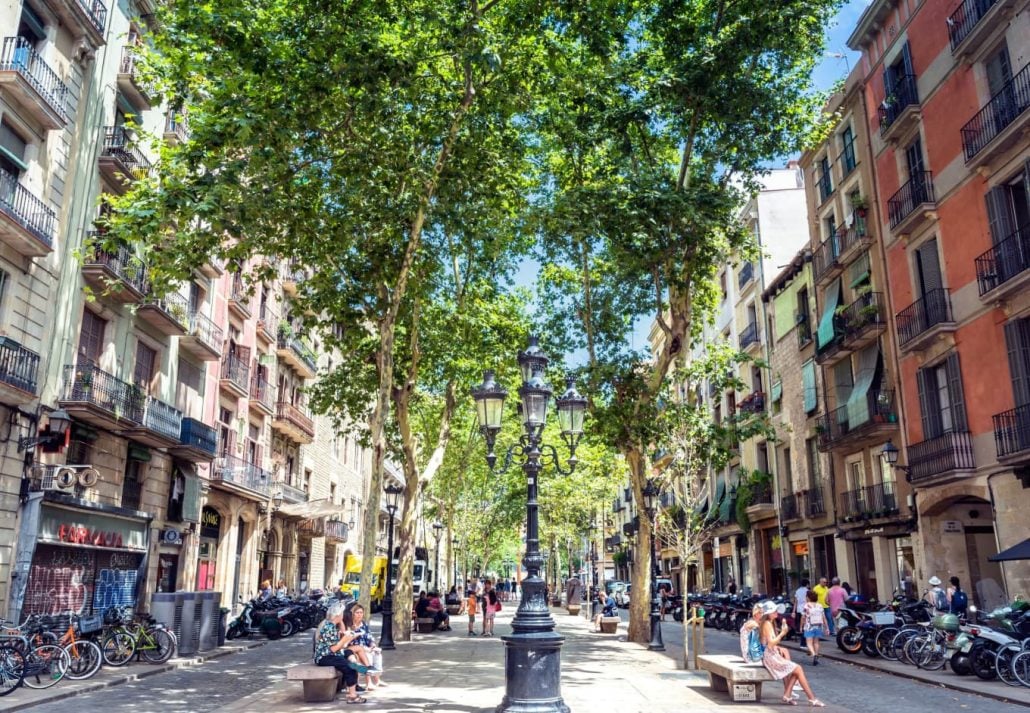 Located in the heart of Barcelona's historic center, El Born is a picturesque neighborhood bounded by the Barceloneta beach, Barri Gòtic and Eixample.
It's a trendy neighborhood brimming that transports visitors back in time with its narrow streets and beautifully preserved architecture. 
As you wander through the area's enchanting alleys, you'll discover hidden squares, artisanal boutiques, and cozy cafés that exude a bohemian ambiance. 
The neighborhood is home to one of Barcelona's most iconic landmarks, the stunning Santa Maria del Mar church, a magnificent example of Catalan Gothic architecture. 
El Born is also renowned for its cultural offerings, boasting numerous art galleries, museums, and cultural centers. 
The Picasso Museum, housed in a medieval palace, is considered one of the best museums in Barcelona.
Other must-visit attractions in El Born include the stunning Palau de la Música Catalana, and the lush Parc de la Ciutadella, Barcelona's largest urban park.
Additionally, El Born is a haven for food lovers, with its abundance of trendy restaurants, tapas bars, and traditional eateries serving up delectable Catalan cuisine. 
A must-try is Can Paixano (La Xampanyeria), a typical Catalan bar serving delicious croquetas, a superb fuet (pork sausage), and plenty of cava.
Another amazing tapas bar near the El Born area is El Xampanyet, located just a few meters from the Picasso Museum. Here, expect to feast on sparkling wine, cheese, tortilla de patatas, and jamón Iberico.
El Born comes alive at night, as the area is home to some of the liveliest bars in Barcelona. Some of the best include Bar Sauvage, La Vinya del Senyor, and Paradiso.
With its historic charm, artistic flair, and lively atmosphere, El Born invites visitors to immerse themselves in the vibrant tapestry of Barcelona's past and present.
Best places to stay in El Born
Budget: Hotel Lyon is a budget hotel with 15 functional rooms, all pampered with private bathrooms, TV, telephone, air conditioning, and free Wi-Fi. The hotel also has a hearty buffet breakfast, 24-hour reception, vending machines, tourist information, and ticket sale.
Mid-range: Musik Boutique Hotel offers travelers a personalized and intimate experience in Barcelona. The hotel has 23 thoughtfully designed rooms pampered with free Wi-Fi, a fully stocked mini-bar, and towels/bed linen made from 100% Egyptian cotton. Guests can also enjoy a delicious breakfast buffet and bike rental services.
Luxury: Mercer Barcelona Hotel preserves ruins of medieval arches and 12th-century frescoes. The hotel is home to 28 rooms and suites, all with oak floors, sumptuous beds with Egyptian cotton sheets, a 32-inch Loewe TV, and a glazed shower with a refreshing rain effect. Mercer Barcelona also has a delightful variety of amazing restaurants and bars.
El Raval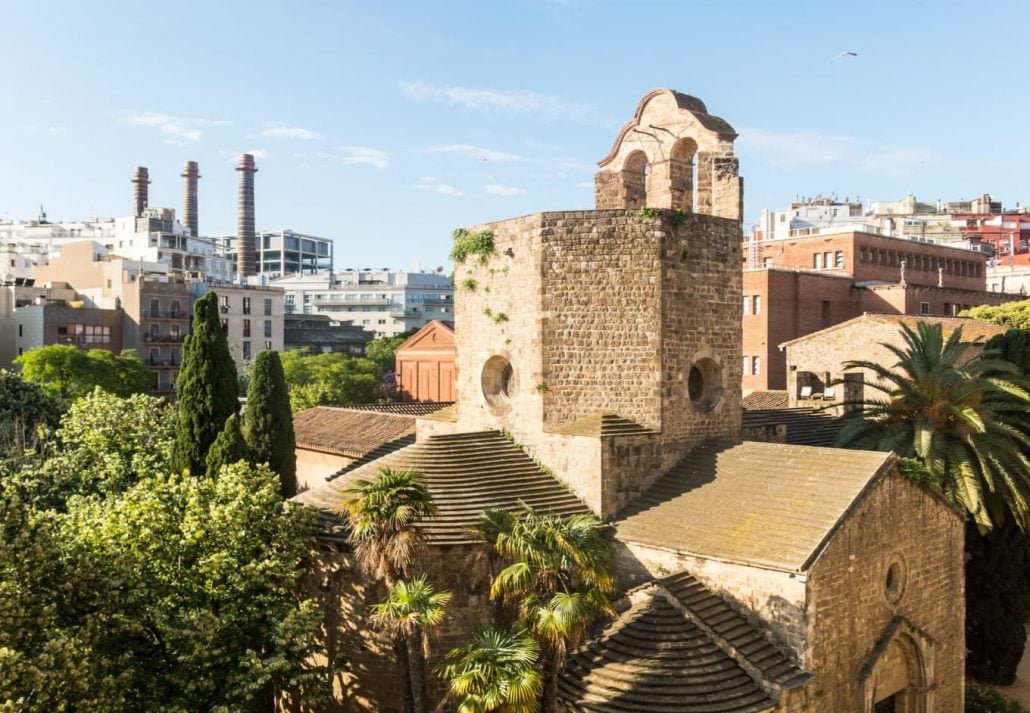 One of the two historical neighborhoods that border La Rambla, El Raval is a vibrant neighborhood nestled in the heart of Barcelona.
This eclectic neighborhood has a rich history, a very local vibe, and a diverse community, making it the perfect area for visitors seeking a hip, trendy area to stay in Barcelona.
El Raval is regarded as a hub of creativity, culture, and urban charm, but a few decades ago it was considered a gritty neighborhood.
In the 20th century, El Raval was home to Barcelona's red light district and became associated with prostitution and crime.
However, over the years, it has undergone a significant revitalization, transforming into a cultural hub with a thriving arts scene. 
Its narrow streets are lined with art galleries and independent shops where you can find anything from vintage clothing to contemporary art pieces. 
El Raval is also home to the renowned MACBA (Museum of Contemporary Art of Barcelona), a cultural landmark that showcases contemporary artworks from both local and international artists.
As you explore the neighborhood, you'll discover lovely hidden squares and plazas that come alive with outdoor cafes, where you can savor a cup of coffee while immersing yourself in the lively street ambiance. 
El Raval is also celebrated for its culinary offerings, boasting a wide array of restaurants, tapas bars, and global cuisine. 
Don't miss the chance to visit Bar Cañete, a tapas bar where you'll sample classic dishes like seafood paella, duck cannelloni & clams.
El Raval has a central location within walking distance of many of the other areas such as the Gothic Quarter and Eixample.
With its artistic flair, multicultural ambiance, and bohemian spirit, El Raval invites you to immerse yourself in Barcelona's vibrant streets and discover the most diverse facets of the city.
Best places to stay in El Raval
Budget: Located within walking distance of Las Ramblas, Idea Youth Hostel is a great place for budget travelers in Barcelona. The hostel has dorms ranging from 2 to 10 people (mixed or female). Bunker beds have a private locker, and there are bed linens and towels available for rent. There's a breezy rooftop terrace, a help desk with tourist information, and self-service laundry and dryer.
Mid-range: Hotel Casa Elliot is a cozy boutique hotel located within walking distance of Plaza Catalunya and Las Ramblas. The hotel has 38 stylish rooms, some with breezy terraces featuring a table and sun loungers to rest after a day of exploration. Other hotel amenities include room service, security safe for laptops, laundry service & restaurant/events/museums reservations.
Luxury: Hotel Bagués is a lavish boutique hotel, ideal for guests seeking luxury stays in Barcelona. Rooms are elegantly furnished and fully equipped with top-line amenities like a Nespresso coffee machine, Bluetooth speaker, LED television, and free minibar with soft drinks. The hotel is pet-friendly and has an impressive terrace with a rooftop pool.
Barri Gothic (Gothic Quarter)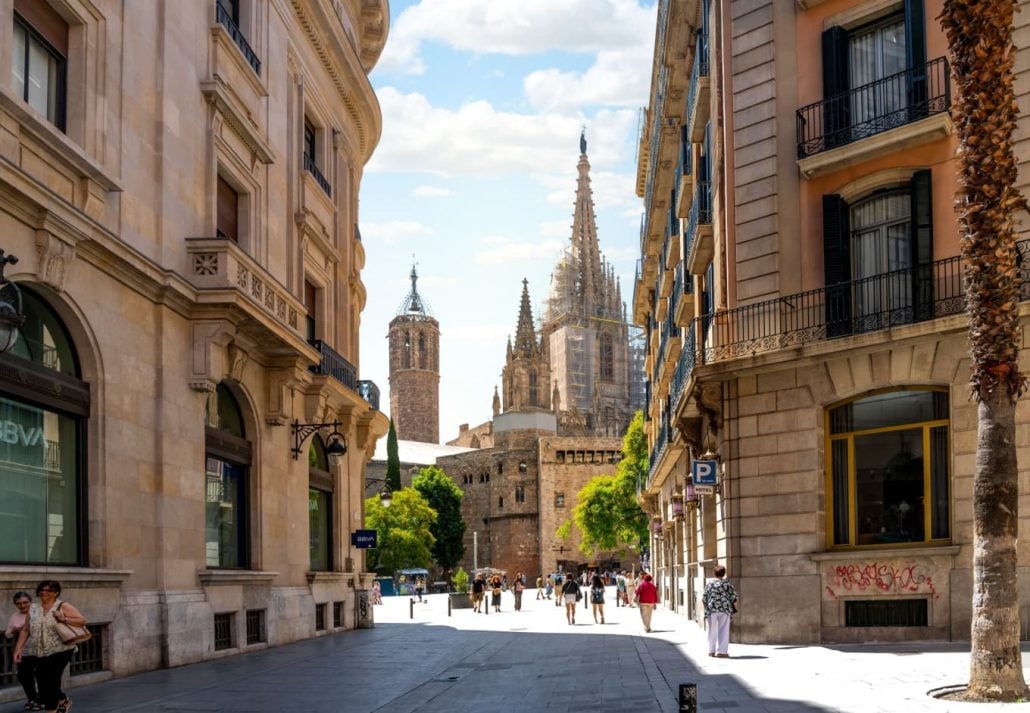 With a great central location in Barcelona's Old City, the Gothic Quarter (Barri Gòtic) is a captivating neighborhood steeped in history and medieval charm. 
In Barcelona's Gothic Quarter, you'll find a tapestry of medieval streets, hidden squares, and centuries-old buildings adorned with intricate architectural details. 
The centerpiece of Barcelona's Gothic Quarter is the stunning Barcelona Cathedral, an awe-inspiring Gothic masterpiece that dominates the city skyline. 
Walking through the neighborhood, you'll encounter remnants of ancient Roman walls, atmospheric plazas, and picturesque courtyards that invite you to pause and soak in the ambiance. 
The Gothic Quarter is a treasure trove of architectural wonders. Must-see gems here include the Palau de la Generalitat, the seat of Catalonia's government, and the Palau Reial Major, a medieval palace showcasing Gothic and Romanesque elements. 
The neighborhood is also home to countless quaint shops, boutiques, and artisan workshops, where you can find unique souvenirs and local crafts. 
A haven for food lovers, the Gothic Quarter offers a range of amazing eateries, from traditional tapas bars to trendy restaurants serving both Catalan and international cuisine. 
After the sun sets, the neighborhood comes alive with a vibrant nightlife scene, with bars, clubs, and live music venues tucked away in its narrow streets. 
Stop by El Quatre Gats, one of Barcelona's most historic bars & restaurants, and El Bosc de Les Fades, a whimsical cafe hidden in the Gothic Quarter's narrow alleys.
The Gothic Quarter's central location makes it an ideal starting point for exploring other attractions in Barcelona. You'll be within a short walk of Las Ramblas (La Rambla), and the nearby waterfront. 
With its historical richness, architectural splendor, and vibrant energy, the Gothic Quarter invites visitors to lose themselves in the enchanting tapestry of Barcelona's past.
Best places to stay in the Gothic Quarter
Budget: Hostel Levante is a familiar hostel featuring single, double, and triple rooms. Accommodations have just been reformed, and are equipped with air conditioning, heating, private bathrooms, and free wifi access. You'll be within walking distance from Las Ramblas and the Barceloneta beach.
Mid-range: Petit Palace Boquería Garden is a 4-star boutique hotel that has everything you need to enjoy a well-deserved relaxation after exploring Barcelona. The hotel is pet-friendly and has a range of fine-class amenities like scooters for rental, spacious rooms, and a healthy breakfast buffet.
Luxury: Sonder DO Plaça Reial is set within a historic building that boasts an alluring 19th-century façade with Juliet balconies, and neoclassical archways. Rooms are breezy and filled with natural light. The hotel has a rooftop terrace, a tapas bar (Bar Tomate BCN), and a majestic rooftop pool.
La Barceloneta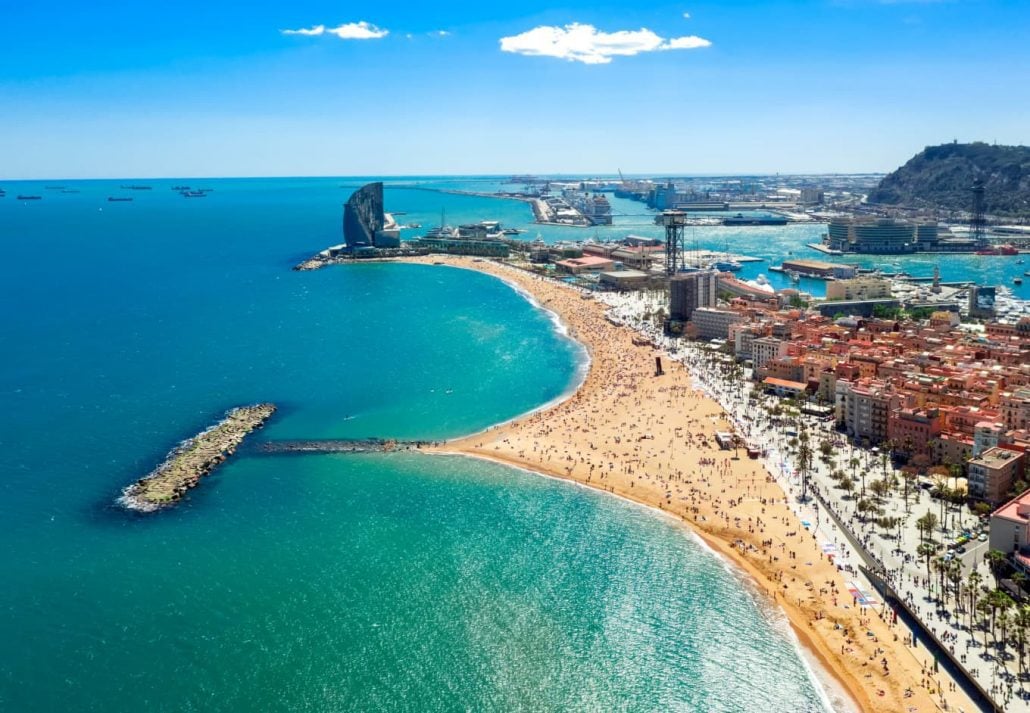 Beautifully nestled on the sandy shores of Barcelona, La Barceloneta is the best location for travelers seeking to enjoy the city's vibrant beach bars and seafood restaurants.
Originally built as a fishing village, La Barceloneta has transformed into a vibrant seaside neighborhood that blends a relaxed beach atmosphere with a lively coastal charm.
The neighborhood is known for being home to La Barceloneta Beach, regarded as one of the best beaches in Barcelona.
This vibrant area also has a lively promenade, which greets visitors with stunning views of the sun-soaked beach and the glittering waters of the Mediterranean Sea.
La Barcloneta's nautical heritage is evident in its rows of seafood restaurants, where you can savor the freshest catches of the day while overlooking the sparkling sea.
Don't pass up the chance to visit Can Solé, which serves one of the best paellas in Barcelona.
La Barceloneta also boasts a thriving nightlife scene, with beachfront bars and clubs offering a mix of music, drinks, and a vibrant ambiance that lasts long into the night.
Whether you're sunbathing, indulging in seafood delicacies, or immersing yourself in the lively coastal atmosphere, La Barceloneta offers a unique blend of relaxation and excitement.
Its location near the city center allows for easy access to other attractions, making it an ideal spot to unwind and enjoy the coastal allure of Barceloneta.
Best places to stay in La Barceloneta
Mid-range: Casa Lirio Hotel Boutique is located less than a 10-minute drive from La Barceloneta. All rooms are private and are equipped with a flat-screen TV, wardrobe, private bathroom, and AC. Some even have a balcony. The hotel has an open terrace, transport to the Barcelona El Prat Airport, free wifi, and breakfast.
Luxury: Serras Hotel is a luxury 5-star overlooking Port Vell and the Mediterranean Sea. All of the 28 rooms and suites are spacious & come with high-end amenities like complimentary Nespresso Coffee, a pillow menu, and LED smart HD satellite TV. The hotel also features a waterfront rooftop terrace with an outdoor pool and an al fresco restaurant by Michelin-starred chef Marc Gascons.
FAQ About Where To Stay in Barcelona
Which area is best to stay in Barcelona?
The best areas to stay in Barcelona are:
Gràcia
Eixample
El Raval
El Born
Gothic Quarter
La Barceloneta
Where is the best place to stay in Barcelona for the first time?
Centrally located areas such as Eixample, Gothic Quarter (Barri Gòtic), El Born, and Gràcia are great for first-timers, as they provide easy access to some of Barcelona's top attractions.
How many days is ideal to visit Barcelona?
Barcelona is a big city filled with incredible sights and attractions. Therefore, plan to spend at least 3 days in the city.
CuddlyNest provides all accommodations to all travelers at the best price. Find unlimited travel inspiration on our blog and social media channels.
You Might Also Like:
Spain Travel Apps
The 7 Best Places For Shopping in Madrid
10 Best Hotels In Madrid, Spain
The 11 Best Tapas Bars in Madrid
The 12 Best Neighborhoods in Madrid
Madrid With Kids: 12 Fun Things To Do In The City
Best Museums In Madrid, Spain
Tourist Attractions in Barcelona
Best Cities to visit in Spain
La Tomatina Festival, Spain
Eating Tapas In Granada, Spain
Vegan Restaurants in Alicante, Spain
A Complete Guide To The 15 Best Festivals In Spain
The 10 Best Spanish Cheese You Should Try
The Ultimate Guide to Lobos Island, Spain
The Best Time To Visit Madrid, Spain


[ad_2]

Source link