Newcastle's Victoria Tunnel is one of the city's most under-the-radar (and under-the-ground) attractions.
And I should know, cos I'm from there (the city, not the tunnel, obviously).
This hidden gem is fun, exciting, interactive, spooky and educational… so the tunnel-riffic attraction ticks a lot of varied boxes.
But what is it? How exactly do you get inside? And what happens on a visit?
In this dimly-lit guide, I've unpacked all that and more: here's everything you need to know about visiting Newcastle's Victoria Tunnel.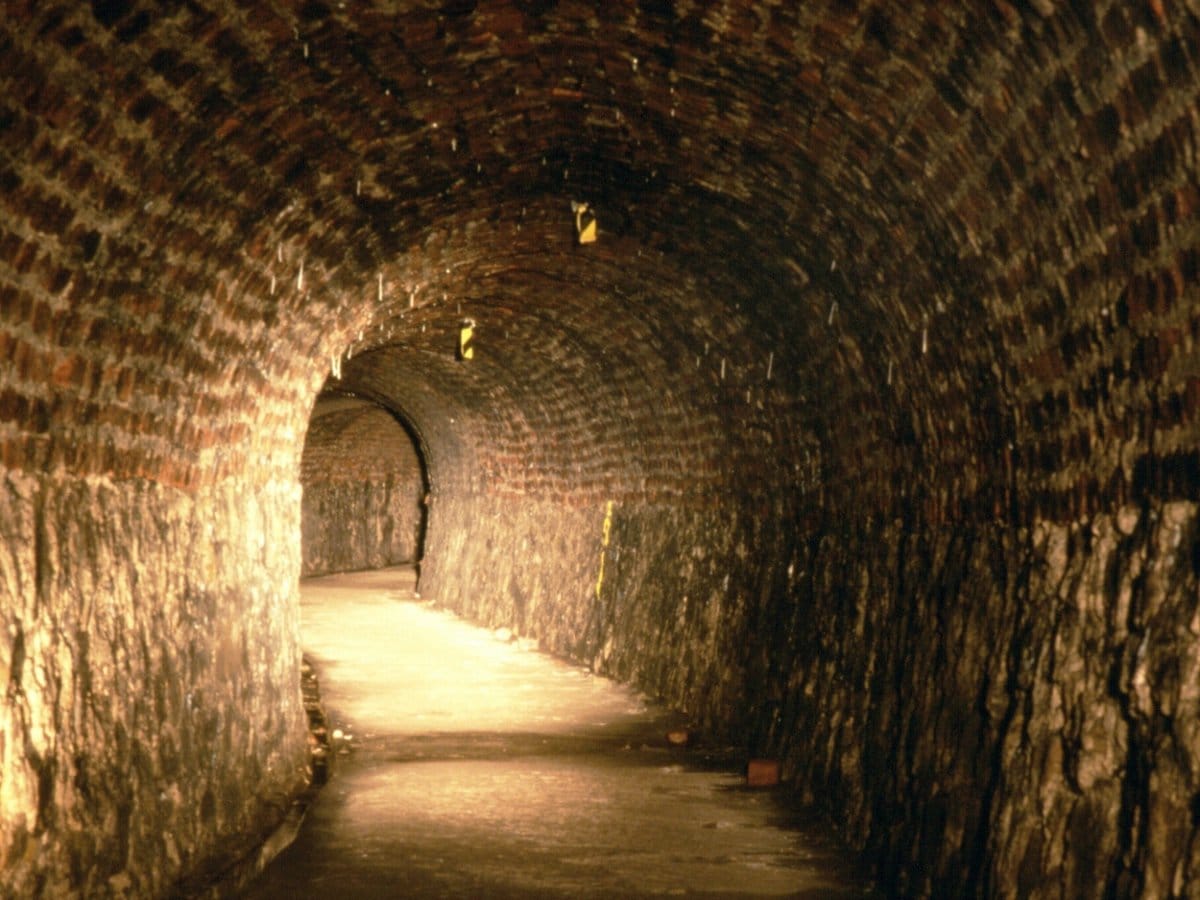 What is Newcastle's Victoria Tunnel?
It's lots of things.
Originally, Newcastle's Victoria Tunnel was an innovative underground wagonway, built beneath the city to rapidly speed up the transport of coal (this part of the region was once an industrial powerhouse, with coal mines dotted around many parts of the place).
The tunnel stretched (and stretches!) from the Town Moor (that's the big city center park in the west of the city) all the way to the Tyne River. That's a lengthy total of around 2.4 miles (3.9 km).
It started operating in 1842, and ceased its coal-shuttling operations in the 1860s.
But after the Victoria Tunnel stopped being a working wagonway, it then became lots of other things.
In 1928, a local entrepreneur decided to embark upon a mushroom-growing business inside the tunnel. It failed.
Then, in World War 2 (that was from 1939 to 1945, in case you're not up on your history), the place was repurposed again. This time, it became an air raid shelter, and was decked out with beds, toilets, blast walls, and more.
Around 30 years after the war ended, part of the tunnel was then transformed into a sewer.
Then around 15 or 20 years ago, the place underwent its final transformation… and became a tourist hotspot. It's now one of the most interesting tourist attractions in all of Newcastle—but not enough people know about it (most locals haven't even visited the place!).
Those who have visited know just how good it is. Sitting inside the Ouseburn area of the city, it's won a whole load of different awards (both regional and international), it's been featured on TV shows, and it's consistently recommended as the #1 Newcastle attraction on TripAdvisor.
And get this: according to the tunnel's official site, "in 2022, the tunnel was awarded the Traveller's Choice Award [from TripAdvisor], and was recognised for being in the 10% attractions in the world."
So don't just take my word for it—it's definitely worth a visit!
How to Visit Newcastle's Victoria Tunnel
You can't just turn up and wander around the place yourself, no matter how much you might want to. It's pretty big and pretty dark, so you might get lost, or die, or end up in a battle with a giant monster rat thing. Or something.
So, instead, you have three main options. They are:
a shorter tour,
a longer tour,
and a tunnel-and-food tour.
Here's more information:
A Shorter Tour of Newcastle's Victoria Tunnel
If you're interested in the tunnel, but admittedly not massively interested in the tunnel, this is the tour for you.
During these shorter 75-minute experiences, you're guided around the tunnel by two of the volunteers who work for The Ouseburn Trust (the charity that operates and manages the place).
You'll learn about the mining history of the region, and the tunnel's role in that history. You'll also get some brief insights into when it was repurposed into an air raid shelter…. and hear a small few spooky stories (some people* reckon they've seen ghosts here).
*by 'people,' I mean 'gullible idiots.'
A Longer Tour of Newcastle's Victoria Tunnel
If you're really interested in history and heritage and all that stuff, this is the tour for you.
The 2-hour tours take you deeper into the tunnel. You learn more about the tunnel's role in World War 2, you'll hear a few more paranormal stories, and you get more time to ask questions.
A Tunnel Tour Combined with a Food Tour
This is the tour I recommend.
The Ouseburn is most famous for being one of Newcastle's eating-and-drinking epicenters. So visiting the Ouseburn area without eating and drinking there is a very stupid idea.
During this excellent experience, you can quickly cram in lots of tasty highlights on a short-but-brilliant tour. You see the tunnel, you learn about the tunnel, and (this is the important part!) you also eat your way through lots of gastronomic Ouseburn highlights. Massively recommended.
Bonus Options: Other Ways to See the Tunnel (or Its Nearby Neighbors)
If you want to do something a little different, you have other unique options for seeing and exploring the tunnel (and other nearby attractions and interesting areas). They are:
What to Expect During Your Visit to Newcastle's Victoria Tunnel Visit
Pro Tips for Visiting Newcastle's Victoria Tunnel (and Things to Know Before You Visit Newcastle's Victoria Tunnel)
Before You Go
And just like that, we've crept and clambered our way through Newcastle's Victoria Tunnel. Thanks for joining us.
If you want to know anything else about adventures in and around the city, stroll on over to our guides on the best day trips from Newcastle, the best things to do there, and the regional (and ridiculous!) accent.
Thanks for reading, thanks for checking out Travelness, and thanks for being you. See you next time!