[ad_1]

I've been living in Tbilisi for a while—and there are loads of things to visit and enjoy in the city, including hikes, lakes, museums, varied eateries, strange markets, and a whole lot more.
But if you get tired of all that (though I'm not sure why you would), it's also possible to tackle lots of day trips outside of the city. Highlights include canyons, mountains, reservoirs, ancient caves, weird homages to Josef Stalin, incredible road trips, and some friendly bears and dogs.
Coming up, all that and more—here are the 20 best day trips from Tbilisi. Hop on some transport and come join the party!
1. Tbilisi Sea
Okay, this one's actually inside Tbilisi. But if you're looking for an easy but fun day trip, this is usually the best place to start.
Tbilisi Sea isn't actually a sea (because Tbilisi doesn't sit on the coast). Instead, it's a huge reservoir northeast of the city center.
There are various options for exploring the 'sea' and its surroundings. You can cycle, walk or hike around the full thing (its perimeter is around 15.5 miles/25km), you can swim in it, or you can sit in one of the many bars and restaurants around its shores.
The most popular venue is Tbilisi Sea Club, a pricey but well-located bar with a pool and its own private stretch of beach. Because it serves food and drink, it's very convenient… but if you want a bit more peace, quiet and independence, head west to Temka Beach instead.
If you're with kids, you should visit Gino's Paradise, a waterpark on the banks of the reservoir. It has flumes, a lazy river, various pools, and even spa and wellness packages.
Last of all, make sure you visit the Chronicle of Georgia, a big hilltop monument looming over the western side of the water.
2. D.O.G. (Dog Organization Georgia)
Again, this place is in Tbilisi… but you can easily spend more than a few hours here. I reckon this is the most charming, endearing and heartwarming place in the entire city, and I recommend it to basically everyone I know.
Tbilisi is home to lots of stray dogs, roaming around the entirety of the city. And most of the time, those guys can look after themselves—Tbilisi's dogs live in friendly harmony with Tbilisi's people.
But sometimes, those dogs get sick or injured… or someone abandons a pet, and that dog doesn't know how to survive on the streets.
That's where D.O.G. comes in. A no-kill shelter based on the outskirts of the city, the place takes sick, injured and abused dogs, and gives them a happy place to live.
For a nice day out, you can visit the shelter, and take some of the dogs on a walk in the nearby area.
For an easy stroll, you can just wander around the paved perimeter of Lisi Lake. But for something more interesting and exciting, you can instead head to the ridges west of Lisi Lake, where you can find lots of remote and rural walks.
My favorite of them is along the higher of the two ridges. Follow this ridge for an hour or so, and you find yourself at a crucifix—from here, you get great views of the city and Lisi Lake. It's a perfect picnic spot.
3. Kojori to Tbilisi Hike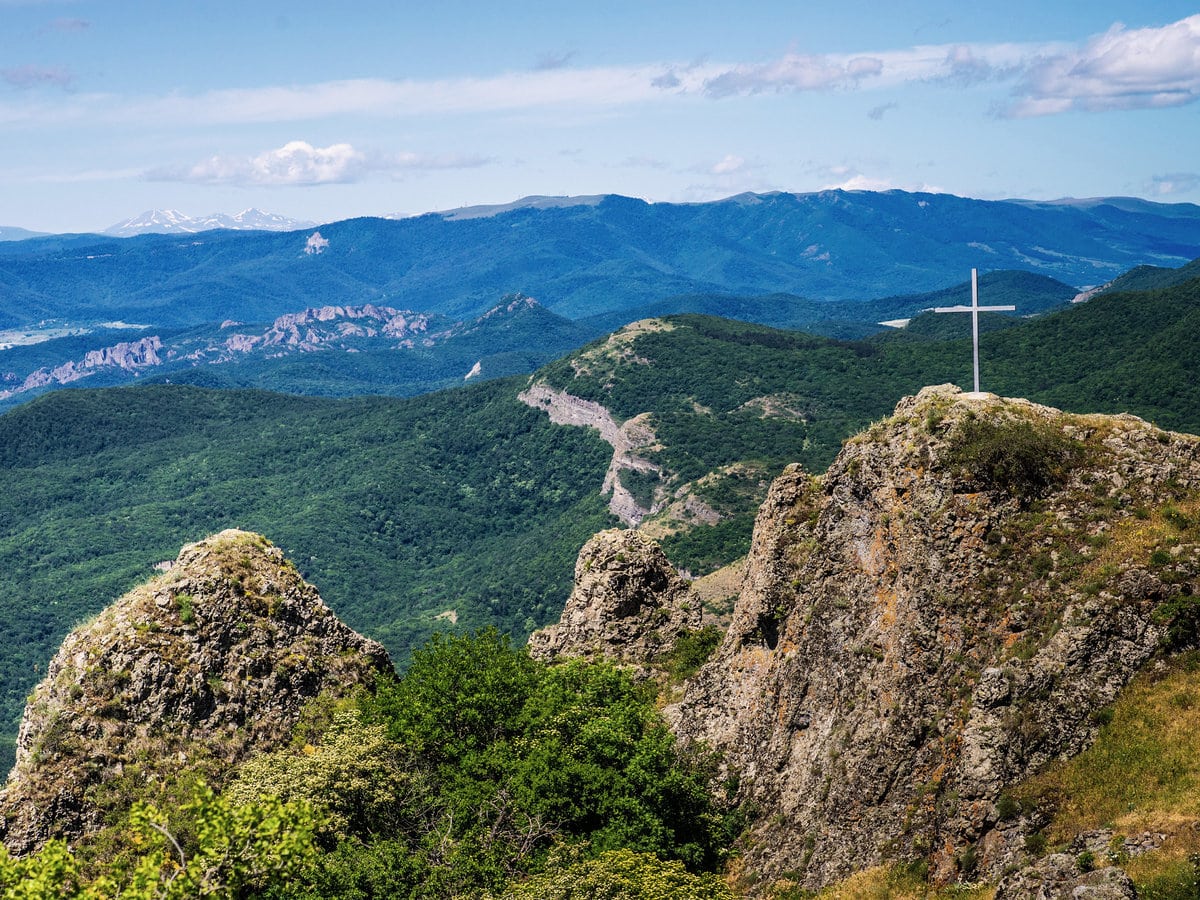 This is one of my favorite hikes close to Tbilisi—if you have the energy and the inclination, you can take transport from Tbilisi to Kojori before then making your way back to Tbilisi on your own two feet.
Walking all the way back to where you started is always a nice achievement… and because this walk is largely downhill, it's really easy, even if you're not usually much of a hiker.
First of all, take a bus or a taxi to central Kojori.
From here, follow the trail to Azeula Fortress, an ancient castle just south of the town. Sit at the fortress for a while before returning to Kojori. From here, hike to Udzo Monastery, in the direction of Tbilisi. After the monastery, keep heading downhill past forests, panoramas, and some really pretty stretches of easy hiking.
Soon, you'll get to Turtle Lake, one of Tbilisi's most popular outdoor adventure spots. Turtle Lake sits just above the city center—so when you're here, you've basically made it back to where you began. From Turtle Lake, you can either keep walking to central Tbilisi, or take a taxi or a cable car.
I recommend spending a couple of hours at Turtle Lake. It's pretty and popular, and it has some great places to eat and drink.
4. Ghoubani to Kojori Hike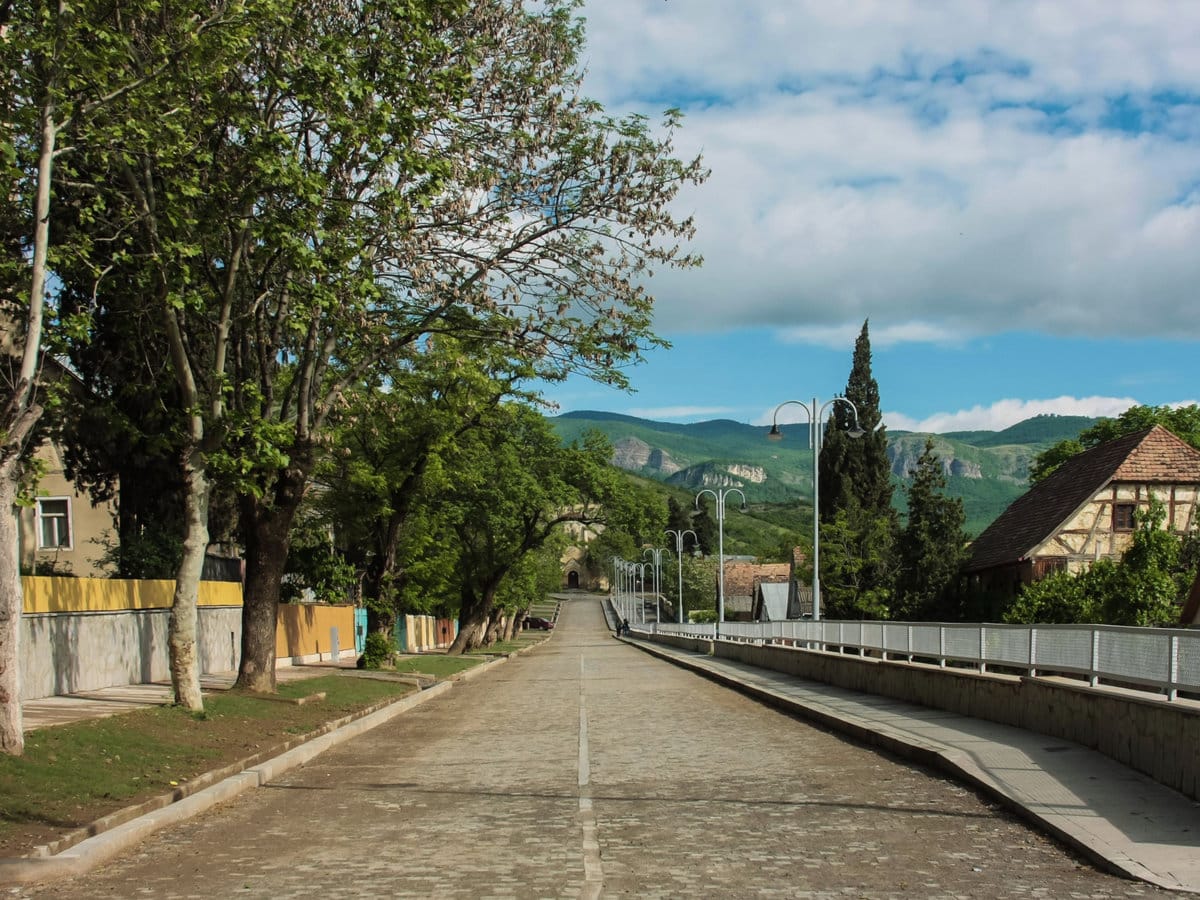 For something a little different, you can walk to Kojori, instead of from Kojori.
For this walk, you head to Ghoubani, a small rural village southwest of Tbilisi. From Ghoubani, follow the trail uphill to Azeula Fortress (which should be your lunch spot). On your way to the fortress, you'll pass a couple of interesting churches, some great views, and some forested trails.
When you get to Azuela Fortress, you then make your way downhill to Kojori… where you can then take a bus or taxi back to Tbilisi.
As a slight alternative to this hike, you can instead start in Asureti, which is west of Ghoubani, and slightly further away from Tbilisi. Starting in Asureti makes the hike a little longer and tougher.
5. Rustavi
South of Tbilisi, you have the city of Rustavi.
Though it's a city of its own, it sort of blends into the sprawl of Tbilisi itself… and lots of people who live here will commute to Tbilisi and back every day for work. That makes it an easy and accessible day trip, and a popular choice for a simple retreat.
That said, it's not the most exciting day trip in the world. But if you're into Soviet history and architecture, you'll probably find it totally fascinating.
Brimming with crumbling apartment blocks, sprawling factories and lots of industrial architecture, it's alluring in an ugly way. The central part of the city is home to the City Hall, the fortress, and the Rustavi History Museum.
Aside from all the industrial behemoths, Rustavi is also home to a surprising number of green spaces, and some great restaurants. Riverside eatery Nadkuroi is a good option for a no-frills dinner, but you'll see plenty of tasty places on any wander around the city.
6. Mtskheta
In the exact opposite direction from Rustavi, you have Mtskheta, the nation's ancient capital.
The most famous of all the day trips from Tbilisi, it's a little city of its own. In a pretty location where the Mtkvari River meets the Aragvi River, Mtskheta has lots of history and heritage, and some excellent viewpoints.
The highlight of any trip to Mtskheta is the trip up to Jvari Monastery, an ancient religious complex sitting high atop a hill above the city. Well-preserved, it has lots of carvings and little frescoes. But the best thing about it is the panorama from its plateau—it's genuinely one of the best views in this part of Georgia. To get to the top, you can hike or take a taxi.
In the center of Mtskheta, there's another important religious building—one of the oldest and biggest churches in all of Georgia, Svetitskhoveli Cathedral is genuinely a must-visit.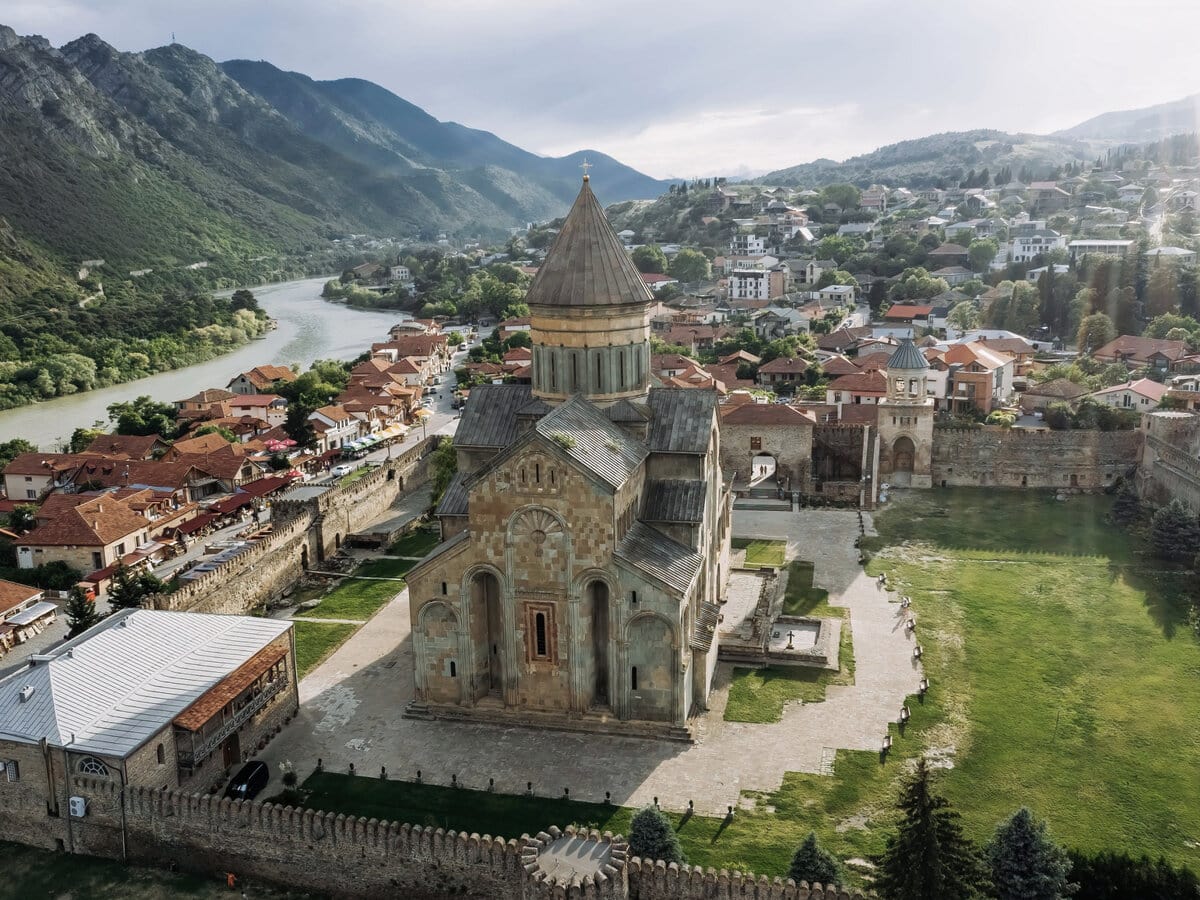 In and around Mtskheta, there are way more churches, monasteries, and religious buildings, along with some excellent eateries. Restaurant Aurumi is a great choice for tasty but laid-back fayre.
The city is also bordered by Tbilisi National Park, our next entry…
7. Tbilisi National Park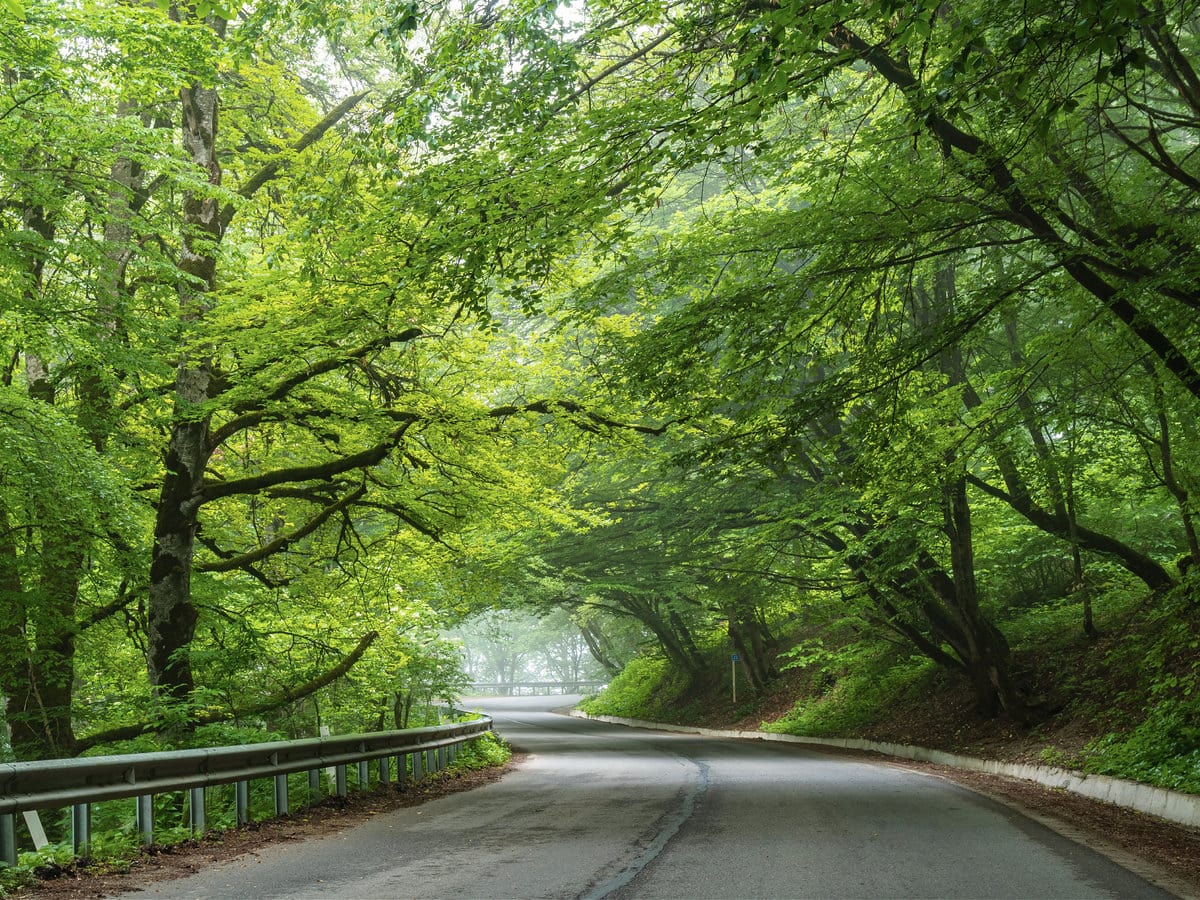 If you like easy and accessible hiking, this is absolutely one of the best day trips from Tbilisi.
There are many trails in the park, both marked and unmarked… but here are the three most popular.
I recommend the so-called Big Viewpoint Trail, a 6.5-mile (10km) circular wander. It's a simple but beautiful introduction to the sort of stuff you'll find in the park.
But it's not all viewpoints. Tbilisi National Park is also home to monasteries, forests, BBQ spots, and scenic drives. Lots of Tbilisi's residents come here on weekends for exciting but accessible adventures.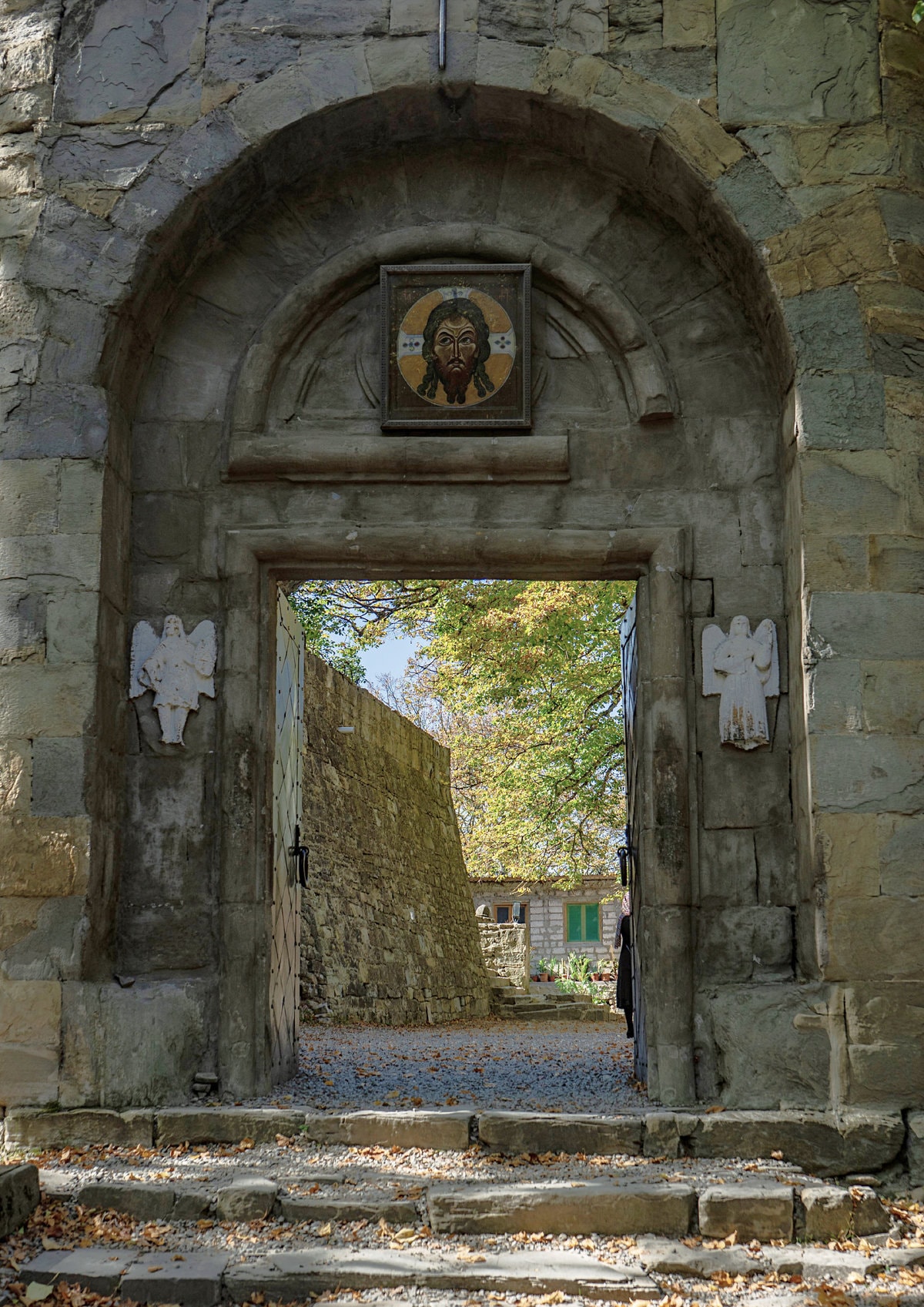 If you're looking for a non-hiking adventure in the park, the #1 choice is usually the excellent Martkopi Monastery. But for some, the real highlight of Tbilisi National Park is coming up next…
8. Tskhvarichamia Bear Shelter
If you're on the hunt for something a little different (but completely charming and loveable), Tskhvarichamia Bear Shelter is the perfect solution.
Sitting inside of Tbilisi National Park, this bear sanctuary has four different sections, housing many brown bears of different ages and sizes. Because this is Georgia and no-one cares about safety concerns, you can get surprisingly close to the bears (though they are of course caged).
You can even feed them! Take some fruits and vegetables, and watch them munch away. At the site, you'll also find horses and dogs, which you can also feed.
The sanctuary is, in theory, open 11am until 6pm, 7 days a week. But those opening times are flexible and unreliable, and I've heard lots of different rumors about when it might and might not be closed. So whenever you plan to visit, you should check in advance that they'll definitely be open.
9. Birtvisi Canyon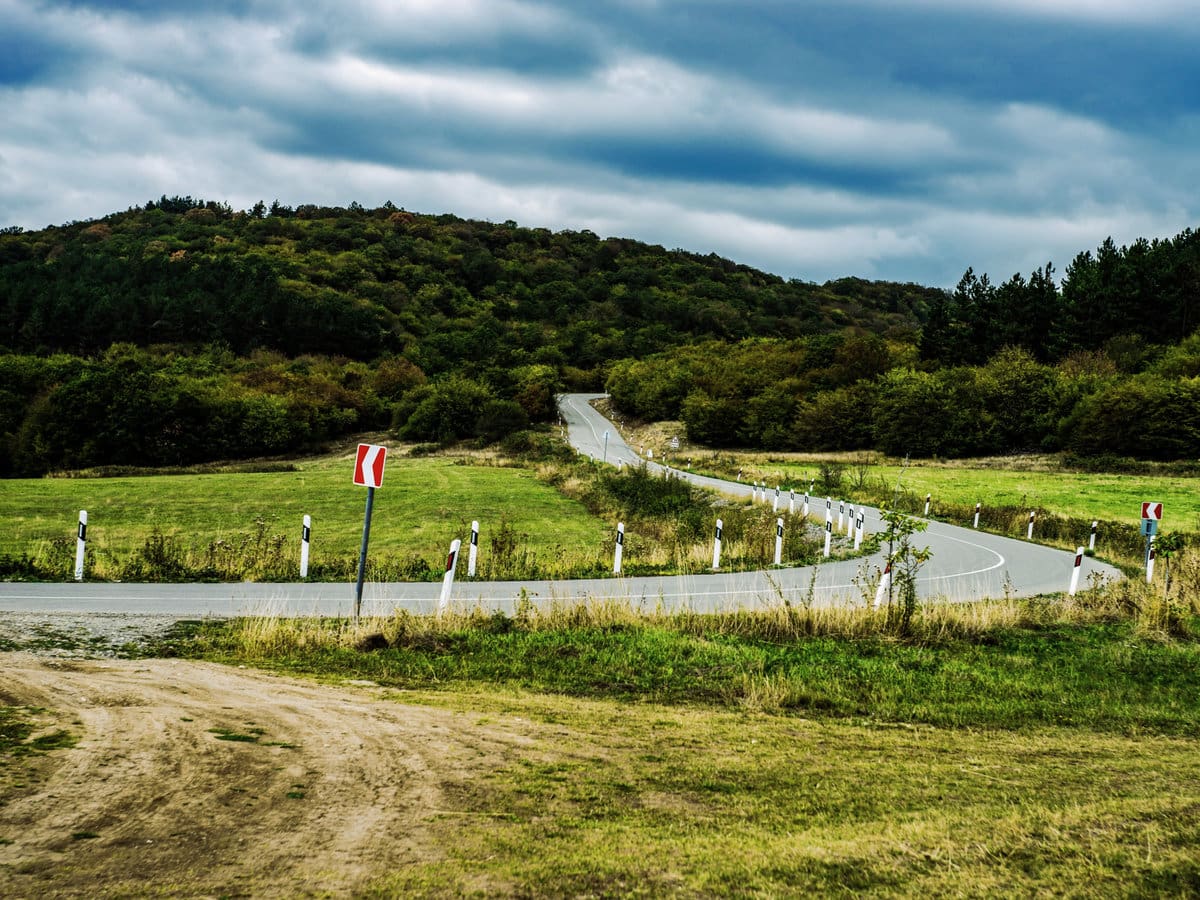 West of Tbilisi, you have the catchily-named 'Trialeti Planned National Park.'
And inside this park, you have Birtvisi Canyon, one of Tbilisi's best under-the-radar day trips. A rocky, arid and unusual series of mini mountains, it's a nice place for a wander.
To get here, you want to first reach Tbisi (yes, that is a real place—I haven't just spelled 'Tbilisi' wrong). Head north out of Tbisi, and follow a forested trail which eventually opens out to reveal the jagged triangular shapes of the canyon's peaks.
Walk for around 2.5 miles (4km) from here and you'll hit a fortress. When you're done, turn back and return the way you came. The route is pretty hard to find, so I recommend downloading maps.me for some useful help.
If you like unusual landscapes and unpopular hikes, this is one of the best day trips from Tbilisi.
10. Dashbashi Canyon
Next up, another canyon. But while Birtvisi is all rural and remote, Dashbashi Canyon couldn't be more different.
Just a few weeks before I wrote this guide, a massive futuristic bridge was built over the gaping valley of Dashbashi Canyon.
Like something from a bizarre sci-fi movie, this entirely-glass bridge measures in at around 240 meters (790 feet), and it has a diamond-shaped glass cafe dangling from its heights. This cafe is allegedly the biggest and tallest hanging structure on the planet.
From the bridge, you get excellent views of the canyon and some waterfalls. And attached to the bridge, you also get a zipline and a swing.
For something unique and unusual, this is one of the best day trips from Tbilisi.
11. Tsalka (and Tsalka Reservoir)
Right beside Dashbashi Canyon, you have the town of Tsalka… if you like rural and underrated, this is absolutely one of the best day trips from Tbilisi.
The sleepy town of Tsalka has a population of around 20,000 people. Agricultural and quiet, it's a 'real' Georgian town, and it's largely untouched by tourism (at least for now). Its church is interesting and impressive, it's home to a small mosque, and they have some excellent no-frills places to eat.
The real highlight of a visit to Tsalka is Tsalka Reservoir, a vast body of water that's sort of beautifully desolate. It's popular with fishers and kayakers, and a walk around its shores is lovely. Dotted around the reservoir, there are a couple of churches, and lots of opportunities for grabbing excellent photographs.
There are also some small roads running around the perimeter of the lake. You can easily hitchhike from village to village, getting excellent views of the reservoir as you go.
12. Sioni Reservoir
Next up, another reservoir. Much like with Tsalka and Tsalka Reservoir, you have the town of Sioni, which sits on the shores of Sioni Reservoir.
But here's the difference: the small smattering of houses making up Sioni is tiny. And because Sioni isn't located on a main road, people and traffic don't incidentally come through here.
Because of that, Sioni is very quiet. And so too is the reservoir. Sitting at an elevation of over 1,000 meters (3,300 feet), it's serene and remote, and a small few local people come here to hike, picnic, fish, and drift around in boats.
If you want something really quiet, you'll love this—there's not much to do here, but that's sort of the point. For me, this is one of the best day trips from Tbilisi, and it's massively underrated.
13. Gori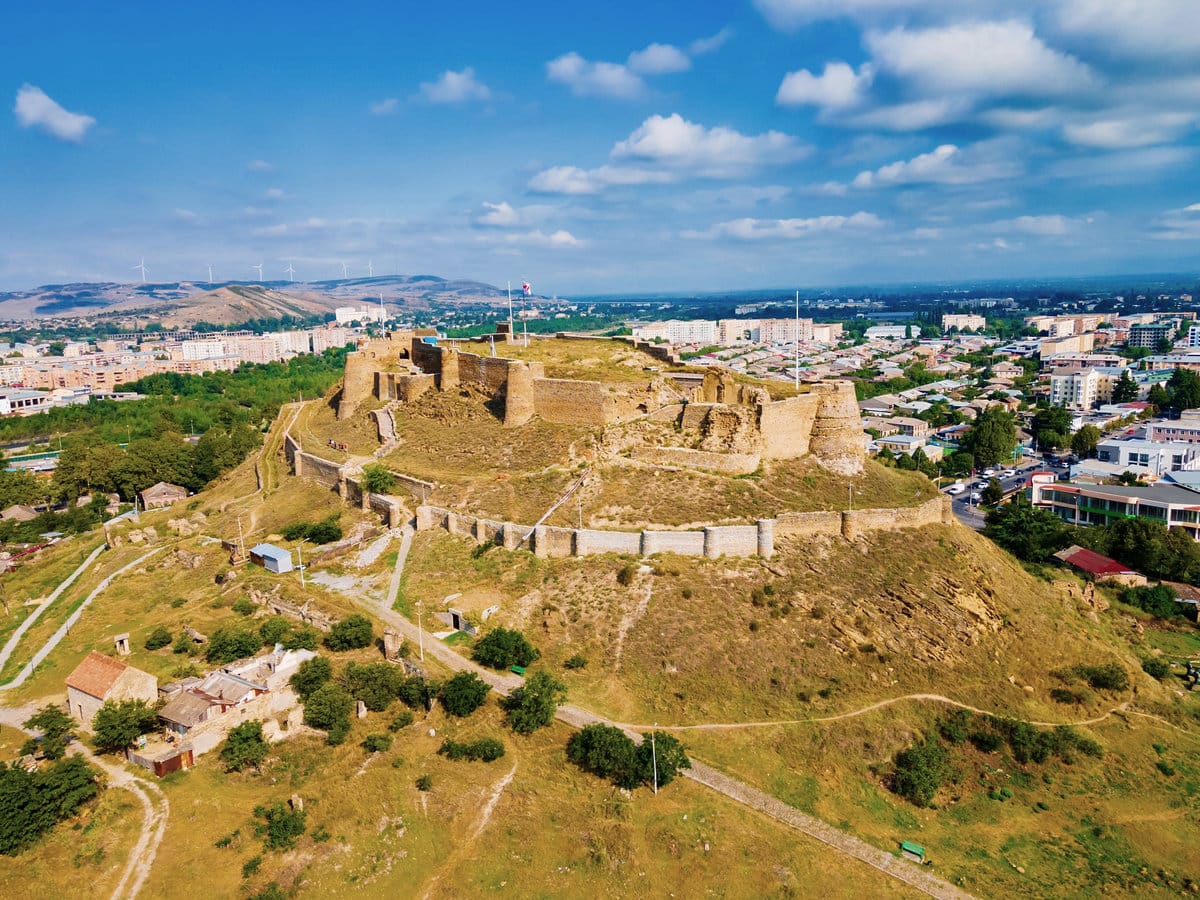 Most famous as the birthplace of Stalin (yep, that Stalin), Gori is one of the biggest and most famous cities in Georgia… and if you're interested in history and war, you'll definitely think this is one of the best day trips from Tbilisi.
For any history buff, the main attraction is of course the Stalin Museum, which has six exhibition rooms and loads more stuff. You get photos, paintings, documents, personal objects, statues, and even the house where he spent his first few years. All tickets now come with a guided tour, which gives loads of useful information and context.
Aside from the Stalin stuff, Gori has some other nice places to visit. There's a fortress, an old town, and some great places to eat and drink. With a population of around 50,000 people, it's bigger than most people expect.
Close to Gori, you also have Uplistsikhe, an ancient (and now uninhabited) cave village carved into some rocks. If you get to Gori nice and early, you can combine both into one large trip.
But that's not the most famous cave village in Georgia. Which brings us to…
14. Davit Gareja
One of the most famous day trips from Tbilisi, Davit Gareja is right on the border between Georgia and Azerbaijan.
The most well-known cave settlement in the nation, this place was once home to various monasteries, all built right into the face of the rocks. Founded sometime in the 6th century, the complex was home to more than 5,000 holes (some of them homes, some of them temples, some of them small chapels, and some of them just old-school storage units).
There are still active monasteries in the area, but they're much less rudimentary these days. Currently, the area is also home to a small gift shop, home-made souvenirs, and some view-packed walks and wanders.
Because it's right on the Azerbaijan border, you can see parts of the nation from here. But it's not all good news: because of vague territorial tensions over that very same border, some parts of the complex are now inaccessible.
15. Ananuri Fortress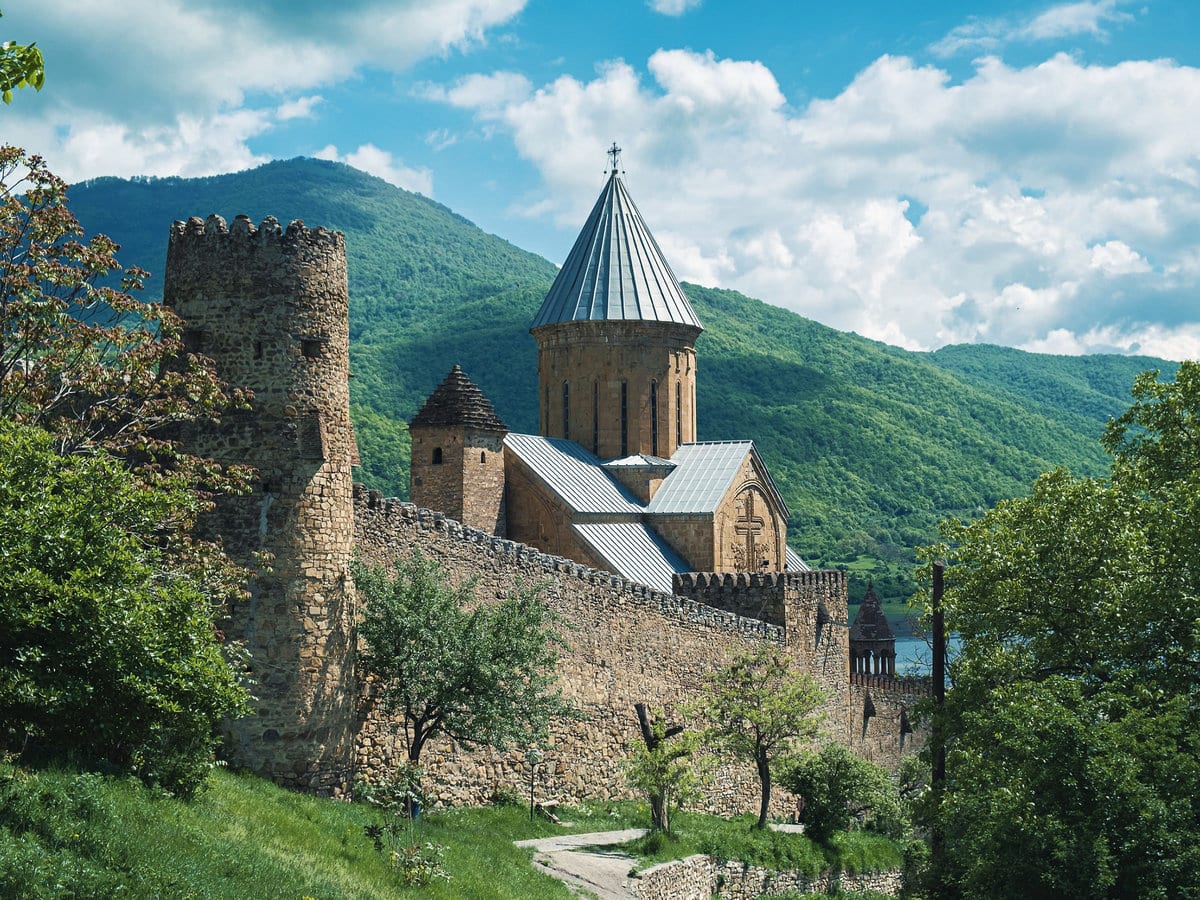 North of Tbilisi, you have Ananuri Fortress, one of the most impressive fortresses in the whole of Georgia. Because it's on the way to Stepantsminda, right on the main road, it's a popular spot for all travelers going towards the area, and it's really easy to access.
A massive medieval behemoth, it's very well-preserved, and it's interesting inside and out. If you're into castles or historical buildings, it's genuinely one of the best attractions in Georgia. It was built around the 16th or 17th century, and has been the site of historic battles.
In addition to all the history, you also get kids' activities, a swimming area, 2 interesting churches, and beautiful views of the nearby reservoir and mountain.
Aside from all the tourists, locals also love this place… so the parking lot is always full, especially on weekends.
16. Stepantsminda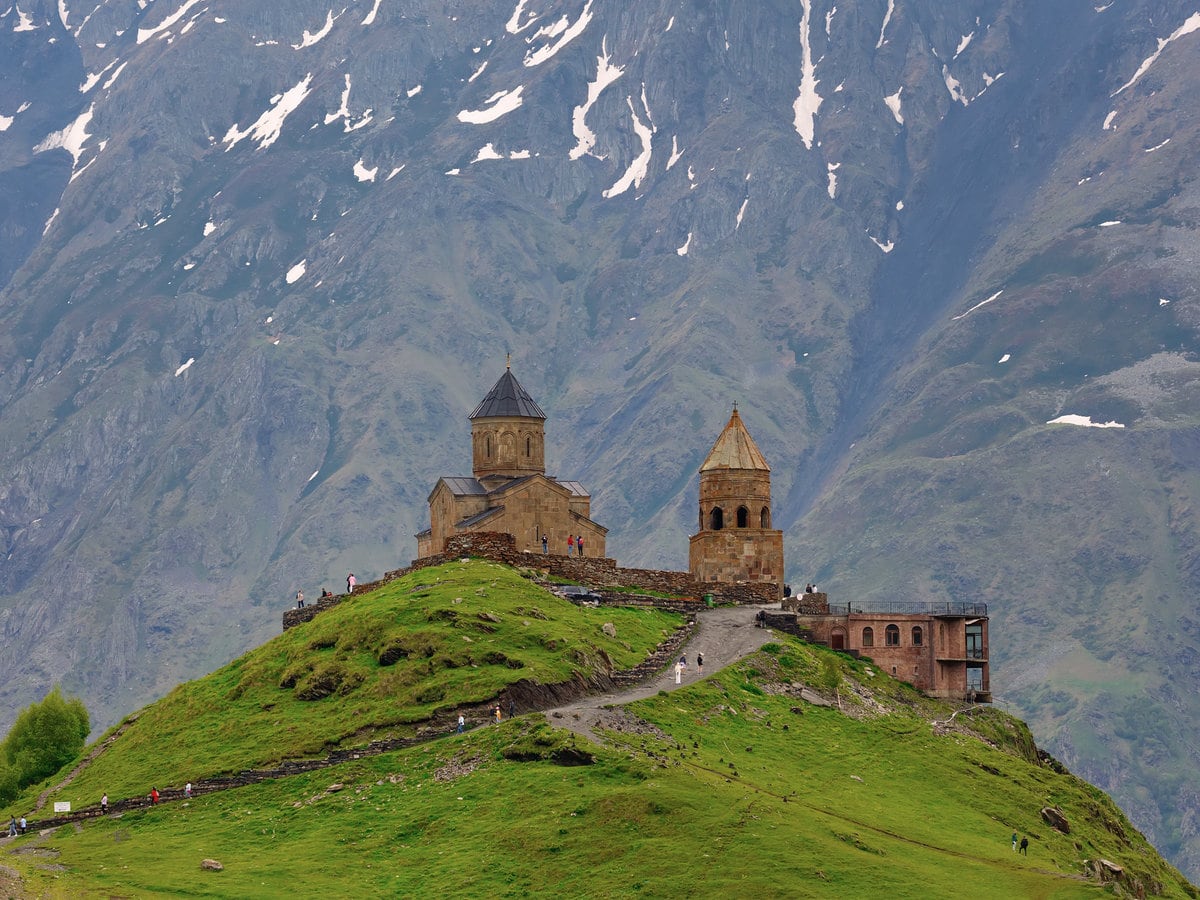 The most famous hiking region in Georgia, it's best to spend a few days in and around Stepantsminda, exploring all the peaks, passes and trails.
But if you're short on time (as many tourists are), it's totally possible to visit the town on a day trip, and see at least a couple of its highlights. On a quick day trip, you can wander around the town, see the river, learn about the history of the place, hit Pansheti Swimming Pool, get some excellent views, and enjoy the ridiculously-scenic drive to the area.
But the most famous attraction in Stepantsminda (and arguably in the whole of Georgia) is Gergeti Trinity Church—and for lots of people, that's the only real hike they do in the town. Because it's close to the center of the settlement, it's possible to tackle it as a day trip from Tbilisi.
Visiting Gergeti Trinity Church makes for a pretty long day, but it's totally worth it.
17. The Georgian Military Highway
If you prefer driving rather than walking, you can extend the two trips we've just outlined above with a little more on-road adventure.
Once you get beyond Stepantsminda, the road continues, and runs all the way to the Georgia-Russia border.
But get this: yep, the road from Tbilisi to Stepantsminda is incredible. But the extra short stretch from Stepantsminda to the Russian border is even better. So if you keep driving beyond it, you get great views, lots of photo opportunities, and loads of stuff to gape in awe at.
If you like road trips, this is the best day trip from Tbilisi. Yes, it's a long drive, and you'll spend a massive part of your day in a car. But on this trip, the journey is the attraction—it's not like you're gonna spend your day doing much else.
If you hire a car (or a driver) for this trip, you'll find endless places where you'll want to stop en-route… so you can fill your day with lots of sightseeing stops. You'll see Ananuri Fortress, Stepantsminda, and a whole load more.
18. Sighnaghi
Stunning Sighnaghi (population 1,500) is one of the most significant settlements in Kakheti, a famous region east of Tbilisi.
If you're on the hunt for pretty towns, this is one of the best day trips from Tbilisi.
Georgia's so-called 'city of love,' this walled medieval town is unique in many different ways. While most of Georgia's mountainous settlements sit in valleys beneath mountains, Sighnaghi sits high above its surroundings on a pretty plateau.
With its maze-like mesh of cobbled lanes, bricked homes, orange roofs and leafy gardens, it has a massively Mediterranean vibe, and feels unlike any other part of Georgia I've visited.
When you visit, check out the town square, the city walls, the endless viewpoints, and Bodbe Monastery (which is just on the outskirts of the town). The entire town is hugely loveable, and it's vastly different to Tbilisi.
Other day-trip options in Kakheti include Telavi, Lopota Lake, Sagarejo, and Alaverdi Monastery.
19. Borjomi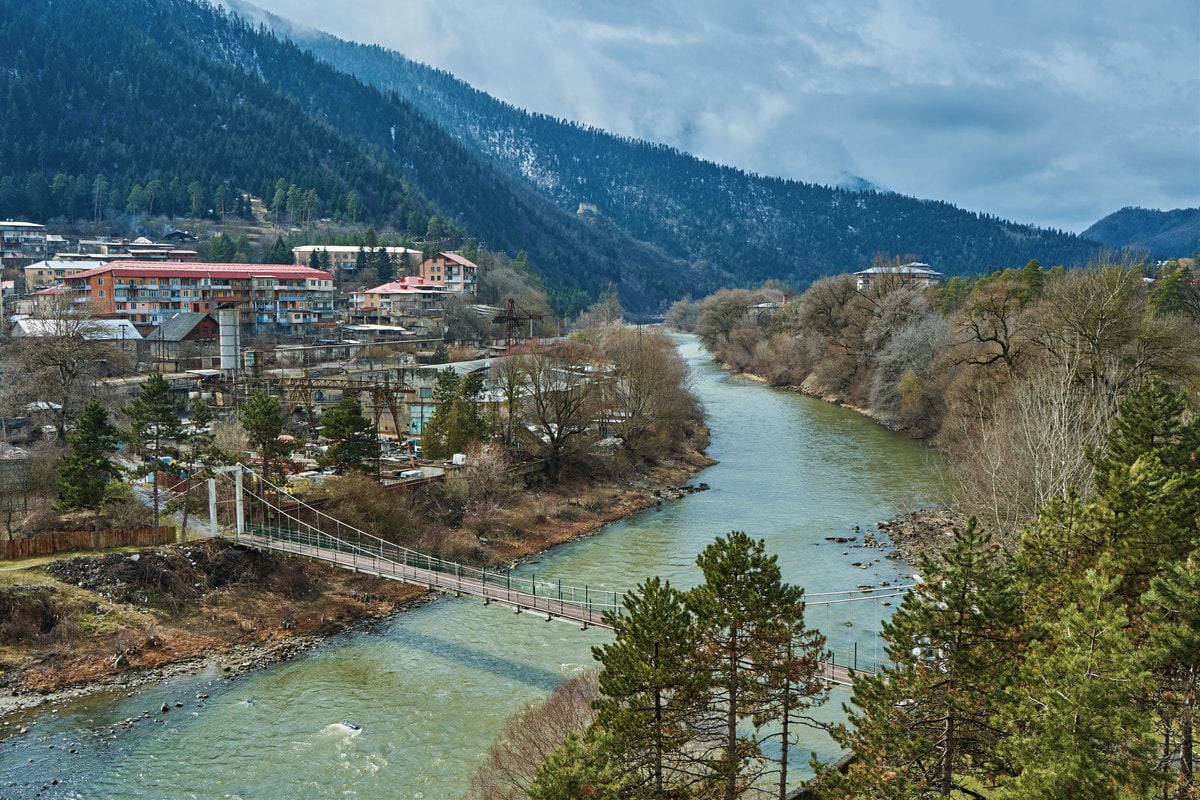 Like Stepantsminda, I personally think Borjomi is a little too far and fun-packed for a day trip… it's so pretty and explorable that it warrants way more than a few hours. But lots of people like to visit the town on a day trip from Tbilisi, so I'm not here to argue.
A pretty town in a narrow valley, Borjomi is most famous as the home of Borjomi water, a carbonated mineral beverage that people love slurping all over the nation.
But it's also way more than that. Home to hikes, thermal baths, pretty gardens, a beautiful park and a great cable car ride, there's plenty to do here. If you feel like you can cram lots of it into one day trip, then my advice is to go for it!
For your big Borjomi meal, I recommend eating in Cafe Tourist. The couple who own the place are ridiculously adorable, and the venue itself is kooky and quirky. You'll fall in love with it.
20. Sanahin Monastery
Last up, I'm taking you out of Georgia and into neighboring Armenia.
Again, I think this is a little too far for a day trip (especially considering you need to go through all the border formalities)… but nonetheless, it's still a popular day-trip choice for people who want to add another nation to the list of places they've ticked off.
So if that's the sort of thing you're into, you'll probably love this.
Armenia is absolutely crammed with monasteries (probably even more so than Georgia, if I had to make an absolute guess, which I just have). Of them all, Sanahin Monastery is one of the best and most famous—and lucky for you, it's close to the Georgian border (it's actually closer to Tbilisi than it is to the Armenian capital of Yerevan).
At 10th-century UNESCO-listed Sanahin Monastery, you'll find art, engravings, five churches, ancient relics, and a whole load of interesting history. And best of all, it's backed by some lovely mountainous scenery—it's one of the most beautiful monastery complexes in this part of the world.
Final Thoughts and Further Reading
Thanks for reading our guide to the 20 best day trips from Tbilisi!
If you want to know anything else about adventuring around Georgia's brilliant capital city, check out our guides to the best cafes in Tbilisi, the best restaurants in the city, and the best hotels in Tbilisi for solo travelers.
Thanks for joining us, and we'll see you next time!


[ad_2]

Source link