[ad_1]

You're looking for the best waterfalls near Edinburgh…
… so in this list, I've brought you them all, serving up a combo of close-to-city stuff, middle-of-nowhere spots, mid-hike falls, swimmable pools, and plenty more.
Note: None of these are more than a two-hour drive from Edinburgh (and some are way closer). I've listed them in order, from closest to Edinburgh to furthest from Edinburgh. That's just the sort of nice guy I am.
Note 2: Before we get going with this, I'm gonna be honest with you. Scotland isn't Vietnam nor Thailand, and you aren't gonna find many impressive waterfalls here. So you might want to tone down your expectations a bit. Sorry to be a misery.
Alright, enough of all that stuff: bring your swimsuit and come join the party!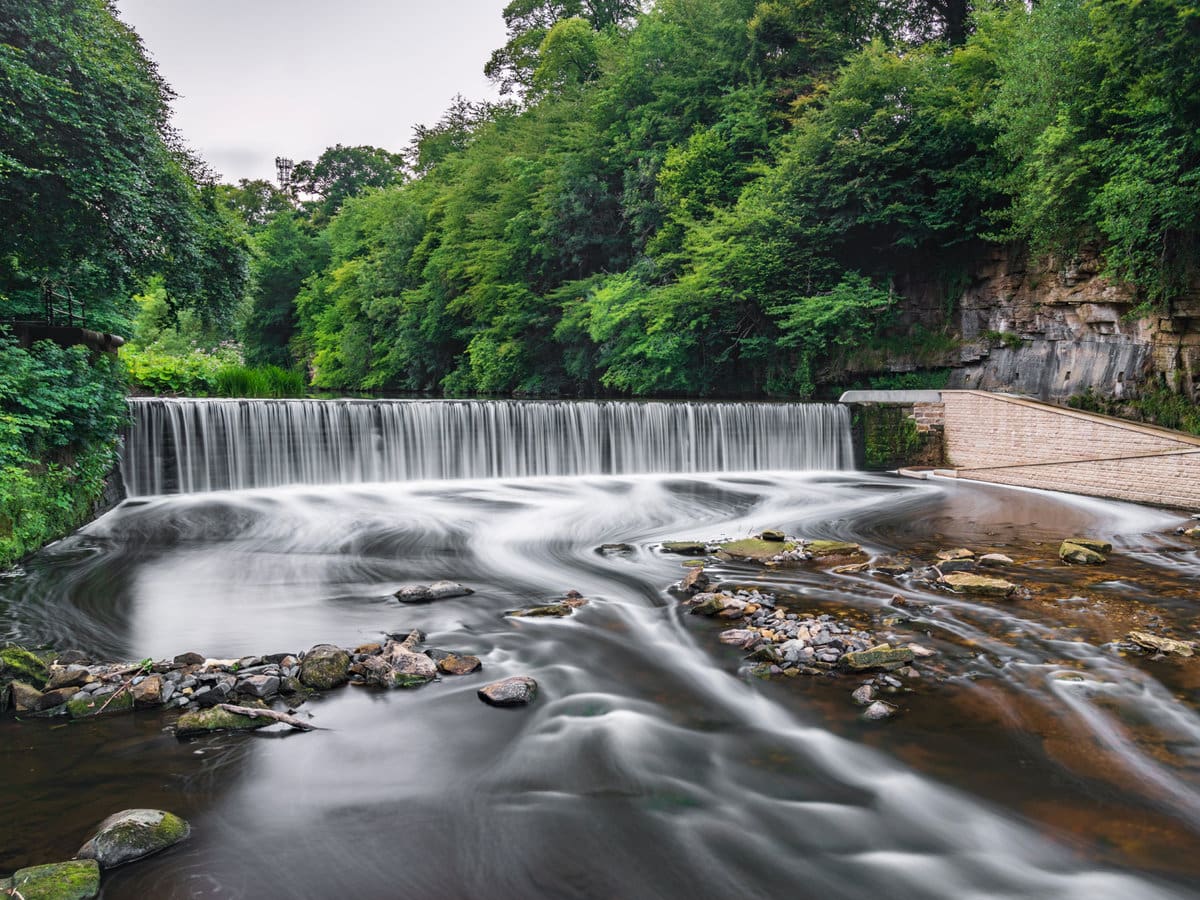 1. Cramond Falls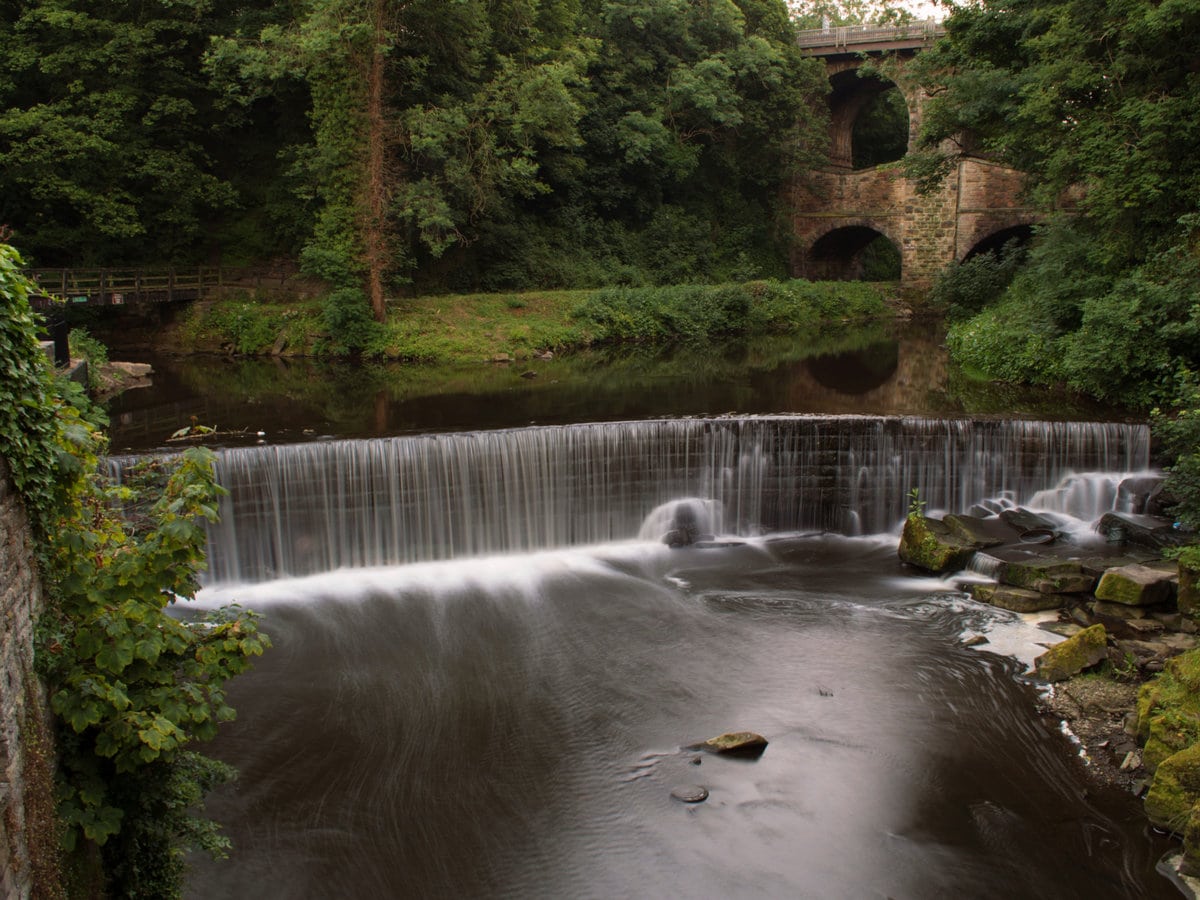 Let's get this started with a waterfall inside of Edinburgh.
Cramond Falls isn't gonna blow your little socks off—it's just a short fall, measuring in at a height of around 1 meter (3 feet) or so.
But it's easy to access, it's a pretty place for a picnic, and (depending on which route to the falls you choose), you can combine your visit with a load of other Edinburgh stuff.
Here's what I recommend: head to Granton Beach, on the western outskirts of Edinburgh. From here, wander west along a coastal trail to Silverknowes Beach and Cramond Beach. When the beach meets the river, head south along the river, until you hit Queensferry Road.
During this riverside stretch, you'll see the waterfall, some old ruins, a weird whale sculpture, and maybe some ponies.
When you get to Queensferry Road, you can take one of many buses back to central Edinburgh.
How to get to Cramond Falls from Edinburgh: Walk… or take a direct bus. Best options are the X54, X55, X58, X60, and X61.
2. The Water of Leith Walkway
Okay, this isn't quite one of the best waterfalls near Edinburgh… because it's not just one waterfall.
But here's some context: running all the way from the village of Balerno to Leith (a dockside suburb of Edinburgh), you'll find the Water of Leith Walkway, a multi-use trail running along the Water of Leith River.
This 12-mile (19km) route meanders through various parts of Edinburgh's center and outskirts… and if you follow the 2.5-mile (4 km) stretch from Murrayfield to Stockbridge (through Dean Village), you'll pass a couple of little waterfalls (and other scenic stuff).
The waterfalls are nothing incredible, but the walk is pretty and charming. Stop for lunch in Dean Village.
How to get to the Water of Leith Walkway from central Edinburgh: You can just find the river in various parts of the city!
3. Kemback Waterfalls
Next up, we're heading to Fife, pretty close to both St Andrews and Dundee.
Again, this place really isn't anything too special… so calling it one of the best waterfalls near Edinburgh is probably a bit generous.
But if you're gonna be exploring in and around Fife, then you might want to give it a look. The area around it is mildly interesting—it's an old-school village, with a bowls club, an old church, and an old cemetery.
Other close-by highlights include Dairsie Castle, and some mini hills you can clamber up.
So, in short, if you're already gonna be in Fife and you're a waterfall fan, head to Kemback Waterfalls. If neither of those things apply, don't.
How to get to Kemback Waterfalls from Edinburgh: if you're driving, follow the A90, A92 and A93 to Cupar, before turning off at Cupar. If you're using public transport, you can ride a direct train from Edinburgh to Cupar before taking the 64 bus from Cupar to close-to-the-falls Pitscottie.
4. Campsie Waterfall
Pretty well-known as one of the best waterfalls near Edinburgh, this is another easy-to-access option—it sits right off a main road.
Made up of a few small waterfalls (some tiny, some surprisingly big), you can easily explore all the various falls by following the little river upstream.
Because the falls drop into some little plunge pools, this is a (relatively) popular swimming spot. So bring your Speedos and join the fun!
In and around here, there are some decent hikes. If you have time, I recommend wandering up to the bizarre trig point of Holehead. The trig point is like something from a sci-fi movie, and the area has some lovely views of the valley.
How to get to Campsie Waterfall from Edinburgh: by car, follow the M9 west towards Falkirk, then keep heading west towards (then beyond) Lennoxtown. If you don't have a car, it's not worth the hassle.
5. Grey Mares Tail
One of the most famous waterfalls in Scotland, this beefy boy measures in at a height of 60 meters (196 feet).
It's made up of one long stream, but its fall is broken by a few tiny pools (so it's not one unbroken drop). Regardless, it's massive and impressive—and the hilly remote area surrounding it is even better.
Part of Grey Mares Nature Reserve (obviously), the fall sits halfway between the Scottish Border towns of Moffat and Peebles.
It's located just off a main road, so it's super easy to access (assuming you have a car). There's a short and easy-to-follow trail from the road to the falls… and if you keep pushing further (which you totally should, it's a short and easy walk), you'll hit the serene shores of Loch Skeen. The round-trip walk from the car park to the loch is only around 3 miles (5km).
Is this the very best waterfall near Edinburgh? Probably.
How to get to Grey Mares Tail from Edinburgh: drive southwest along the A7 and the A708 via Selkirk. If you don't have a car, don't bother.
6. Linn Park Waterfall
Are you planning on visiting Glasgow while you're in Edinburgh? If the answer to that question is a big fat yes, you'll be interested in this waterfall.
(If the answer to that question is a big fat no, feel free to move on.)
Linn Park Waterfall is pretty much Glasgow's equivalent to Cramond Falls (the first entry on our list). So it's definitely NOT worth venturing all the way to Glasgow for. But if you're gonna be in Glasgow anyway, and you like looking at waterfalls, and being outside, and having active adventures… then it's a decent option to add to your list.
It sits inside Linn Park, along the White Cart Water. Also in and around this park, you get Holmwood House, a kids' play area, a golf course, places to eat and drink, and loads of picnic spots.
How to get to Linn Park Waterfall from Edinburgh: if you're driving, head west along the M8, then south to get to Linn Park car park. By public transport, take a train to either Cathcart train station or Kings Park train station.
7. Black Linn Waterfall
Sitting at the southern end of Tay Forest Park, the impressive Black Linn Waterfall is made up of three mini falls that all sit side by side. Big and powerful, you can't swim in it (you probs don't want to get washed away), but there's a viewing platform just above the falls.*
*This viewing platform is called 'Ossian's Hall of Mirrors,' which makes it sound much more interesting than it actually is.
The wooded trail from the Hermitage Car Park to the waterfall is short but pretty… and it's the only way to get to the falls.
Other potential highlights of a trip here include walks in and around Tay Forest Park, visits to Loch of the Lowes (and the other little lochs around it), and glimpses of some resident squirrels and beavers.
How to get to Black Linn Waterfall from Edinburgh: if you're driving, head north along the A9—the car park is just off the main road here. If you aren't driving, take a direct train from Edinburgh Waverley to Dunkeld & Birnam—then walk around 1.5 miles (2.5 km).
8. Craigie Linn
Another close-to-Glasgow option…
… and another option where I'm gonna tell you that it's nothing special.
Tucked away in the mossy trees of Gleniffer Braes Country Park, Craigie Linn Waterfall is basically just a little watery trickle that piddles into the thin stream beneath it.
But there are loads of short walking trails around it, leading you to reservoirs and pretty woods. If you're only going for the waterfall, don't bother. But if you want to see a mid-walk waterfall as part of a bigger adventure, it's definitely worth the stroll.
How to get to Craigie Linn from Edinburgh: if you're driving, follow the M8 west to Glasgow—then from Glasgow, head southwest to Gleniffer Braes Country Park. By public transport, it's not worth the fuss.
9. Calder Mill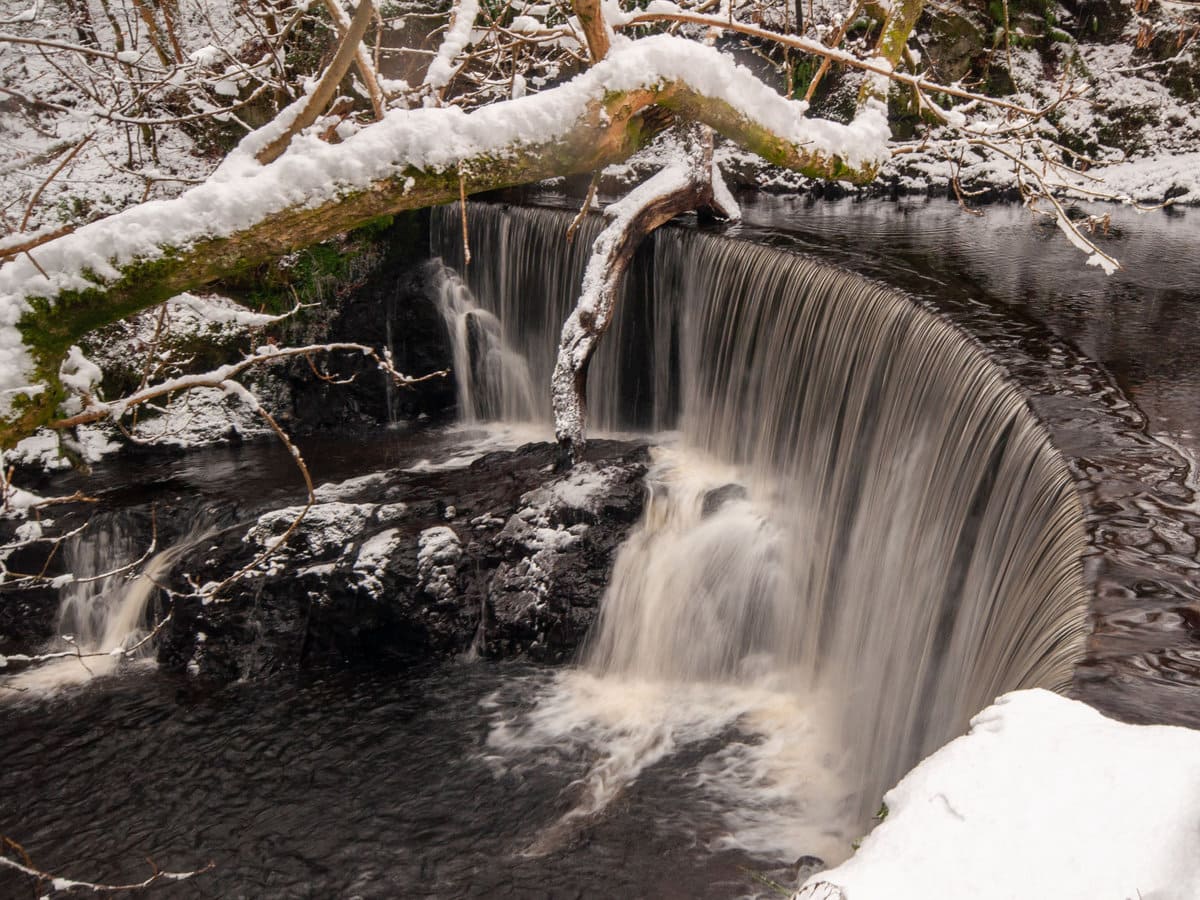 Lingering near the nation's west coast, this is another waterfall that's actually closer to Glasgow.
Sitting inside the massive (and massively underrated) Clyde Muirshiel Regional Park, Calder Mill Waterfall is close to the outdoor-adventure village of Lochwinnoch… so it's easy to reach, and it's surrounded by loads of great stuff.
So, yep, you should wander along the River Calder to the waterfall (it's a very short and easy walk)… but you should also check out Barr Castle, Barr Loch, Castle Semple Loch, the bird-filled RSPB Center, and all the nearby trails taking in these places.
The waterfall is nothing super-impressive, but it's relatively big, and it's a great spot for a picnic.
How to get to Calder Mill Waterfall from Edinburgh: if you're driving, follow the M8 to Paisley before hopping on the A737 and into the village of Lochwinnoch. By public transport, you can catch the train from Edinburgh to Lochwinnoch, but you'll have to change trains in Glasgow.
10. Inversnaid Waterfall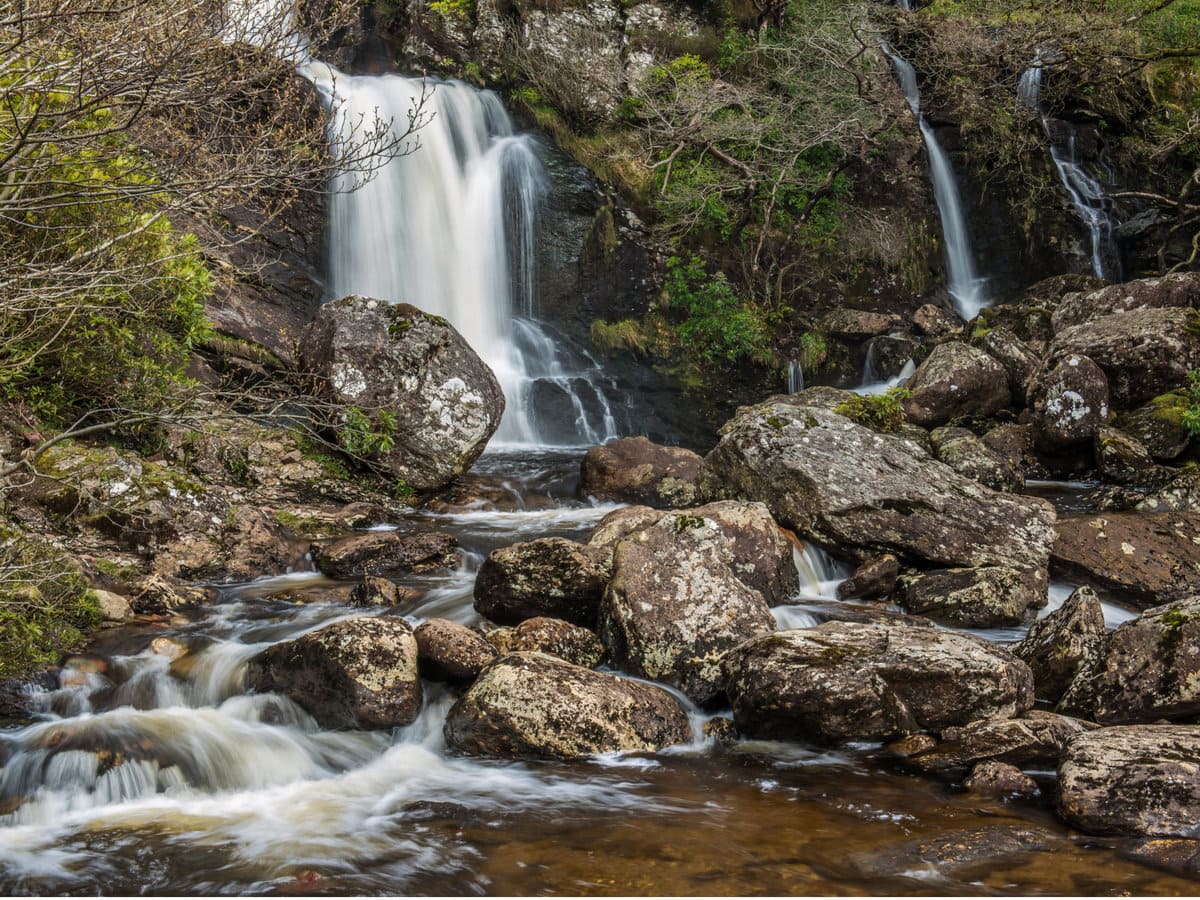 You've probably already heard of Loch Lomond—it's the biggest loch in Scotland (if you measure by surface area), and it's one of the best lochs in Scotland.
Well, if you head to the northern part of the eastern shores of the loch, you'll find the tiny settlement of Inversnaid. And you'll also find Inversnaid Waterfall, which tumbles down some rocks, and right into Loch Lomond.
It's one of the prettiest and most impressive waterfalls near Edinburgh. You can swim in the pool beneath it, you can picnic around it, and you can (of course) combine a visit with loads more Loch Lomond fun. Options include visits to Loch Arklet and Loch Katrine, clambers up Ben Vorlich and Ben Lomond, and a trip to the Falls of Falloch, which I've detailed later.
How to get to Inversnaid Waterfall from Edinburgh: if you're driving, head northwest into Loch Lomond & The Trossachs National Park towards Aberfoyle—and after Aberfoyle, continue northwest to Inversnaid. You can't tackle the trip with public transport.
11. Reekie Linn Waterfall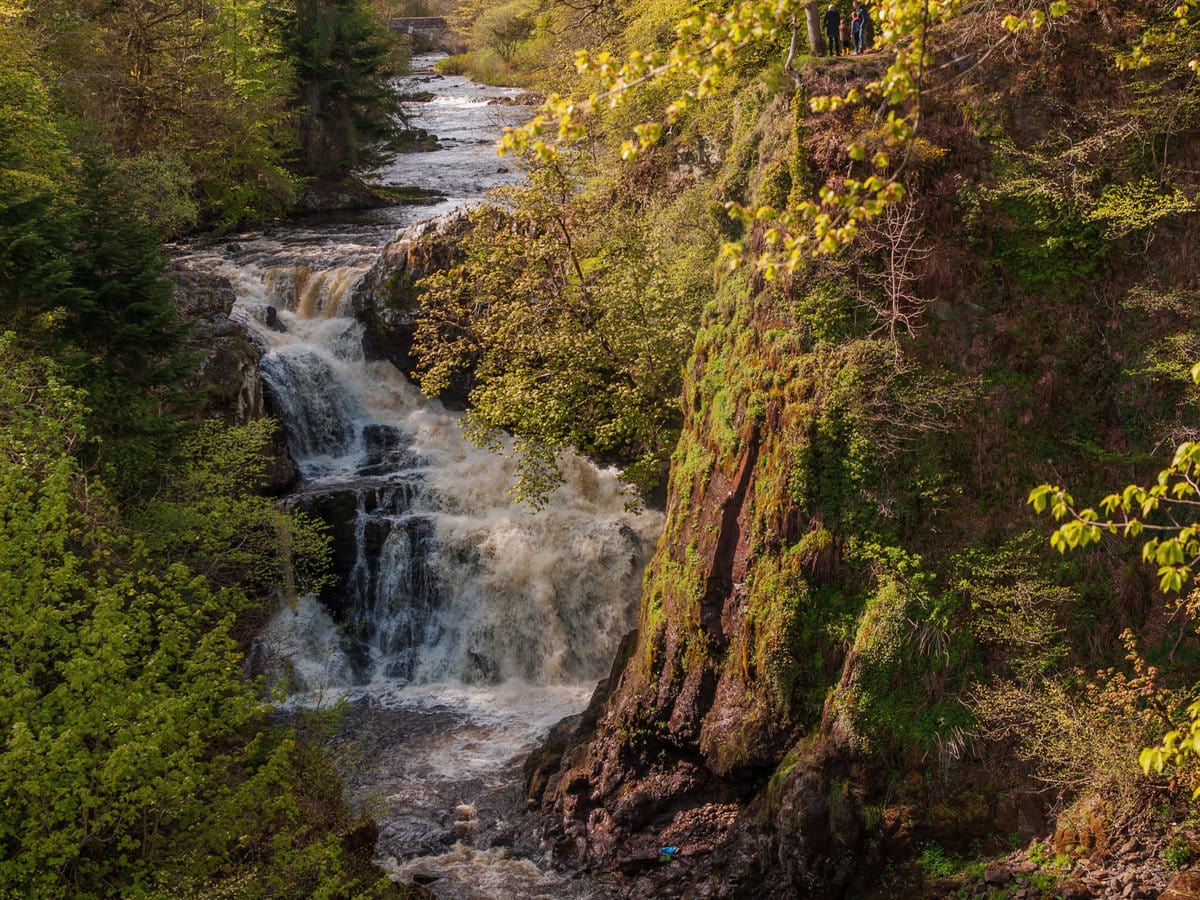 Sitting close to the charming twin towns of Blairgowrie and Rattray, the two-tiered funfest of Reekie Linn Waterfall isn't just one of the best waterfalls near Edinburgh…
… it's also one of the best-known waterfalls in all of Scotland.
It's bigger and faster than most other waterfalls we've featured, and it's popular with families. Have a picnic, have a swim (be careful if it's been raining, cos the river and the falls can flow fast), and explore the underrated shores of nearby Loch of Lintrathen when you're done.
If you're with little kids, be wary—the trail is a bit precarious in parts.
How to get to Reekie Linn Waterfall from Edinburgh: if you're driving, follow the M90 and the A9 north… then head northeast towards the waterfall after you pass Perth. By public transport, the trip takes around 4 hours—so don't bother.
12. Linhope Spout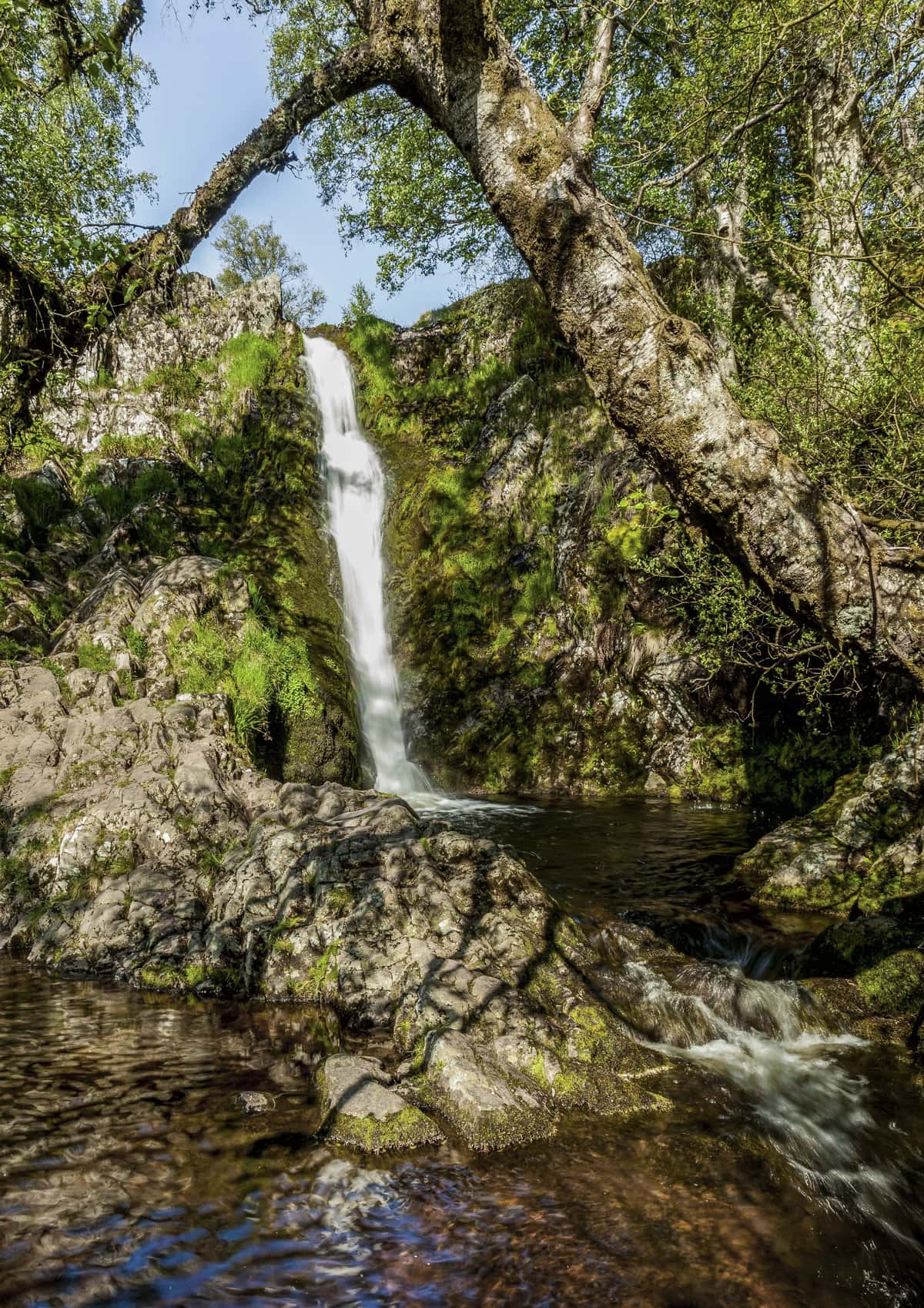 For this one, we're taking you out of Scotland… to the sparsely-populated English region of Northumberland.
In this northern part of England, you'll find The Cheviots, a range of boggy and remote mountains that I love wandering around. And just south of the Cheviot range, there's the popular Linhope Spout.
Honestly, it's not the most impressive waterfall you've ever seen. But if you mix it with a hike around the Cheviots, it's a top-quality day out. I recommend combining your visit with a stroll up both Hedgehope and Dunmoor Hill… but you could even include an ascent up the Cheviot itself if you're feeling all energetic.
How to get to Linhope Spout from Edinburgh: by car, follow the A1 and the A697 to the tiny village of Linhope. If you don't have a car, it's not worth the hassle.
For much more information on Northumberland, we've got you covered, kid. Check out our articles on the best beaches in Northumberland, the best walks in Northumberland, the most beautiful places in Northumberland, and the best castles in Northumberland.
13. Falls of Falloch
Okay, I said I wasn't going to give you any waterfalls more than a 2-hour drive from Edinburgh.
Well, for this one, I've slightly broken my own rule: the super-famous Falls of Falloch actually sit a 2 hour 10 minute drive from Edinburgh.
I hope you can forgive me.
And anyway, they're totally worth the trip—I promise.
The busiest and most well-known waterfall on our list, this place is always pretty busy (well, if the weather's nice). It's a particularly good option if you're with kids, cos there's a decent amount of variety here. You can swim, jump, wander, dive, there's an observation deck for nabbing views and photos, and you're (relatively) close to the lovely lovely town of Tyndrum.
… and in and around the area, there are plenty of places to eat and drink. The Real Food Cafe at Tyndrum is always a top choice.
How to get to the Falls of Falloch from Edinburgh: if you're driving, head northeast along the M9, A84, and A85. There's no viable public transport.
Before You Go
That's your lot—the 13 best waterfalls near Edinburgh.
Since you probably only have time to visit a couple, my top recommendations are Grey Mares Tail (the most scenic and impressive on our list), Falls of Falloch (very popular, and close to family-friendly stuff), and Cramond Falls (if you want to stick close to Edinburgh).
For more, check out our guides to the best waterfalls near Glasgow, the best waterfalls near Dundee, and the best waterfalls near Inverness.
Thanks for reading, thanks for visiting Travelness, and thanks for being so beautiful. Bye for now!


[ad_2]

Source link