A walrus that had become a popular attraction on the Oslofjord has been euthanized over concerns for the safety of the public, Norwegian officials say.
Nicknamed Freya, the walrus rose to fame after climbing onto boats to sunbathe, sometimes sinking them.
People refused warnings not to get too close to the 600kg animal, putting them and themselves in danger. Police once cordoned off a bathing area after the walrus chased a woman into the water, local media reports.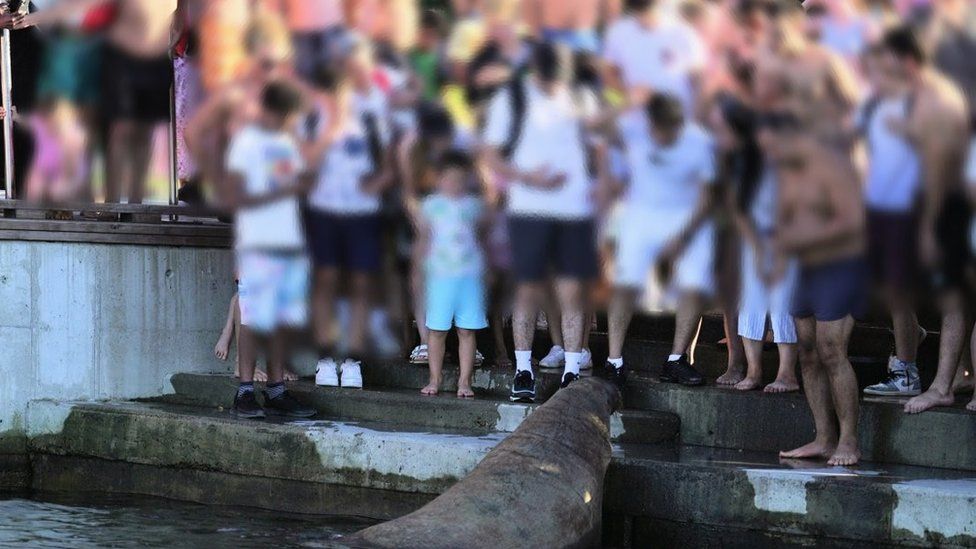 The Ministry of Fisheries released an image of people gathered very close to the walrus, with their faces blurred to protect privacy (Norwegian Directorate of Fisheries).
Last week, the Norwegian Ministry of Fisheries released a photo of a large group of people, including children, standing in close proximity to the animal. On Sunday, fisheries director general Frank Bakke-Jensen said the decision to euthanize the animal was "based on an overall assessment of the ongoing threat to human security".
"Observations on site over the past week have shown that the public has disregarded the current recommendation to keep a clear distance from the walrus. Therefore, the Directorate concluded that the possibility of potential harm to humans was high and animal welfare was not maintained," Mr Bakke-Jensen said in a statement.
He added that other options had been considered, including moving Freya out of the fjord, but they had been scrapped out of concern for the walruses' welfare. The euthanasia operation was carried out "humanely" and the corpse was taken for further examination by veterinarians.
Freya had previously been seen in several European countries including visits to Northumberland in November 2021 and Shetland in December 2021.