15 Destinations in India You Must Visit
India stands up with some stunning travel destinations particularly if we look beyond the commercialized spots. And to discover these mind-stirring landscapes and chilling spots with your best friend is the best thing.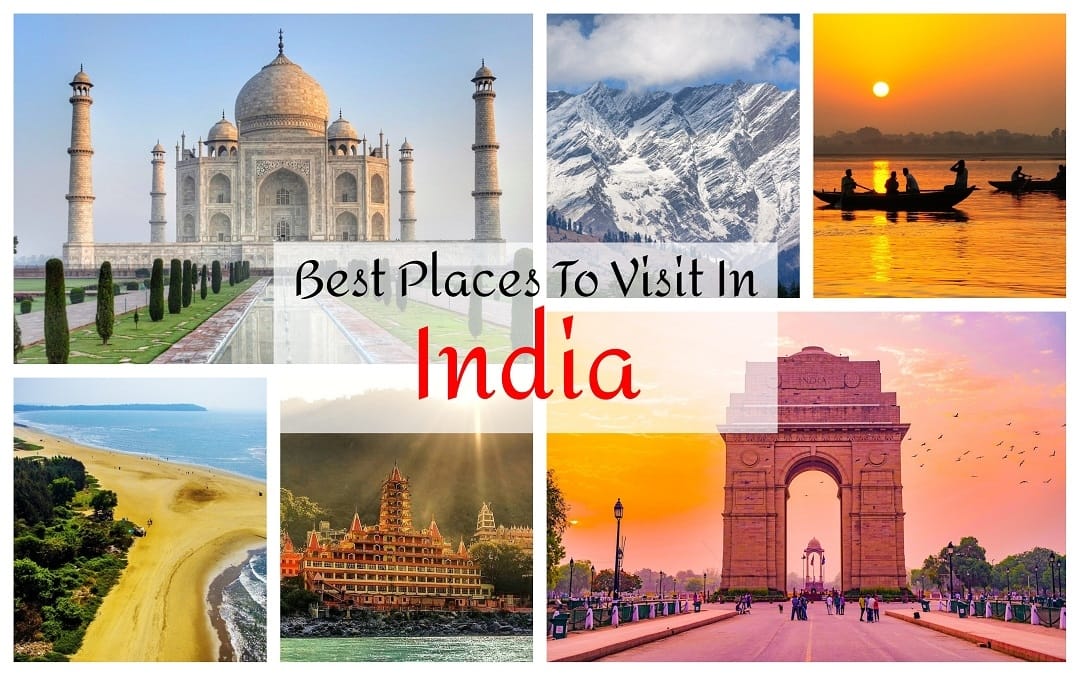 1: Auli, Uttarakhand
This place in the Himalayas is a lesser acknowledged ski destination than Shimla, Manali or Gulmarg. Camping is unquestionably the best way to enjoy Auli with your partners in the middle of snow over a bonfire and some beer. A slightly less commercialized than further hill stations, Auli is solely an adventure spot for trekking and skiing fanatics. If you are religious then you can also visit Chardham Yatra of Uttarakhand from here.
2: Savandurga, Karnataka
This hill station is positioned 60km west of Bangalore, forming a component of the Deccan Plateau and is considered to be one of the biggest monoliths in Asia. This place is great for a backpacking trip with your best friends and to make the most of the forests, caves, marine sports and mountaineering activities present here.You can spend your night in Bangalore and book hotels from Nearbuy.
3: Lonavala, Maharashtra
A tiny hill station in the Pune district that has the repute of being eerie! This place calls for a night stay not just to enjoy the spooky experience and ambience of the place but also because it is one of the most gorgeous sunrise spots. 'Aati kya Khandala' can be finally taken into serious concern with Khandala lying nearby to Lonavala.
4: Hampi, Karnataka
A must visit for all who are enthralled by ruins and an equally charismatic history. This little village with chronological temples all around provides a much desired serene and pretty getaway from the noise and pollution of the town. Words would not do justice to this striking place, which topped the charts for the 'Most Searched Place in 2021 in Karnataka'.
5: Gangtok, Sikkim
From duty free goods to duty free alcohol, the capital of Sikkim is one of the greatest places to chill with a crazy group of friends! This place has a bit to present to everyone – adventure enthusiasts who can go hiking nearby, shopping enthusiasts, environment lovers and even people who have come to merely chill and have fun. With abundant cafes, pubs, clubs and casinos, this may very well be a baby Las Vegas in India and a substitute to Goa!
6: Chail, Himachal Pradesh
Placed near Shimla, Chail was the summer retreat for the Maharaja of Patiala during the British Raj. The Chail Palace is well known for its structural design and is tucked within the pine and deodar forests surrounding the area. Camping and trekking trips to Chail provide as an exquisite weekend getaway spot from Delhi! A hike to the world's uppermost cricket ground is an alluring reward for all cricket fans!
7: Chittorgarh, Rajasthan
It is one of the most attractive yet underrated places in Rajasthan that falls on the way to Udaipur from Ajmer. The architectural design is very diverse from the inside, more or less like a maze and the sight from the top is purely breathtaking! To make things more fascinating, this place also produces saris from the plants of bananas, custard apples and other such plants!
8: Phawngpui, Mizoram
Phawngpui is famous as the Blue Mountain of Mizoram, and is the highest mountain peak in Mizoram and renowned for orchids and rhododendrons. The Phawngpui peak has some magnificent trees and colorful flowers which offers an enchanted view of the blue hazed hills.
9: Mussoorie, Uttarakhand
It is a well-known Hill Station, which is located in the Dehradun District. Couples spending their holiday in this region would get to enjoy fascinating views of green hills and snow-clad Himalayas. The Mall, Doon Valley, Kempty Falls and Mussoorie Lake are some of the attractive spots in this part of the world.
10: Bhimtal, Uttarakhand
A picturesque town in Nainital district, Bhimtal is popular among tourists for its Pleasant Climate and ancient temples. Couples who book cheap resort at Bhimtal would get an opportunity to visit all the tourist spots of this region. They can also enjoy a trip to Bhimtal Lake, which has an island at its centre.
11: Kausani, Uttarakhand
Located in the Bageshwar district, this region is an ideal place for newly-weds, as they can enjoy their moments of peace amidst beautiful natural surroundings. Mahatma Gandhi had spent some time in this hill station and had called it the 'Switzerland of India'. It is situated at an altitude of about 1890 metres and offers awe-inspiring views of dense pine trees.
12: Almora, Uttarakhand
This was once the capital of Chand dynasty ruled by Kalyan Chand in mid-sixteenth century. Couples visiting this region can come across a rich cultural heritage, along with an exceptional natural beauty. They can also find some exquisitely-made handicrafts and get the chance to taste the delicious cuisines of this place.
13: Lansdowne, Uttarakhand
Founded in the year 1887, this town was named after Lord Lansdowne, who was the Viceroy of India during those days. It is one of the quietest Uttarakhand romantic holiday places that couples would come across in the country. This region is also famous for a pleasant climate and an environment free from dust and pollution.
14: Ooty, Tamil Nadu
A little mainstream choice never did anyone any bad. Ooty as popular as it is, also has an added advantage for the people of Coimbatore to flock to, over the weekends, because of its vicinity to the city. Very famous for its picturesque views and cool climate, is just 67kms away, making it a perfect weekend ride to destination. Enjoy the crisp weather, idyllic sceneries and return feeling refreshed. Although this small town is placed in the lap of Mother Nature, commercialization is eating into the beauty of the place in general. A visit to this place during monsoons is a whole different experience, and one that must not be missed.
15: Palakkad, Kerala
Situated at the foothills of the mighty Western Ghats renders this place the tag of a typical tourist spot. Trees, hills, waterfalls, irrigation plants, rivers and forests make up this place. One can only imagine missing out on such a wonderful escapade, so near to the city (read 57kms). Preferred for a one day trip, this place hosts a lot of riders and adventure bikers all throughout the year. Make sure to embark on an adventure trip to Palakkad, while in Coimbatore.
A Complete Guide to Caribbean Cruises
Planning to go on a Caribbean cruise?
Are you thinking of taking a Caribbean cruise? You must plan ahead of time when and where you will travel. Continue reading for helpful information to assist you in making such decisions.
Many people believe that summer is the ideal time to visit the Caribbean islands, but keep in mind that Caribbean cruises during this period are usually very crowded. This is when families, tour groups, and even corporate meetings choose to visit the islands, so if you want to join the crowd, book your cruise early. A typical cruise lasts roughly seven days.
If you want to save a lot of money, try Caribbean vacations in the fall. Rates are significantly reduced (often half the regular amount), and you rarely have to wait in line for slots to open up.
The decision between Eastern and Western Caribbean should be based on what you expect to do during the cruise. If you want to spend more time sailing, you should take a Western Caribbean cruise (rather than going on land for other activities).s
Western Caribbean cruises depart from New Orleans, Texas, or Florida and travel to Palaya del Carmen in Mexico, the Cayman Islands, Jamaica, the Dominican Republic, and Costa Rica, among other places.There are numerous things to do on a Western Caribbean cruise, but excursions of Mayan ruins are a big favourite.
If you want to do more shopping, an Eastern Caribbean cruise would be a better option. This manner, you can visit the retail areas and beautiful beaches of the Bahamas and Puerto Rico (among others).
If you can't decide, you could look at Caribbean cruise guidebooks. Many books provide excellent advice on the best itinerary and cruise ship to match your aims and interests.s
Tags: Caribbean, Caribbean Islands, Caribbean Cruises, Caribbean Vacation
Visitors Guide to Florence, Italy
The city of Florence is actually the capital of Italy's Tuscany area and stands alongside the scenic banks of the Arno River, close to the Tyrrhenian and Adriatic Seas. Bustling with local industry, which includes arts and crafts, commerce and tourism; Florence is a particularly historic location, steeped in heritage.
It is the capital city. Florence is the capital city of Italy's Tuscany region. It is located along the picturesque shores of the Arno River, which is situated between the Tyrrhenian and Adriatic Seas. The city is booming with local industry, which includes arts and crafts tourism, commerce, and arts and crafts. Florence is an especially historical city, rich in history.
The most popular location you can visit when visiting Italy, Florence was originally established by Romans in the 1st century, and then grew rapidly in the period between 1200 and 1600. Particularly significant is it is the Medici families, which reigned over Florence in the fifteenth century were in charge of several of Florence's most stunning landmarks, structures, and monuments, the majority of which are in great state.
Florence Travel:
The Florence area is well-organized public transport system, consisting principal railway lines and orange ATAF buses , and taxis for local use which congregate at different taxi stands and in the piazzas. Renting a vehicle is one of the most well-known methods of travel in the Tuscany region. 
Additionally, the A1 Motorway links Florence to a variety of important Italian cities, like Bologna, Milan, Naples and Rome. Additionally, the A11 Motorway links Florence to Lucca, Pisa and a variety of resorts along the coast.
Florence is accessible from all over the world and Florence's Amerigo Vespucci Airport is nearby. Only 5 km or 3 miles away from the city's center The Florence Vespucci Airport offers modern services and houses numerous significant international and Italian airlines.
Florence Commerce:
With a bustling commercial city centre , and numerous businesses that are part of the financial and services sectors, Florence is a wealthy city. Today, with tourism becoming an equally important business in Florence, numerous local artisans contribute to the economy like jewelry, leatherwork, and ceramics along with hotels. Florence is home to a range of notable companies, medium-sized in size which include engineering firms as well as publishing and textile companies.
Florence Hotels:
Hotels in Florence are usually quite costly all through the year, and many of them are centrally located but a few more affordable alternatives are readily accessible. In the peak season, accommodation is often booked out in the most well-known hotels, and it is advised to book minimum two weeks prior to. 
If you choose to hire a car be sure that the hotel has a parking available prior to making a reservation. Hotels are available throughout the city center located in the green Viale dei Colli area, close to the Santa Maria Novella train station as well as along the Arno River, and along the outskirts of the city.
Florence Tourism:
The tourism industry in the Florence region is crucial and thousands of visitors go to this area of Tuscany each year to take in the stunning landscapes, historic buildings amazing architecture, and famous artworks. The must-see sights in Florence include many stunning palaces, including Palazzo Vecchio, Palazzo Vecchio, Palazzo Medici-Riccardi and Palazzo Strozzi. 
Other sights comprise those of the Piazza del Signoria as well as which is the Teatro Comunale (theatre), the arched Ponte Vecchio bridge, the ancient Campanile di Giotto and the famous Duomo or Santa Maria del Fiore – often referred to as the "Cathedral of Florence'.
The top museums in Florence include a variety of important art exhibits and exceptional exhibitions. The museums worth visiting include The National Archeological Museum, the Uffizi Gallery and the Academy Gallery among other. Additionally is the Chianti region, located between the city of Florence and close to Siena is home to the most breathtaking countryside scenes and is the home of a variety of famous vineyards.
Florence Restaurants:
The restaurants in Italy are referred to as 'Ristoranti or 'Trattories'. They are common in Florence and have a variety of types of food accessible. The prices on menus do not typically include service fees and they are added to the bill along with any additional costs for cover ('coperto'). 
So, tipping at Florence restaurant isn't required, but it is highly appreciated. In Florence, lunch is usually served between 13:00 and 13:30 and is considered to be the main dinner of the day, eating dinner between 20:00 and 21:00.
Florence Weather:
Florence is a city in Italy. Florence has fairly warm temperatures, with the notable summer sun and hot months, as well as cooler and cool winters. The temperatures between summer and august are their highest and can reach temperatures that can reach 32degC or 90degF. January is typically Florence's coldest month. Daytime temperatures averaging 9degC or 48degF. However, temperatures as low as 1degC/34degF could be seen.
Tags: Florence, Tuscany, Italy, commerce, tourism, landmarks, monuments, travel, transport, hotels, accommodation, attractions, museums, restaurants, weather
Top Places to Visit in Auli, Uttarakhand
Popularly known as the "mini Switzerland of India", Auli is a gorgeous hill station perched in the Garhwal hills of Uttarakhand. The hill station is also a renowned destination for Skiing in India. Situated at an elevation of 2800 metres, Auli offers some amazing yet scenic views of nearby mountain ranges, including Nanda devi and Nar Parvat. Also, Auli is the gateway to many famous nearby destinations such as Valley of Flowers, Hemkund Sahib and one of the Char Dham, i.e., Badrinath.
Here are the top 7 places you can visit while you're in Auli:
1. Gurson Bugyal
A beautiful meadow just a short distance from Auli, Gurson Bugyal is the picture-perfect place for any traveller. It's a short trek of 3 km from Auli, suitable for beginners, and offers unparalleled views of various mountain ranges such as Nanda devi, Trishul peak and Dron parvat. Gurson Bugyal is also a gateway to many beautiful places, including Kuari Pass, Chattrakund and Kwani Bugyal.
2. Kwani Bugyal
Kwani Bugyal is located 13 km ahead of Gurson Bugyal. It is a lush green meadow bigger than Gurson bugyal. The place is considered a haven for nature lovers and tourists visiting Auli. The best time to visit Kwani Bugyal is in summer, as in winter, it is fully covered with snow. Kwani Bugyal offers some amazing views of snow-covered mountains, including Dronagiri and Nanda devi.
3. Chattrakund
Perched at an elevation of 3300 m, Chattrakund is one of the best places to visit in Auli. It is located just 4 km from Auli and 1 km ahead of Gurson Bugyal. If you're a nature lover and admire tranquillity, this freshwater lake will leave you blissed. It offers surreal views of nearby mountains in both winter & summer.
4. Auli Lake
Auli lake is the highest artificial lake in India and is one of the best places to visit in Auli. In the summer, you can visit this beautiful lake and admire its turquoise water, which looks magnificent. However, the lake is snow-covered for winter and shines like a beautiful gem above the Ropeway. The purpose of building this man-made lake is that when there is less snow, artificial snow can be generated with the help of this lake, so there is no down winter season for tourists. So if you're planning an Auli tour, you should definitely explore this lake.
5. Salidhar Tapovan
Salidhar Tapovan has located just 14 km from Auli. It is a small village with a hot water spring and a temple as a major attractions. Surrounded by the coniferous forest and oak trees, Salidhar Tapovan offers 360° views of beautiful mountains. The people of this village are hospitable and friendly. One can explore the cultural tradition and rich handicrafts of this particular region.
6. Valley of flower
Valley of flowers means "Phoolo ki Ghati". It is an Indian national park established in the 1982 era. Accessible by a 30 km drive from Joshimath, this valley is a wonderland of flowers. In this valley, over 600 species of the flower have bloomed. The sight offers a surreal experience to any tourist visiting the valley of flowers. Not only this, but you'll also get panoramic views of the mighty Himalayan ranges from this sight. The place can be explored best from July to September as the monsoon makes this valley turn into heaven, with every species of flower grown to its full bloom.
If you love trekking, many organisers like India Thrills, India hikes, trekking the Himalayas and ban banjara offer "Trek to Valley of Flowers", in which you can participate and get ready to explore this paradise.
7. Badrinath Temple
A religious yet beautiful sight abode to Lord "Vishnu", Badrinath temple is located around 65 km from Auli. It is a very religious place and one of the Char Dham in Uttarakhand. Every year lakhs of tourists come for Char Dham Yatra in Uttarakhand, this pilgrimage is considered very sacred, and historians believe that it is a way to get "Moksha" in life. One can also see the mighty snow-covered Himalayan ranges from Badrinath Temple, which looks like a surreal experience. Everyone should visit this place while they're on their Auli tour.
Whether you're a nature lover, trekking enthusiast, photographer or a soul who loves adventures, Auli has everything to keep you engaged and entertained. So don't wait. Get your bags packed and hop on to the Auli for a lifetime vacation.