15 Destinations in India You Must Visit
India stands up with some stunning travel destinations particularly if we look beyond the commercialized spots. And to discover these mind-stirring landscapes and chilling spots with your best friend is the best thing.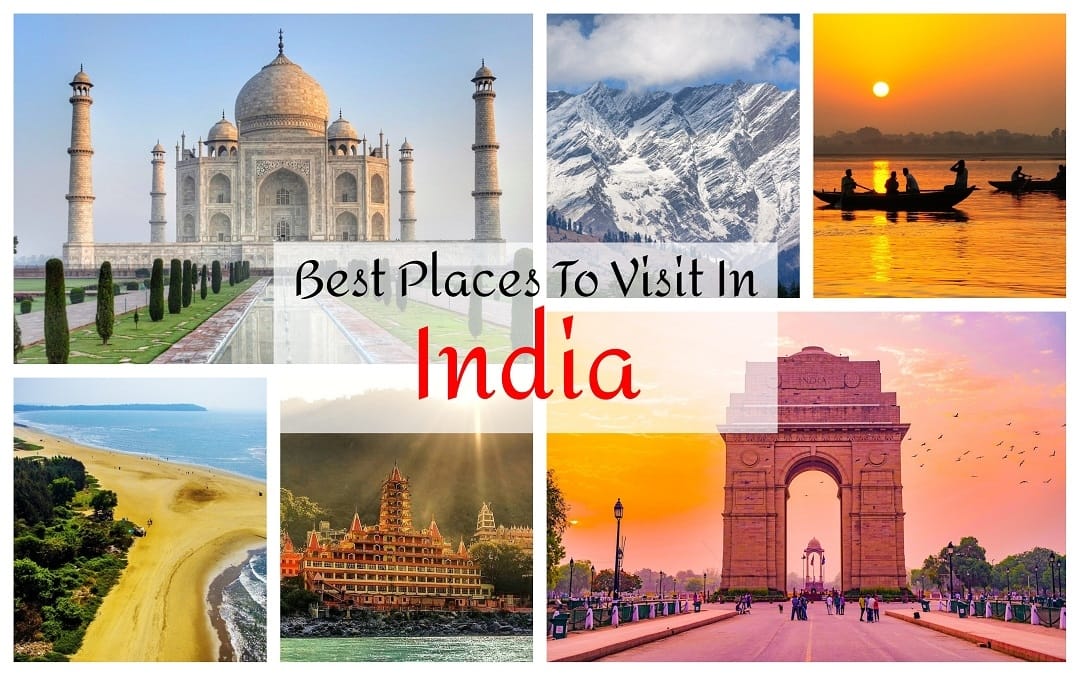 1: Auli, Uttarakhand
This place in the Himalayas is a lesser acknowledged ski destination than Shimla, Manali or Gulmarg. Camping is unquestionably the best way to enjoy Auli with your partners in the middle of snow over a bonfire and some beer. A slightly less commercialized than further hill stations, Auli is solely an adventure spot for trekking and skiing fanatics. If you are religious then you can also visit Chardham Yatra of Uttarakhand from here.
2: Savandurga, Karnataka
This hill station is positioned 60km west of Bangalore, forming a component of the Deccan Plateau and is considered to be one of the biggest monoliths in Asia. This place is great for a backpacking trip with your best friends and to make the most of the forests, caves, marine sports and mountaineering activities present here.You can spend your night in Bangalore and book hotels from Nearbuy.
3: Lonavala, Maharashtra
A tiny hill station in the Pune district that has the repute of being eerie! This place calls for a night stay not just to enjoy the spooky experience and ambience of the place but also because it is one of the most gorgeous sunrise spots. 'Aati kya Khandala' can be finally taken into serious concern with Khandala lying nearby to Lonavala.
4: Hampi, Karnataka
A must visit for all who are enthralled by ruins and an equally charismatic history. This little village with chronological temples all around provides a much desired serene and pretty getaway from the noise and pollution of the town. Words would not do justice to this striking place, which topped the charts for the 'Most Searched Place in 2021 in Karnataka'.
5: Gangtok, Sikkim
From duty free goods to duty free alcohol, the capital of Sikkim is one of the greatest places to chill with a crazy group of friends! This place has a bit to present to everyone – adventure enthusiasts who can go hiking nearby, shopping enthusiasts, environment lovers and even people who have come to merely chill and have fun. With abundant cafes, pubs, clubs and casinos, this may very well be a baby Las Vegas in India and a substitute to Goa!
6: Chail, Himachal Pradesh
Placed near Shimla, Chail was the summer retreat for the Maharaja of Patiala during the British Raj. The Chail Palace is well known for its structural design and is tucked within the pine and deodar forests surrounding the area. Camping and trekking trips to Chail provide as an exquisite weekend getaway spot from Delhi! A hike to the world's uppermost cricket ground is an alluring reward for all cricket fans!
7: Chittorgarh, Rajasthan
It is one of the most attractive yet underrated places in Rajasthan that falls on the way to Udaipur from Ajmer. The architectural design is very diverse from the inside, more or less like a maze and the sight from the top is purely breathtaking! To make things more fascinating, this place also produces saris from the plants of bananas, custard apples and other such plants!
8: Phawngpui, Mizoram
Phawngpui is famous as the Blue Mountain of Mizoram, and is the highest mountain peak in Mizoram and renowned for orchids and rhododendrons. The Phawngpui peak has some magnificent trees and colorful flowers which offers an enchanted view of the blue hazed hills.
9: Mussoorie, Uttarakhand
It is a well-known Hill Station, which is located in the Dehradun District. Couples spending their holiday in this region would get to enjoy fascinating views of green hills and snow-clad Himalayas. The Mall, Doon Valley, Kempty Falls and Mussoorie Lake are some of the attractive spots in this part of the world.
10: Bhimtal, Uttarakhand
A picturesque town in Nainital district, Bhimtal is popular among tourists for its Pleasant Climate and ancient temples. Couples who book cheap resort at Bhimtal would get an opportunity to visit all the tourist spots of this region. They can also enjoy a trip to Bhimtal Lake, which has an island at its centre.
11: Kausani, Uttarakhand
Located in the Bageshwar district, this region is an ideal place for newly-weds, as they can enjoy their moments of peace amidst beautiful natural surroundings. Mahatma Gandhi had spent some time in this hill station and had called it the 'Switzerland of India'. It is situated at an altitude of about 1890 metres and offers awe-inspiring views of dense pine trees.
12: Almora, Uttarakhand
This was once the capital of Chand dynasty ruled by Kalyan Chand in mid-sixteenth century. Couples visiting this region can come across a rich cultural heritage, along with an exceptional natural beauty. They can also find some exquisitely-made handicrafts and get the chance to taste the delicious cuisines of this place.
13: Lansdowne, Uttarakhand
Founded in the year 1887, this town was named after Lord Lansdowne, who was the Viceroy of India during those days. It is one of the quietest Uttarakhand romantic holiday places that couples would come across in the country. This region is also famous for a pleasant climate and an environment free from dust and pollution.
14: Ooty, Tamil Nadu
A little mainstream choice never did anyone any bad. Ooty as popular as it is, also has an added advantage for the people of Coimbatore to flock to, over the weekends, because of its vicinity to the city. Very famous for its picturesque views and cool climate, is just 67kms away, making it a perfect weekend ride to destination. Enjoy the crisp weather, idyllic sceneries and return feeling refreshed. Although this small town is placed in the lap of Mother Nature, commercialization is eating into the beauty of the place in general. A visit to this place during monsoons is a whole different experience, and one that must not be missed.
15: Palakkad, Kerala
Situated at the foothills of the mighty Western Ghats renders this place the tag of a typical tourist spot. Trees, hills, waterfalls, irrigation plants, rivers and forests make up this place. One can only imagine missing out on such a wonderful escapade, so near to the city (read 57kms). Preferred for a one day trip, this place hosts a lot of riders and adventure bikers all throughout the year. Make sure to embark on an adventure trip to Palakkad, while in Coimbatore.
How to make the most of your travel advertising post-Covid: Best Media Info
You can't stop looking at those conference announcements, but if you're anything like your travel agency's marketing team, you don't know what to think. You want to know what it all means, but that can be difficult when all the industry jargon and buzzwords are flying around. Fortunately, we're here to break it down for you in our guide to making the most of your post-Covid travel promotion.
Reassure customers with your message
messaging is important to assure customers that you will do everything you can to satisfy them. For example, a sample message might look like this: We want you, our valued customer, to have confidence in our business and in what we do. We take every possible measure to ensure you travel safely when you travel with us. Our customers are our priority and we will continue to take care of them by providing informative updates on the matter. Please do not hesitate to contact us if there is anything we can do for you.
Get creative with your channels
Tours and safaris are a big deal, with destinations like Africa, Asia and South America being a mainstay. But recently, self-drive tours have caught on in Europe and North America. Self drive tours in Iceland offer people the opportunity to explore countries like Iceland on their own terms. With a few designated highways or scenic routes, you can decide which area best suits your needs.
Leverage user-generated content
If you andSer Generated Contentconsider these four tips:
Define your niche – who is your typical traveller?

Establish a consistent content creation schedule – when do you publish new blog posts?

Leverage partnerships with influencers and experts in your industry – what do they have that you don't have?

Interact with customers on social media – how can you address them with your brand's voice?
Take advantage of offers and discounts
Post Covid, many travel agents are looking for ways to get back on their feet. One way you can use this time as an advantage is by using it Offers and discounts offered in the travel industry. For example, you can take advantage of Groupon's vacation deals or Airbnb's weekly deals. This makes your company more attractive and up-to-date in a competitive market. It can also attract new customers because they know they won't have to pay full price. You can also offer your own discount or deal via social media like Facebook or Twitter promotions for 10% off purchases within the next two weeks.
Investing in SEO (Search Engine Optimization) can help you get more exposure to your website so more people can find you when they search for a travel company. First, make sure your site is mobile-responsive and can be easily crawled by Google. Next, create compelling content that includes a variety of keywords and links to other pages on your site. That way, Google knows what your site is about and can rank you higher in search results.
Finest Luxury Resorts With Outstanding Hospitality In Dubai
One of the largest cities in the United Arab Emirates, Dubai is home to some of the largest buildings ever created. New structures are added to the city almost daily, changing its appearance. It is very amazing to see how an abandoned area has developed with an abundance of huge bricks. The city has gained a reputation as a center for conducting business as well as a popular holiday destination for both domestic and foreign tourists. How else do you want to describe this metropolis if you have several names to name it? It's a retail mecca, a honeymoon destination, a day trip destination and an entertainment hotspot, and it has an unforgettable nightlife. Known for the Burj Khalifa, the Palm Islands, its history and tranquil sand dunes, the city of Dubai attracts visitors from all over the world looking to experience its unique culture and way of life.
All of the world's most prominent luxury hotel chains have facilities in Dubai, some of which own multiple properties. Palm Jumeirah is home to many opulent beach resorts that offer luxurious accommodations, a variety of dining options, and a plethora of water and beach activities. If you want to add something extra special to your vacation, book a trip to one of these luxurious resorts in Dubai. These resorts offer the ideal retreat from the monotonous routine of our everyday life by offering you a truly royal experience that represents the city's upscale ambience. Here you can partake in a variety of activities, including snapping photos that will drive your Instagram followers crazy, enjoying exquisite meals, and embarking on exotic adventures.
Dubai's best resorts with outstanding hospitality
Burj Al Arab, Jumeirah: The Burj Al Arab, one of the most luxurious 5 star hotels Dubai hotels, is considered the most opulent hotel in the world and is also considered the only 7-star hotel in the world. Not only known for its stunning, sailing-inspired design, the opulent resort is also located near Jumeirah Beach on a small peninsula just offshore. The massive structure contains 201 duplex apartments and the tallest atrium in the world. Each of these lavishly appointed suites features a private butler, Hermes bath products, a Jacuzzi and a choice of 9 pillow types.
Atlantis, the palm tree: Possibly the largest beachfront resort in the world, the gargantuan Atlantis, The Palm sits at the top of the Palm Jumeirah project and overlooks the Arabian Gulf from its recognizable central open space. It resembles a huge brown palace that acts as a gateway to Dubai. With options like Signature Suites, which have glass-walled underwater suites that look through one of the resort's aquariums, the accommodations here are absolutely amazing. The renowned Royal Bridge Suite, one of the finest and most opulent in Dubai, sits above the hotel's vast open space.
Four Seasons Resort, Jumeirah Beach: On Jumeirah Beach on the Arabian Gulf, the sumptuous Four Seasons Resort Dubai offers a true five-star experience. Some of the hotel's rooms and suites, located near Jumeirah Beach, have views of the ocean and some of the city skyline, while other rooms have views of the resort itself. Each has a furnished balcony and luxurious marble bathrooms that feel like they're at the spa. Families can enjoy a variety of services and activities at the resort, and the free Children for All Seasons program offers all-day supervised activities. In addition, families staying at the resort receive four passes to Dubai's amusement and theme parks.
Waldorf Astoria Dubai Palm Jumeirah: The Waldorf Dubai is located in the middle right of the Palm Jumeirah. All suites and most guest rooms offer sea views and some suites overlook the Arabian Gulf while others offer views over the water of Jumeirah Beach Residence or the downtown Dubai skyline. The suites and rooms are huge, larger than most Palm hotels, and the marble bathrooms are just as large. The Waldorf's extensive, 200-metre-long private beach offers a variety of opportunities for relaxation and water fun.
Mandarin Oriental Jumeira, Dubai: This opulent beach resort is located in Jumeira, a recently built beach resort just north of the Jumeirah Beach Due to its location on a peninsula, you have a view of the sea and the skyline of Dubai on the opposite side. Modern and opulent, rooms and suites have amenities like spa-like marble bathrooms and oak-paneled entrances. Some of them have furnished balconies from which you can enjoy views of the sea or the Burj Khalifa.
Bulgari Resort Dubai: The Bulgari Resort in Dubai is the ideal place to stay if you are looking for a seaside resort with a yacht club. The resort is located in the newly created Jumeira Bay area, close to Jumeirah Beach, on Jumeira Bay Island. The resort is the pinnacle of luxury and one of only a handful owned by Italian jeweler "Bulgari" in the world. There's no need to queue in a lobby, as the experience begins with in-room check-in. There are rooms, suites, and villas, ranging from opulent hotel rooms to villas that resemble mansions. Villas have features like outdoor hot tubs and private pools.
Le Royal Meridien Beach Resort & Spa, Dubai: This resort is exceptional if you are looking for first class accommodation. The rooms offer a clear and beautiful view of the Arabian Gulf as the hotel is close to the beach. The lush grassland and white sands of the beach are the ideal complement to this award-winning hotel. Your heart and mind will settle just by strolling through its expanse. With 13 on-site restaurants, they have a full range of amenities to meet your every need. They offer a wide range of cuisines including Mexican, Italian, Continental and Arabic. You will love the food and the courteous service. At its secluded beach, you can also take part in some water sports, including kayaking, water skiing, banana boat trips, etc.
In addition to the above resorts, there are several resorts in the city where families can enjoy themselves. That concludes our list of top resorts in Dubai. In addition, Dubai has some desert resorts that represent an opulent version of a nomadic lifestyle. So choose your preferred option, make your reservation and catch the next flight to Dubai.
The LLM Readers' Travel Awards hits another successful year, the results are in
After a difficult few years for the travel and hospitality industry, 2022 has seen a resurgence in the search for luxury destinations abroad, and with renewed vigor for travel on home soil, it seems avid travelers are once again enjoying the best of both worlds.
As another year comes to an end with a bang, we at LLM are celebrating another successful awards season. 2022 marks our fifth year of highlighting the best in travel, from the best hotels around the world to premium airlines, cruise lines, destinations and tour operators.
With the sole aim of showcasing the best in their industry and providing positive publicity for those businesses and destinations, we can safely say we've achieved this again. Our readers love to dream and travel, and they voted by the thousands – (more than 31,000) – to give their opinion from the carefully curated shortlist of options.
So the results are in and this year we can safely say that the winners of each category deserved their place. You will find the full list of winners here, but we've rounded up some of the standout winners below. As our Editor-in-Chief Nick Gibbens commented, "We are thrilled to be able to re-launch our awards and recognize the best of the best in the industry. Hopefully, these results will encourage travelers to seek out these premium picks for their next luxury vacation.
"Our discerning and dedicated readers have spoken, and we are immensely grateful to everyone who took it upon themselves to lend their support behind each and every one of our shortlisted hotels, destinations, cruise lines, airlines, airports, tour operators and… Throw travel sites .
"The travel industry is big and employs so many people who work tirelessly to promote destinations and provide the very best service and experiences for those who love to travel, explore and relax in a variety of exquisite settings. Hopefully we can give back to those in the industry, albeit in a small way, and send our support out there as well.
"Thank you to those who took the time to apply, to those who voted, to our award contributors, and we wish everyone in the industry the very best, especially those who are just starting out or have recently made theirs doors have opened again."
So who were the standout winners?
In the UK, Linthwaite House in the Lake District has set a record in three categories in the Best UK Hotels category, winning Best Hotel for Food, Best Hotel for Wine and Best Hotel for Golf for the second year running " Excellent, proving that this luxurious Windermere retreat really is a favorite for our readers.
The famous Hotel DUKES London beat 23 others for the Best Boutique Hotel in the UK, while the Francis Hotel in Bath took first place in both Best City Hotel and Best Hotel for Business categories. The Culloden Estate and Spa in Belfast was voted the best spa/wellness hotel in the UK and firm favorite Ellenborough Park in Cheltenham topped the list for best family hotel after winning the romance category last year.
Best Tour Operator and Best Specialist Tour Operator were won by The Luxury Travel Book and Emirates is back at the top of the list of best airlines, having won in 2018, 2019 and 2020 and being knocked out to second place by British Airways last year. Royal Caribbean tops 'Best Ocean Cruise Line' list for the third year running and 'Best UK City', Bath has ousted London at the top spot for the second year running.
Heading overseas and in the largest category – Best Hotel in Europe (outside the UK) – the Amada Colossos Resort in Rhodes, Greece was awarded, the As Janelas Verdes Hotel in Portugal's capital Lisbon took second place and the Burgenstock Hotel and Resort, Lake Lucerne in Switzerland in third place.
Thailand certainly boasts some top hotels, with Akyra Manor Chiang Mai and Aleenta Hua Hin-Pranburi Resort and Spa taking first and second place respectively in the Best Hotel in Asia category. It was the Hilton Seychelles Northolme Resort and Spa in Mahe that took the top spot in the Best Hotel in Africa category, narrowly beating South Africa's Earth Lodge in the Sabi Sabi Private Game Reserve.
The NH Collection New York Madison Avenue was named Best Hotel in North America, while the Hitlon Barra in Rio de Janeiro, Brazil was named Best Hotel in South America. Jade Mountain Resort in St. Lucia won the Caribbean category and Le Taha'a Island Resort and Spa in Tahiti won for Oceania.
The Amalfi Coast in Italy was the winner for Best Honeymoon Destination, while Verbier in Switzerland was named Best Ski Resort and Barcelona in Spain was voted Best City for the third consecutive year.
Hopefully you will agree that this has been another great year for the awards and we look forward to visiting and utilizing the services of the above distinguished winners.
Click here for the full list of winners.